All Of Us Are Dead Is The New Squid Game, Hitting The #1 Spot On U.S. Netflix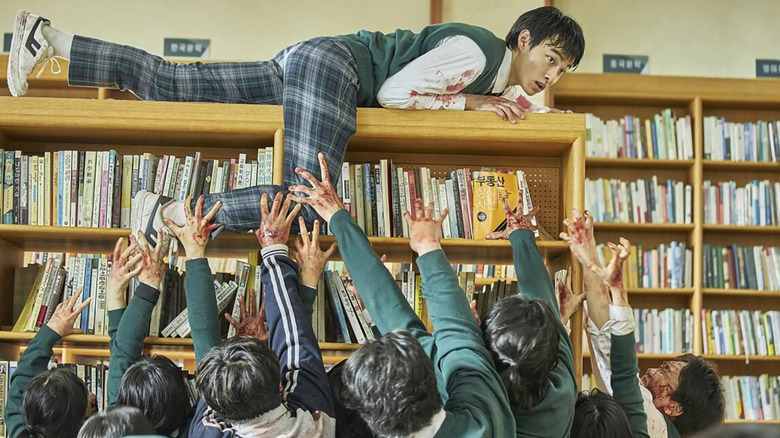 Netflix
"All of Us Are Dead" is not just part of a bizarre conspiracy theory about the world ending in 2012; it's also the title of one of the most watched shows on Netflix in the US. Following the success of "Squid Game," the zombie drama has become the second Korean series to dominate Netflix's U.S. daily Top 10 list, rising to #1 on its 7th day of release. That's a milestone for South Korea, which (per Deadline) is the first country to have launched two non-English language TV shows to Netflix's top spot in the U.S.
This comes as no surprise when you consider the fact that, in addition to just being great entertainment, there has been an uptick in the popularity of K-dramas on Netflix in recent years. Specifically, US viewership of Korean media jumped 200% between 2019 and 2021 on the streaming platform. 
South Korea has also increasingly become a major exporter of pop culture and media since the turn of the 21st century, as evidenced by both the increased interest in Korean television shows as well as by the global rise and international popularity of K-pop groups like BTS. This phenomenon, known as the "Korean Wave," is a facet of how internet-facilitated globalization has led to increased accessibility to all types of media, meaning that audiences are no longer limited to their own country's entertainment offerings. Personally, I think that's a beautiful thing.
What is All of Us Are Dead About?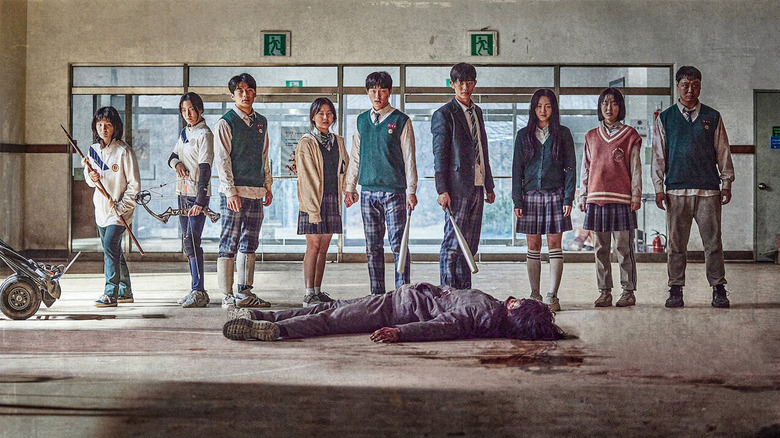 Netflix
"All of Us Are Dead" is based on a webtoon by South Korean cartoonist Joo Dong-geun, titled "Now at Our School." The series ran from 2009 to 2011, and was adapted into a live action series and released by Netflix on January 28, 2022. The official synopsis: 
A high school becomes ground zero for a zombie virus outbreak. Trapped students must fight their way out — or turn into one of the rabid infected.
As far as genre, "All of Us Are Dead" features coming-of-age elements set against a zombie apocalypse horror backdrop. The events of the series takes place primarily in a high school, and the main characters are all teenagers who are trying to survive the aforementioned zombie outbreak — the result of a science experiment gone horribly wrong — that threatens to destroy them all. It's a very different premise to "Squid Game," but still with appeal for those who enjoyed that show's ensemble cast of characters, its nail-biting suspense, and its high-stakes violence.
If you're still on the fence about watching one of Netflix's most popular shows, you can check out the official trailer below.
And if you're ready to dive into "All of Us are Dead," you can watch the series on Netflix right now.