All Of Us Are Dead: Release Date, Cast, And More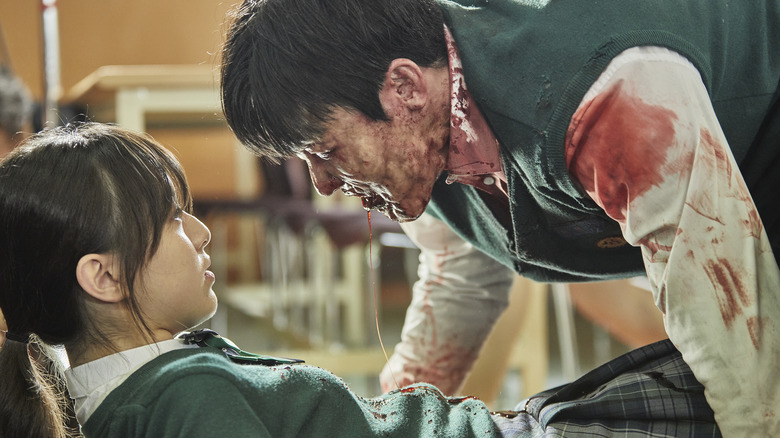 Netflix
(Welcome to ...And More, our no-frills, zero B.S. guide to when and where you can watch upcoming movies and shows, and everything else you could possibly stand to know.)
Before the pandemic, the zombie genre was already seeming to slip back into the great Vault of Tropes for a well-deserved rest. It wasn't surprising to see "The Walking Dead's" ratings slip steadily after almost a decade of being the biggest name in the horror television game. Even monsters need their rest. That's the way the horror genre functions. We seek the monsters that we need to define the social anxieties of our times. As with everything, our anxieties change, so we put the monsters back in the vault for later use. 
The zombie has been on top of the game for a long time, bringing with it not only "The Walking Dead' and its spin-offs, but variations of the genre, like the comedy "Zombieland" or the romance "Warm Bodies." There have even been interesting attempts to look at what a post-zombie world could be like with shows like "In the Flesh" and "iZombie." With the pandemic, however, and the very nature of what a zombie story is (an infection that spreads globally and brings about the end of society), it's hard to imagine that there would be much of an appetite for more of that content. 
However, there are new zombie stories still being churned that want to give it a try. One such project is the new Korean series, "All of Us Are Dead." Will it revitalize a zombie-gorged audience? 
All of Us Are Dead Release Date and Where You Can Watch It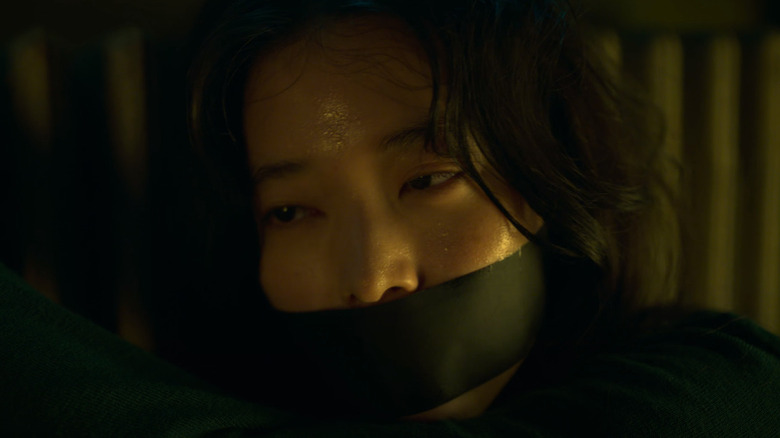 Netflix
There's a lot of genre titles headed to Netflix in 2022, and "All of Us Are Dead" makes the list as one of the interesting looks ones. The show will debut on Netflix on January 28, 2022 with eight episodes at an average of 42 minutes each. Netflix has been investing heavily in Korean programming and K-dramas for a while now. They've become hugely popular on the platform, even before the "Squid Game" phenomenon swept over the world. 
What is All of Us Are Dead?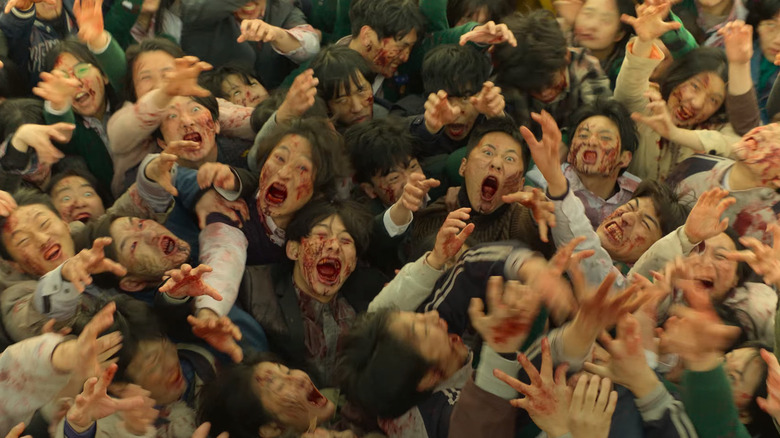 Netflix
"All of Us Are Dead" looks to be a coming-of-age story with students as the protagonists. As the zombie infection worsens, they find themselves barricaded inside their high school, using the libraries and labs not to study, but to survive. I've always been a fan of bottle episodes, where characters are essentially stuck in one place for the entire show, and this looks like a fun cousin to that concept.
For a few more clues about the plot, Netflix offered up a short summary of the show on their Netflix Geeked Twitter, describing it as "a story about people who are trapped in a high school where a zombie virus is spreading and those who are trying to save them as extreme situations riddled with surprises unfold." The fact that it's being promoted on that particular Netflix account could be a clue to what kind of tone we can expect of from "All of Us Are Dead." The Netflix Geeked account is used to showcase original content of the more fantasy and sci-fi variety. Fandom kindling, in other words, like "The Witcher," "Umbrella Academy," "Shadow and Bone," and "Stranger Things." It suggests that "All of Us Are Dead" wants to attract the same action-loving viewers who prefer their genre shows to have rich world-building and youthful casts. 
All of Us are Dead Director, Crew, and More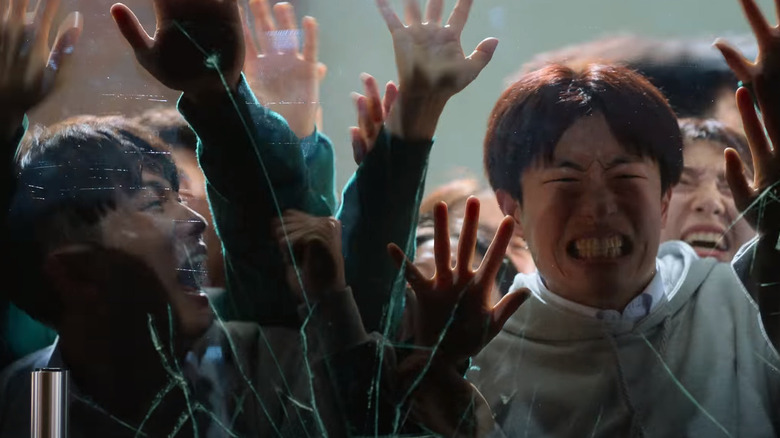 Netflix
The show is directed by Lee Jae-kyoo, who directed "Beethoven Virus" and "Intimate Strangers." Chun Sung-il is penning the adaptation of the Joo Dong-geun webtoon. He wrote the K-dramas "Your Honor" and "L.U.C.A.: The Beginning." If you're interested in learning more about K-dramas from these creators and beyond before the show airs, there's a real buffet of content out there. Netflix in particular has a well organized genre page dedicated just to it.
"All of Us Are Dead" is based on a webtoon by Joo Dong-geun. It ran from 2009 until 2011, and has 130 episodes available to read. Webtoons are a major source of development for many K-dramas. It's similar to how mangas are a popular source for anime content in Japan, or the way graphic novels and comics are the core of pop culture media in the West. 
On that note, Netflix isn't just investing in more K-dramas, but webtoons in general. The webtoons "D.P." and "Lore Olympus" will also join "All of Us Are Dead" as the next intellectual properties Netflix adapts from that space. It will be interesting to see if Netflix's focus on these more niche areas will spread to other studios and platforms, and if we'll see a rise in webtoon and K-drama content overall. Considering how ubiquitous the platform is, it's likely that more studios and streamers will look for their own lanes in this space so as not be left behind a major industry trend, especially if "All of Us Are Dead' is as well received as "Squid Game."
All of Us are Dead Cast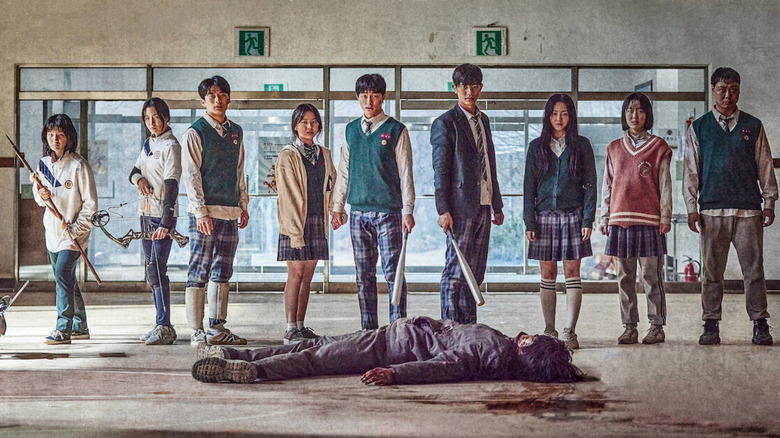 Netflix
The leads of the cast include several established K-drama stars. Among them are Park Solomon ("Sweet Revenge"), Jo Yi-Hyun ("Hospital Playlist"), Yoon Chan-young ("Everything and Nothing"), Park Ji-hoo ("House of Hummingbird"), and Yoo In-Soo ("At a Distance"). Fans of "Squid Game" will also see a familiar face in "All of Us Are Dead" — Lee Yoo-mi, who played fan favorite Ji-yeong on the show, will appear in at least the first episode.
Just from the teaser trailer we can already tell there are some great set pieces and action sequences in "All of Us Are Dead." And, yep, this is a fast zombies movie. If you're a fan of the more lumbering type of undead, we're not seeing many. In fact, based on some of the facial expressions and choreography evident in the trailer, these zombies might be more animated than others.
If you're looking for more horror content, but can't wait until the end of January for "All of Us Are Dead," Netflix also has some great zombie options to snack on before the show airs.
All of Us are Dead Trailer and Synopsis
A high school becomes ground zero for a zombie virus outbreak. Trapped students must fight their way out — or turn into one of the rabid infected.