Everything We Know About Leverage: Redemption Season 2 So Far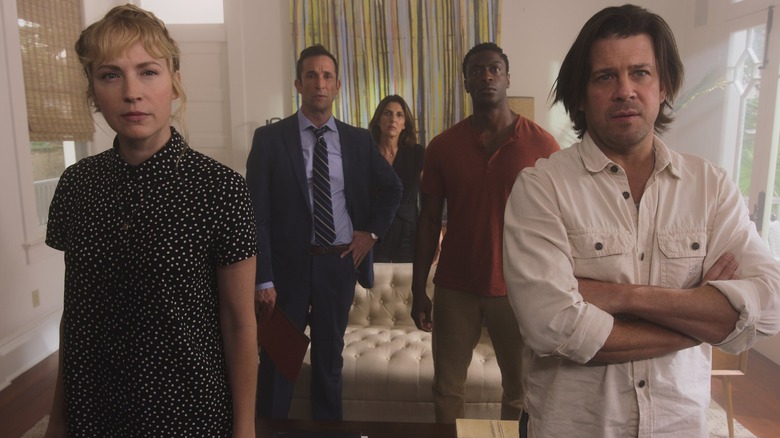 Amazon Freevee
Of all the revival shows that have graced our airwaves in recent memory, "Leverage" probably stands out as one of the more unexpected ones. As we covered in September of 2021, the original crime drama series aired on TNT for five total seasons between 2008 and 2012. Because studios these days seem abjectly terrified of greenlighting anything original, we ended up with "Leverage: Redemption" on the streaming service formerly known as IMDb TV (now rechristened as Amazon Freevee), which brought back many of the show's original stars while introducing several new characters to help carry on the storyline a decade later.
Released in two separate batches of eight episodes each in July and October of 2021, Amazon Freevee waited only two months before publicly announcing their plans to move forward with a second season of "Leverage: Redemption." Though perhaps not as buzzy as some other streaming shows dominating the airwaves, the streaming platform must be pleased with the results and will likely ramp up the marketing of the revival to attract even more viewers to the series. With the second season currently in production, here's everything we know about "Leverage: Redemption" season 2 so far.
When and Where to Watch Leverage Season 2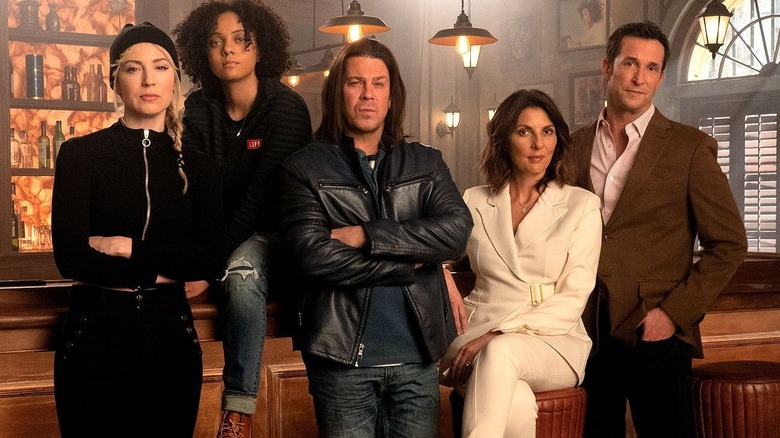 Amazon Freevee
After apparently receiving enough ratings to justify a second season (since streamers notoriously don't release their ratings numbers, we're left to use third-party sources instead), fans can expect to watch the second season of "Leverage: Redemption" exactly where they watched the first. Amazon Freevee has become the new home for the revival series, with the added bonus of offering other free streaming media. As opposed to Amazon Prime Video, no subscription is necessary to watch Amazon Freevee. Simply fire it up and enjoy hours and hours of movies and shows, though with the important caveat that each one includes ad breaks and interruptions.
No release date has yet been announced for the next season, but that doesn't mean we don't have any news at all about what's to come and when. Executive producer Dean Devlin recently tweeted in July of 2022 that the series is "shooting now" in New Orleans, where the first season followed our cast of characters. Back in January of 2022, Devlin also tweeted out updates on production, this time teasing the new sets being built. A conservative estimate for the completion of production on the second season likely points to a release date sometime in late 2022, though it remains unclear if the creative team will once again follow the precedent set by the first season and release the new episodes in two different batches.
Thanks to yet another tweet from the executive producer, we at least know the general timeframe for the season 2 premiere: "later this year."
Where to watch the Original Leverage and Leverage: Redemption Season 1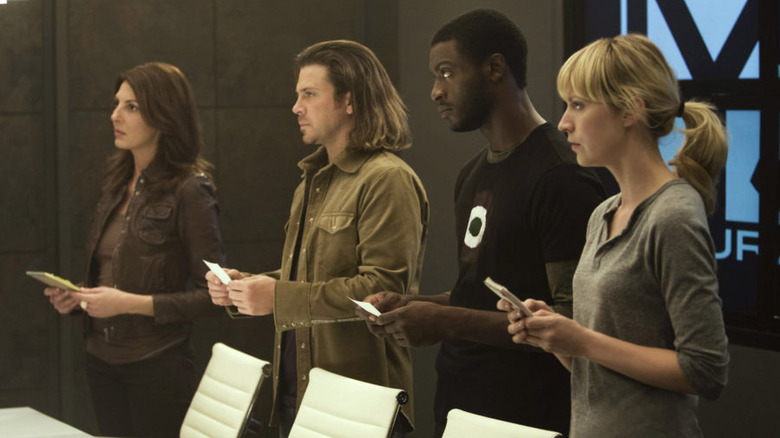 TNT
Of course, "Leverage: Redemption" is not just another ordinary television program. Not only do fans of the revival series need to watch the first season to keep up-to-date, but it would behoove viewers to also catch up (or perhaps refresh their memories) on the original show that first aired on TNT back in December of 2008. Though the series is structured to appeal to newcomers just as much as to old school fans, the completists out there will no doubt want to prepare for the new season with as much prior knowledge as possible. Luckily, that's where we come in.
All 5 seasons of the original "Leverage" series are currently streaming for free on both Hoopla and Amazon Freevee (the latter, mind you, is available in HD). Should you so choose, the show is alternately available to buy through the usual digital vendors such as Apple, Amazon, Google Play, and Vudu. The first season of "Leverage: Redemption," meanwhile, is also streaming exclusively on Amazon Freevee.
What We Think Leverage Season 2 Will Be About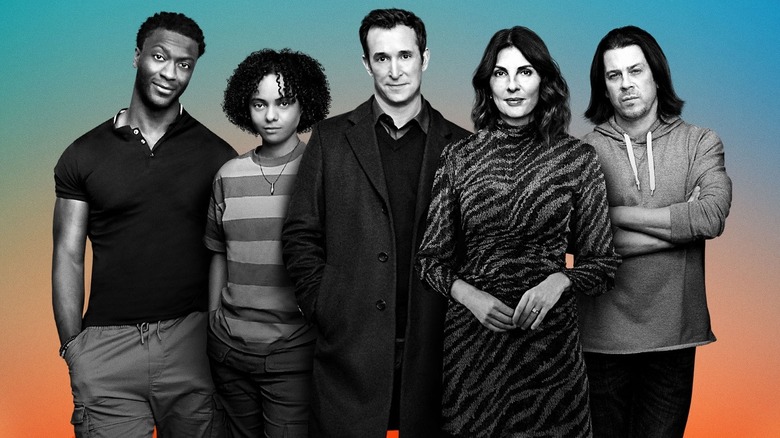 Amazon Freevee
Beginning on the anniversary of Nathan Ford's death (played by Timothy Hutton in the original series, but wisely written out completely after the actor's sexual misconduct allegations came to light), the first season of "Leverage: Redemption" quickly got the old guard back up to speed by reuniting at their old leader's grave and generally catching up on each other's lives since their initial parting. 
By the end of the first season, Harry Wilson (Noah Wyle) left the team of bad people taking their revenge on worse individuals to embark on his own redemption arc (though we can expect him to return in some capacity). Parker (played by Beth Riesgraf, reprising her role from the original) bequeathed the team to the capable hands of Gina Bellman's Sophie Devereaux. 
The late-season teases regarding the return of Aldis Hodge's Alec Hardison, missing for much of the first season, point towards a much greater involvement in the next. Meanwhile, the continued exploration into Eliot Spencer's (Christian Kane) life before he joined Leverage team, especially regarding the foundational influence of his father, would provide plenty of material to cover moving forward. Ultimately, the first season dealt with the team's efforts to take down RIZ ... but as we all know, the bad guys don't stay down forever.
What We Know About the Leverage Season 2 Cast and Crew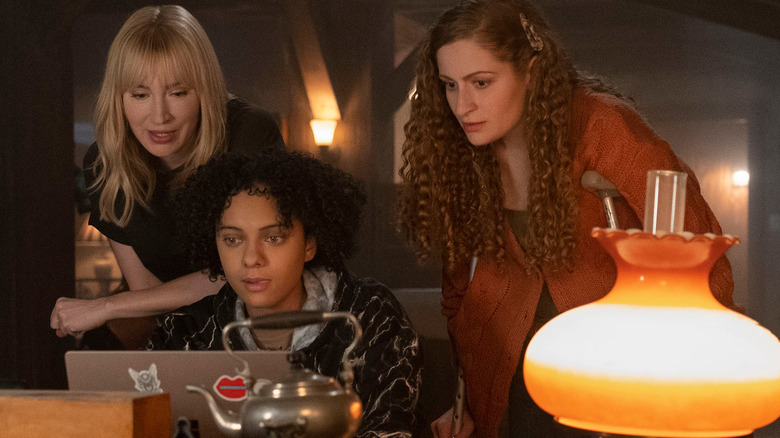 Amazon Freevee
Given the new status quo established at the end of the first season of "Leverage: Redemption," we can expect some casting shakeups and changes while the core of the team remains the same. In addition to the return of the old crew, and likely a larger role for Aldis Hodge, viewers can also safely expect more from newcomer Aleyse Shannon (Breanna Casey), Tara Cole (Jeri Ryan), the hacker known as Chaos (Wil Wheaton), and even Interpol's Sterling (Mark Sheppard).
Executive producers and co-showrunners Kate Rorick and Dean Devlin are expected back behind the scenes, along with original creators John Rogers and Chris Downey as consulting producers.
In their announcement for season 2, Lauren Anderson and Ryan Pirozzi of Amazon Freevee stated:
"'Leverage: Redemption' has delighted [Amazon Freevee] viewers with the perfect blend of familiarity and freshness. Thank you to the dedicated fans who have passionately championed this series. We look forward to our continued partnership with Electric Entertainment and providing viewers another season of the fan-favorite crew and their spirited heists."
Stay tuned for all the latest updates on the new season of "Leverage: Redemption."