Last Night In Soho Writer Remembers Penny Dreadful: 'We Were Just Too Soon, Weren't We?' [Exclusive]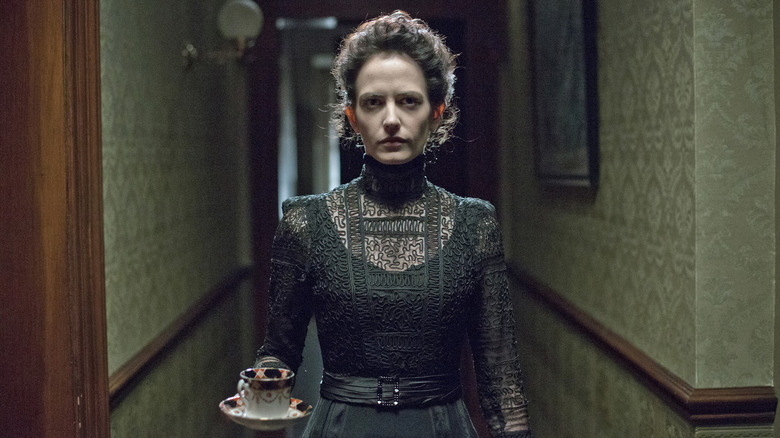 Showtime
Once upon a time, in the mid-2010s, there was a little Showtime series called "Penny Dreadful." That series, loosely based on the "penny dreadful" magazines of the Victorian period, was a beautiful gothic nightmare. Viewers were enraptured with the stories of Dorian Gray (Reeve Carney), Victor Frankenstein (Harry Treadaway), adventurer Malcolm Murray (Timothy Dalton), possibly possessed Vanessa Ives (Eva Green), and howling hottie Ethan Chandler (Josh Hartnett). "Penny Dreadful" was like a truly excellent adaptation of "The League of Extraordinary Gentlemen," mixing public domain gothic characters to delightful conclusions.
The series, created by Jon Logan and Sam Mendes, only ran for three seasons. The third season wrapped up the main arcs, but some fans felt that it was rushed. Many feel as though "Penny Dreadful" didn't get its just dues, and that it should have been as popular as many of the other big fantasy and horror series out there, like "Game of Thrones" or any of Mike Flanagan's Netflix shows. 
/Film's Jacob Hall sat down to chat with director Edgar Wright and his co-writer on "Last Night in Soho," Krysty Wilson-Cairns, whose first job was on the ill-fated series. Wilson-Cairns shared her feelings on just how big "Penny Dreadful" might have been, if the timing had been a little different. 
Making the Stories of Monsters More Human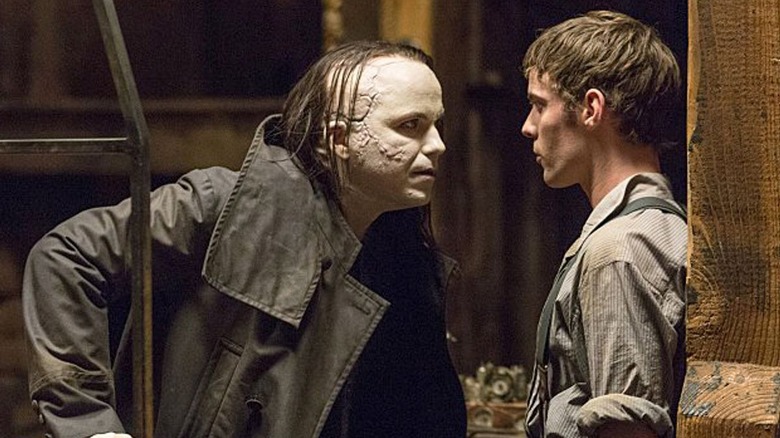 Showtime
Wilson-Cairns explained that the series' creator, John Logan, was just too far ahead of the times. When "Penny Dreadful" debuted in 2014, "Game of Thrones" was at its height and time-travel fantasy romance "Outlander" was just beginning. The first, extremely popular seasons of "Fargo" and "True Detective" also debuted, making 2014 a seriously loaded year to release a series. "Penny Dreadful," on Showtime, just didn't stand a chance when there was so much other must-see TV on people's minds, and that's a real shame. 
"We were just too soon, weren't we?" Wilson-Cairns commented, when asked about the show's struggle to reach a larger audience. "We're just too soon. John Logan, you were too ahead of the times."
"Penny Dreadful" is unique because it uses the stories of monsters to relate what makes us all human, and Wilson-Cairns said that was the main draw:
"I loved 'Penny Dreadful.' I thought it was a really original idea to take a lot of the stories of monsters and make them human. I think ultimately all of us can sometimes feel completely on the outside and completely adrift and completely lost, and so it's very easy to then understand Frankenstein and Frankenstein's monster or the Wolfman or Dracula."
Some of the most heart-wrenching moments in the series come from some of its most monstrous characters, like Frankenstein's creation and his unholy bride. The series had unusual twists on many of these characters, making each of them surprisingly human. The ones who looked the most "normal," like Dorian Gray or Dr. Frankenstein, were often the biggest villains. 
Hot for Hartnett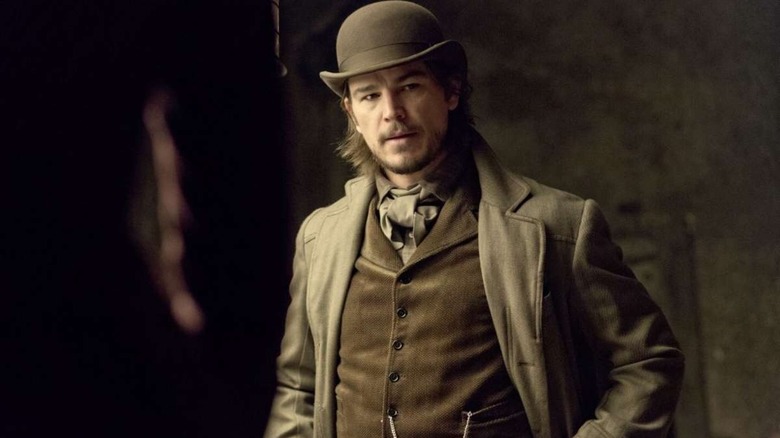 Showtime
One other thing that "Penny Dreadful" has going for it is an insanely good-looking cast, and they get up to all kinds of sexy shenanigans. (Seriously, this series is a bisexual paradise.) One of the hottest, of course, is former teen heartthrob Josh Hartnett, who plays an old west werewolf. Wilson-Cairns was thrilled to have the tutelage of Logan and fellow writer Andrew Hinderaker, but she was also pretty stoked to get to spend time with a long-time crush:
"Yeah, it was my first job in film. I was there every day on the set. John Logan and Andrew Hinderaker and I were the only writers on it, and John Logan took me so under his wing and taught me how to write and taught me how to write action and really spent the time as a mentor. So I have just such lovely, pleasant memories of it. And I got to hang out with Josh Hartnett, which — I was at an all girls school in Scotland and we watched a lot of '40 Days and 40 Nights.' It was my 10-year school reunion about the time that I was working on that, and I remember thinking, 'If I could just take a picture of me and Josh Hartnett bring to this school reunion, I will have won life.'"
Pictures of yourself with Josh Hartnett are probably going to outshine people's pictures of their kids or dogs or whatever, so who could blame her? It sounds like the whole experience of working on "Penny Dreadful" was a dream, even if the show served up serious nightmares.