'Penny Dreadful' Season 3 Trailer: You Think You Know Evil?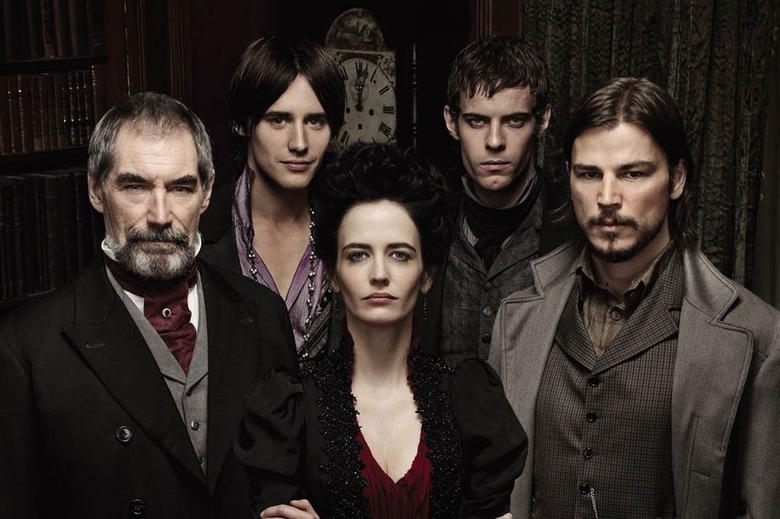 Because I don't really follow the Golden Globes or other awards coverage that much, I didn't know Eva Green was nominated for best actress in a TV series for Penny Dreadful. It was delightful to learn she was, though, because Green is terrific in the Showtime drama. The show didn't score any other nominations, but at least the actress' ferocious and heartbreaking performance was recognized for the excellent second season.
Penny Dreadful returns this summer, and you can watch the Penny Dreadful season 3 trailer after the jump.
Showrunner and writer John Logan raised the stakes with season two. Playing up the family element of the show, Logan showed what happened when a family gets torn apart — which led to some emotionally tough turns. The characters were put through the wringer in season two, and it looks like they'll face even greater challenges this summer. Season three premieres on Sunday, May 1st at 9 p.m.
Here's the Penny Dreadful season 3 trailer:
Apparently things haven't improved much for Venessa Ives. Based on what we see in the trailer, I'm curious how much screen time she and Ethan Chandler will have together. [Spoilers for season two ahead.] Ethan is on his way back to America, and that'll likely make for a substantial subplot. [Spoilers over.]. Considering their relationship had real heart in season two, hopefully they explore that dynamic further with season three.
Here's the official synopsis for season three of Penny Dreadful:
This season on PENNY DREADFUL, Tony® Award-winning star Patti LuPone (American Horror Story), who guest starred last season as the Cut-Wife, returns as a series regular in the new role of Dr. Seward, an American therapist who treats Vanessa (Eva Green) with an unconventional new approach. Wes Studi (Hell On Wheels) joins as a series regular as Kaetenay, an intense, enigmatic Native American with a deep connection to Ethan (Josh Hartnett) who also becomes an ally to Sir Malcolm (Timothy Dalton). The third season also adds Robert Louis Stevenson's Dr. Henry Jekyll (Shazad Latif). Other guest stars include Screen Actors Guild® Award nominee Christian Camargo (DEXTER®, The Hurt Locker) as Dr. Alexander Sweet, a zoologist who strikes up an unlikely friendship with Vanessa; Sam Barnett (2012, Jupiter Ascending) as Dr. Seward's mysterious young secretary; and Jessica Barden (The Outcast, Far from the Madding Crowd) as Justine, a young acolyte to Lily (Billie Piper) and Dorian Gray (Reeve Carney), and Perdita Weeks (THE TUDORS), as Catriona Hartdegan, a scholar with expert knowledge of the supernatural. Simon Russell Beale returns as Dr. Ferdinand Lyle. Rory Kinnear (as The Creature) and Harry Treadaway (as Dr. Frankenstein) also star.