Every Easter Egg In Stranger Things Season 4 Episode 4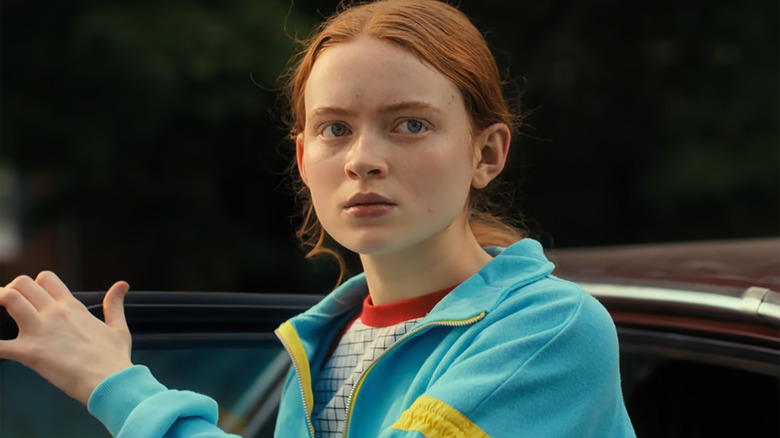 Netflix
Good news, "Stranger Things" fans: I've brought you some nice eggs for this trying time. The fourth episode of the fourth season of Netflix's hit sci-fi series has loads of Easter eggs for the audience's enjoyment. The first three episodes paid homage to everything from "Scream" to "Star Wars," but episode 4 has even more cinematic homages. With two people mysteriously murdered in Hawkins and Eleven (Millie Bobby Brown) off with her former captors trying to regain her powers, things are getting tense. There's a lot going on this season, with many different plot-lines and characters, but it has given them plenty of opportunities to inject references to horror cinema of the 1970s, 1980s, and 1990s without things feeling too mish-mashed. 
Buckle up, strap in, or do whatever the kids do these days before going on a wild ride, because it's time to look at all of the Easter eggs in "Stranger Things" season 4, episode 4. Spoilers ahead! 
A long creepy basement walk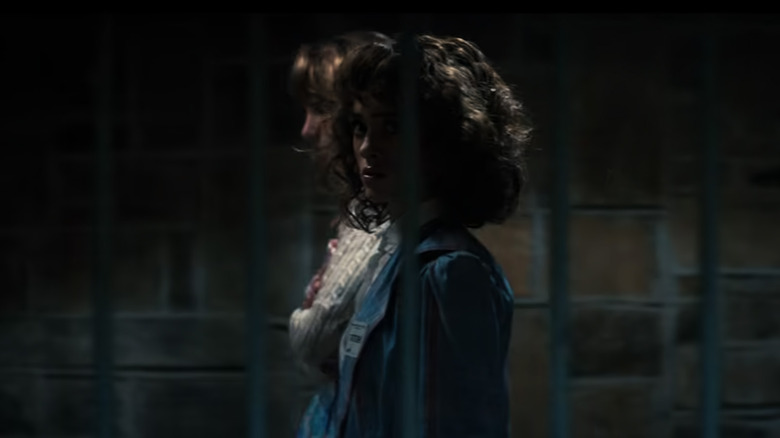 Netflix
In episode 3, "The Monster and the Superhero," Nancy (Natalie Dyer) and Robin (Maya Hawke) learned about the history of Victor Creel, who was believed to have murdered his entire family. They decide that the only way to find out what really happened is to talk to Creel himself, played by Robert Englund. Fans might not recognize Englund without his trademark makeup, but he also played monstrous slasher Freddy Krueger in the "Nightmare on Elm Street" movies. Nancy and Robin go undercover as psychology students and manage to talk their way into the asylum, scoring a brief interview with Creel. They're taken down into the basement and escorted in, walking down the row of cells and being jeered at by the inmates inside. If the sequence looks familiar, that's because it's paying heavy homage to the Academy Award-winning film "The Silence of the Lambs," directed by Jonathan Demme. 
In "Silence of the Lambs," investigator Clarice Starling (Jodie Foster) has to walk down a similarly long hallway to the cell on the end, where her interview subject waits. The way the camera cuts between Nancy's face, the prisoners, and the hallway itself in "Stranger Things" looks very much like Clarice's long walk, though she finds a very different kind of person at the end. 
Will likes scary movies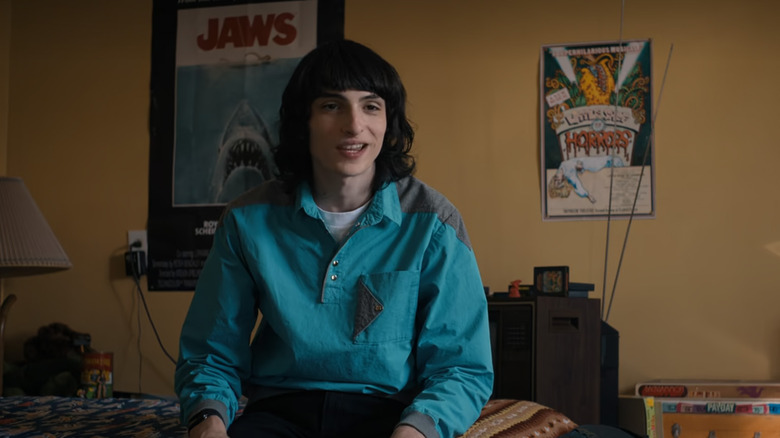 Netflix
Will Byers (Noah Schnapp) hasn't had the easiest adolescence. Between being trapped in the Upside Down and moving across the country during his most formative years, he's kind of been through it. It might seem surprising, then, that he has posters for horror movies on the wall in his bedroom. While he's talking with Mike (Finn Wolfhard), we can see a huge poster of "Jaws" over the bed, along with a smaller poster for a stage run of "Little Shop of Horrors,"  which was turned into movies in 1960 and 1986. Many horror fans fell in love with the genre because of their own experiences with real-world horror, so it makes sense that Will finds comfort in things others might find frightening. Hopefully Will gets a chance to see the Frank Oz "Little Shop of Horrors" adaptation, because it won't come out until December of 1986 and the series is currently set in the spring. 
A long-shot shootout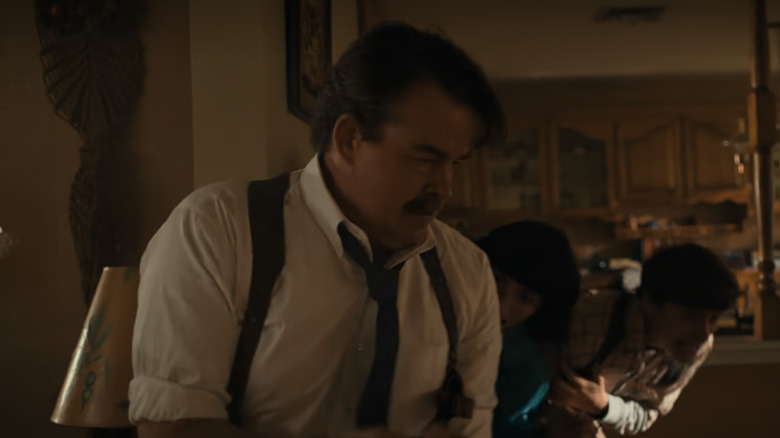 Netflix
After Eleven goes with the scientists, a pair of feds stay behind to look after Mike, Will, and Jonathan (Charlie Heaton). The guys plan an escape using Jonathan's friend Argyle's (Eduardo Franco) pizza delivery vehicle, but things go south when the bad guys show up, looking for El. One of the officers protects the kids and takes part in a wild shootout that's reminiscent of the famous "True Detective" long take where Matthew McConaughey barely escapes a hail of bullets. The camera movement is very similar, and while there are moments where quick, careful cuts have likely been placed, it mostly gives the impression of a single long take. There hasn't been a ton of action in "Stranger Things" yet this season, so at least when the creators decided to add some in, they went for broke. The scene is intense and heart-pounding, in part because of the tactics taken from the successes of "True Detective" and other high-velocity, high-stakes long takes.
The Mistress of the Dark and peanut butter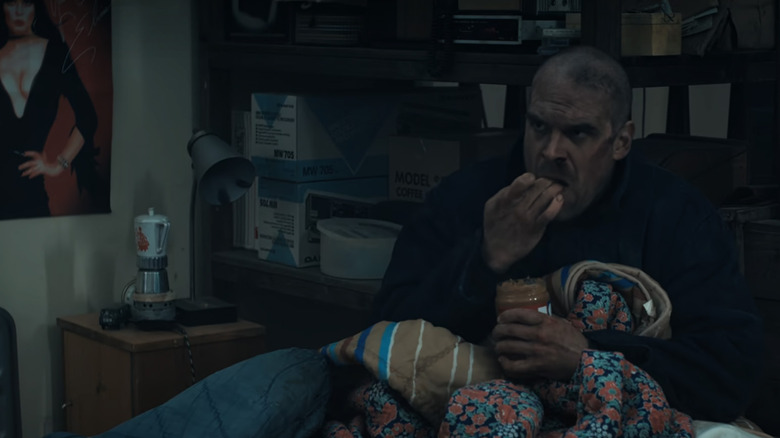 Netflix
"Elvira's Movie Macabre" was a television series that ran from 1981 through 1986, with horror host Cassandra Peterson, aka Elvira, Mistress of the Dark, commenting on a range of classic horror films. Elvira is horror royalty, and it appears that her reach went as far as Russia in 1986. After Hopper (David Harbour) manages to escape the gulag where he's been kept prisoner, he makes it to an old church and hides out inside. There, he finds a delicious jar of JIF peanut butter to snack on (which we later learn is one of smuggler Yuri's favorite things to bring overseas) and sits down to get warm in front of an Elvira poster. Elvira's big movie, "Elvira Mistress of the Dark," wouldn't come out until 1988, but at least her TV persona can look over Hopper like a dark angel.
(Editor's note: Is the peanut butter also a shout-out to "Lost," when Charlie and Claire imagined eating peanut butter after crash-landing on the mysterious island? Could be!)
The world's creepiest wheelchair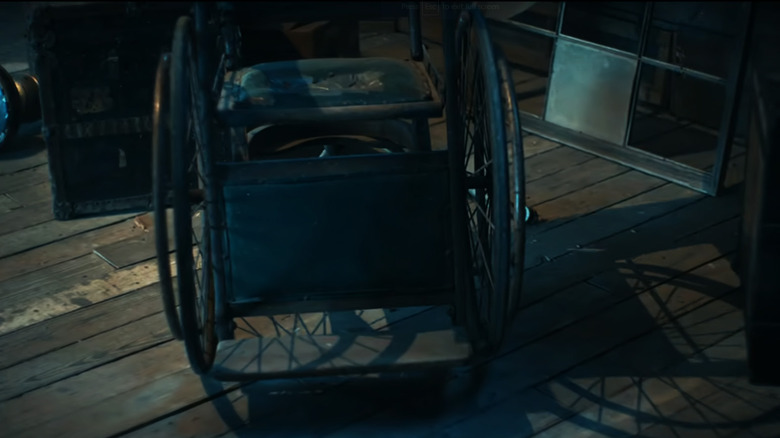 Netflix
When Nancy and Robin manage to chat with Creel, he tells them his side of the story in an extended flashback. While much of the flashback pays homage to haunted house films in general, showing off the myriad ways its inhabitants are tortured, one sequence really stood out. Creel goes up into the attic and spots a wheelchair, and the score changes and the lighting shifts, making the shadow of the chair move on the floor. It's almost a direct shot from the 1980 horror film "The Changeling," starring George C. Scott as a man who is haunted, both literally and metaphorically, after the tragic deaths of his wife and daughter. The wheelchair plays a huge role in "The Changeling," and while we don't see it for an extended period in "Stranger Things," it's hard not to wonder what exactly the chair means for Creel and for Hawkins. 
In "The Changeling," the chair belonged to the force that now haunted the home, so is it possible that the "Stranger Things" wheelchair belongs to Vecna?
A deal with God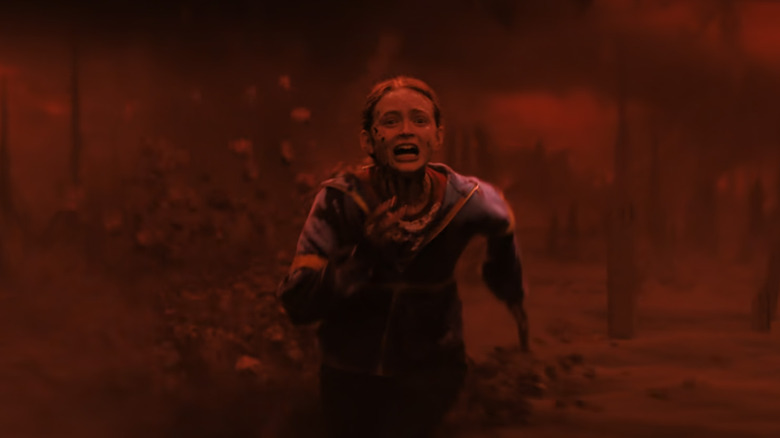 Netflix
There is a lot going on in Max's (Sadie Sink) big showdown with Vecna after she goes to read a letter to her dead brother, Billy. She gets pulled into Vecna's world but refuses to let herself become part of it, and her friends play her favorite song for her back in Hawkins to try to bring her back. That song is "Running Up That Hill" by Kate Bush, which premiered in the U.K. in 1985 and reached the top 30 charts in the U.S. There is a brief moment in the official music video for Bush's song that looks almost identical to Max's sprint away from Vecna. There are shadowy figures in a long red hallway, and much of the lighting is similar. This "Stranger Things" scene is one of the best in the series' history, the song rules, and the music video rules, so this is one extra-special Easter egg. 
"Stranger Things" season 4 Vol. 1 is currently streaming on Netflix.