Every Easter Egg In Stranger Things Season 4 Episode 3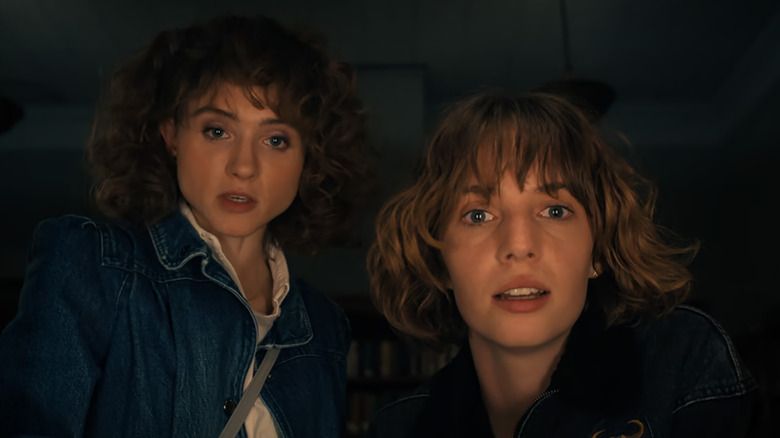 Netflix
The horrors in Hawkins are heating up in episode 3 of the fourth season of "Stranger Things," and that means there's plenty more creepy (and fun!) Easter eggs to search for. The first two episodes were chock full of pop culture goodies and self-referential nods, though the third episode is just a bit more subtle. After two mysterious deaths in Hawkins, the intrepid teenagers we've followed for three seasons are doing their best to investigate. The "Stranger Things" Scooby gang know that the surreal can be absolutely real, and their experiences with the Upside Down and the battle of the Starcourt Mall will serve them well. Episode 3, "The Monster and the Superhero," also follows Eleven (Millie Bobby Brown) as she tries to figure out how to fix things in Hawkins from all the way in California, where she's having problems of her own. 
Spoilers for season 4, episode 3 of "Stranger Things" ahead.
George Lucas help us, it's Ewoks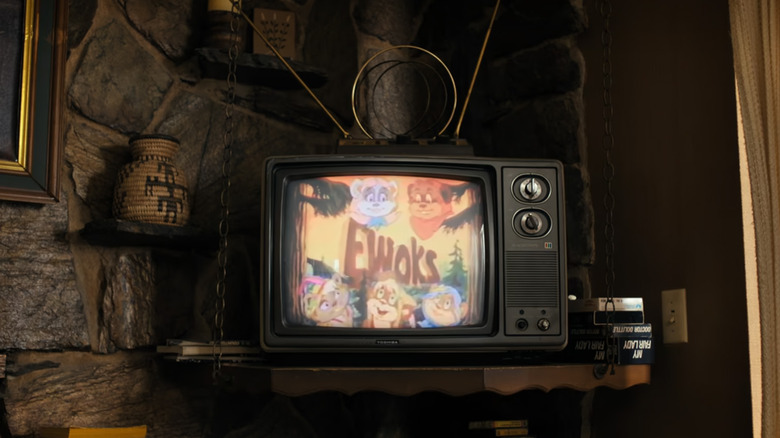 Netflix
Jonathan (Charlie Heaton) and Will (Noah Schnapp) have been trying to find their own ways to cope with moving across the country from Hawkins to sunny California. While Will seems rather sad and subdued, Jonathan has been taking fat bong rips with his new friend Argyle (Eduardo Franco). We see Jonathan and Will watching some TV, with lots of era-appropriate VHS tapes on the shelves. Jonathan flips through the newspaper as the theme to an animated series comes on, and it's apparently "Ewoks," the "Star Wars" spin-off animated series that ran from 1985 through 1987 and followed the adventures of the fuzzy little teddy bear aliens that we all met on the moon of Endor in "Star Wars: Return of the Jedi." While "Ewoks" only ran for two seasons and is remembered mostly as a franchise oddity, it's fun to see Will and Jonathan checking it out. The entire series is available on Disney+, if you want to see what the guys were watching. 
There's a Demogorgon on the wing!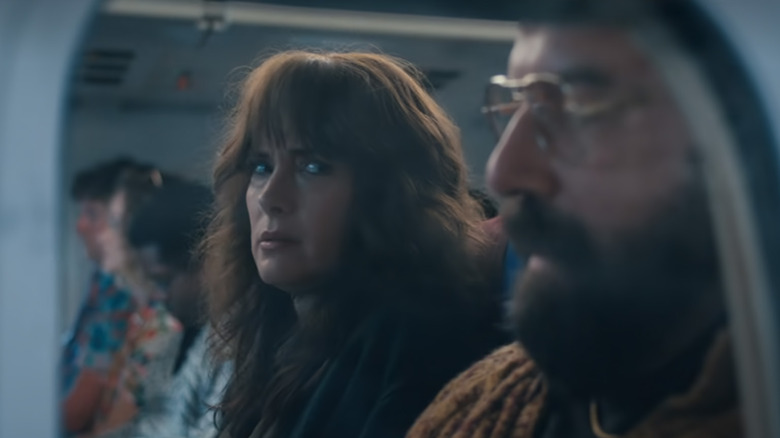 Netflix
While Will and Jonathan watch cartoons, their mother Joyce (Winona Ryder) boards a flight to Alaska with conspiracy theorist buddy Murray (Brett Gelman). They're headed to Alaska to meet a man named Yuri and potentially trade a boatload of money for the freedom of Jim Hopper (David Harbour), who they thought was dead but is actually being held captive by the Russians. While their flight is fairly uneventful, there is a great shot of Joyce giving Murray an annoyed look while mentioning that her seatbelt won't do much if the plane crashes. She's clearly a bit tense, and the camera slowly pulls back and through the plane window, revealing the aircraft's massive wing. Both the shot and musical stings are reminiscent of one of the most famous segments of "The Twilight Zone": "Nightmare at 20,000 Feet." In the episode, which was later made into a segment of the "Twilight Zone" movie, a terrified passenger (William Shatner) sees a mysterious figure on the wing of the plane, wreaking havoc. Joyce and Murray don't see any gremlins on their flight, but the moment still feels like a fun homage. 
The remnants of the Radio Shack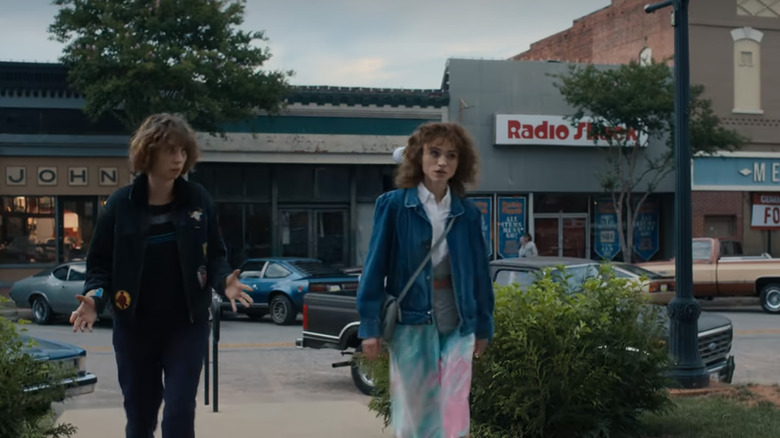 Netflix
Fledgling reporter Nancy (Natalia Dyer) and video store clerk/trumpet player Robin (Maya Hawke) team up to try and find more information on Victor Creel, who allegedly murdered his family and cut out his own eyes and has some connection to the season's big bad, Vecna. They head to the local library to dig through old newspapers and look for clues (because Google hadn't been invented yet), and on the way we see the front of a few businesses in downtown Hawkins. Among them is a Radio Shack, with "store closing" signs in the windows. The Radio Shack was a huge part of the show's second season, as Joyce's love interest, Bob (Sean Astin), managed the store. It looks like after Bob's death, the store never quite recovered, which is a real bummer. Poor Bob. 
Hopper's ankle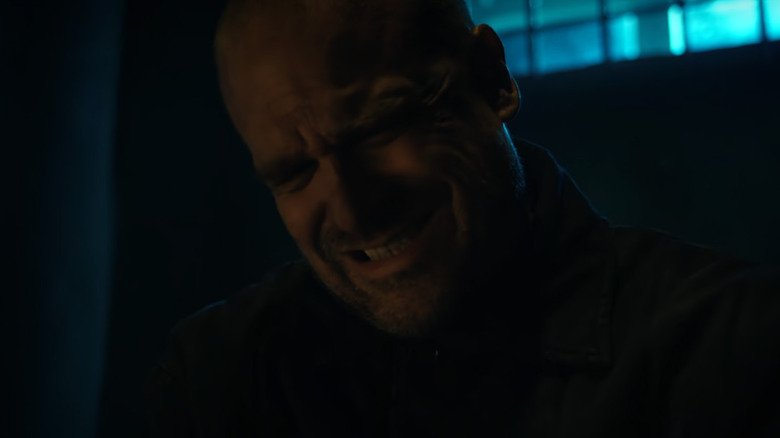 Netflix
Meanwhile, in Russia, ol' Jim Hopper's having a rough time. He's trapped in a gulag, working in horrible frozen conditions with his legs chained together. One of the guards (played by "Game of Thrones" hot faceless man Tom Wlaschiha) is helping him contact Joyce and escape, and they've developed a tiny bit of rapport, but he's pretty miserable. In an attempt to escape, he convinces one of the other prisoners to hit his ankle lock and the result is a lot of damage to Hopper's foot. We see the injury later when Hopper tries to force his bloodied, horrifically mangled foot through the ankle cuff. It's pretty graphic, and calls to mind the Danny Boyle-directed "127 Hours," in which James Franco's character sawed through his own arm with a pocket knife. More than that, though, it feels like a moment pulled directly from James Wan's first "Saw" film, in which two men are chained at their ankles and left with a saw that won't cut metal but will probably do an okay job on bone. Here's hoping Hopper doesn't go that far, or his name will take on a dual meaning. 
Microfilm research time!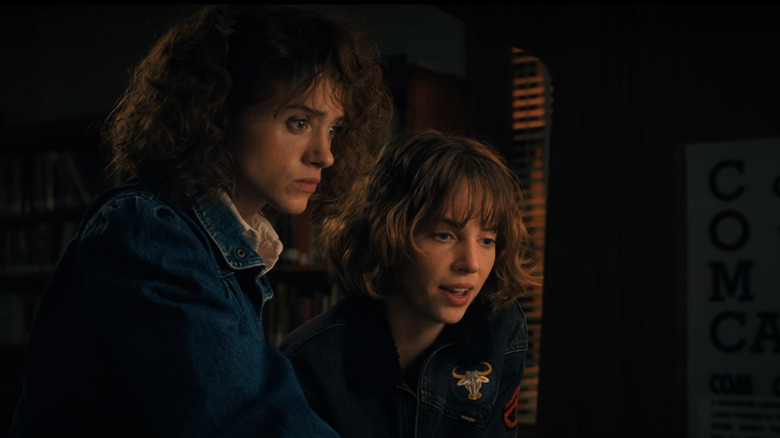 Netflix
Nancy and Robin have an interesting time digging through the old newspapers, using a machine that has become increasingly obsolete in the time of the internet: A microfilm reader! Microfilm allows for an image to be saved at a much smaller size, then projected back to full size using a reader. This meant that important documents, like newspapers, could be preserved for much longer than the paper itself would last. Many libraries still have microfilm archives that haven't been digitized yet, but in 1986, that was really the only way to find this kind of information. The scene doesn't pay homage to any one particular film, but instead revels in the trope of women looking at microfilm from all of horror cinema. Films ranging from "Candyman" to "The Ring" have utilized the trope, and Nancy and Robin are just the latest intrepid investigators to play into it.
Shouting out the behind-the-scenes team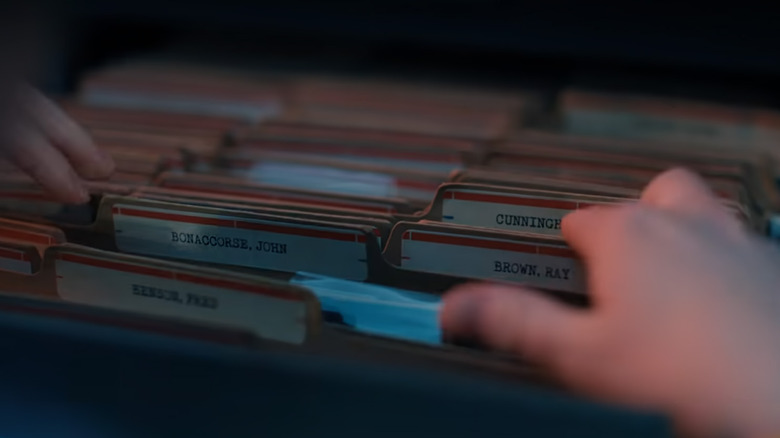 Netflix
Max (Sadie Sink) breaks into her counselor's office to try and get more information on Chrissy (Grace Van Dien), who was killed by Vecna. Max knows that Chrissy went to the same counselor, but because of patient confidentiality, the counselor can't reveal anything about their time together. Max decides to go rogue and steal the info, and while she's digging through files, we see a couple of other names listed. She passes over a John Bonaccorse and a Ray Brown before finally finding Chrissy's paperwork, but those names are important to the "Stranger Things" team behind the scenes. Bonaccorse works as second assistant director on "Stranger Things," while Brown is a key grip. Both are integral to creating the weird world of "Stranger Things," and it's cool to see them highlighted in an Easter egg.
"Stranger Things" season 4 part 1 is streaming now on Netflix.