Every Easter Egg In Stranger Things Season 4 Episode 1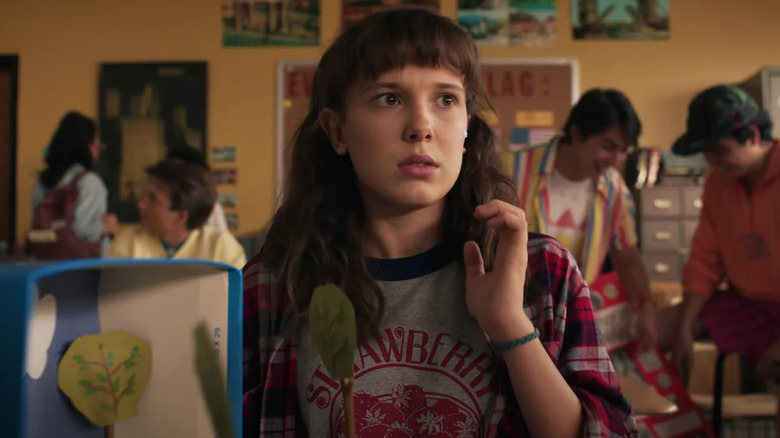 Netflix
"Stranger Things" has always trafficked heavily in nostalgia, and the fourth season is no different. Creators the Duffer Brothers love to inject references to pop culture from the era into every episode, and season 4 is chock-full of Easter eggs to both the previous seasons and everything popular in 1986. There are simply too many Easter eggs to collect into one article, so we've broken them down episode by episode for your egg-hunting enjoyment. 
1986 was a wild year in both history and pop culture. Two major disasters shaped the cultural landscape, with the tragic Challenger space shuttle launch in January and the catastrophic Chernobyl power plant failure in April. "Top Gun" was the number one movie in America. The very first Marvel movie, "Howard the Duck," was released in theaters, where it bombed spectacularly. It was a weird year, which makes it kind of perfect for "Stranger Things."
This should go without saying, but there are many SPOILERS ahead for season 4, episode 1 of "Stranger Things." You have been warned. 
Eleven's flashbacks are sci-fi trope heaven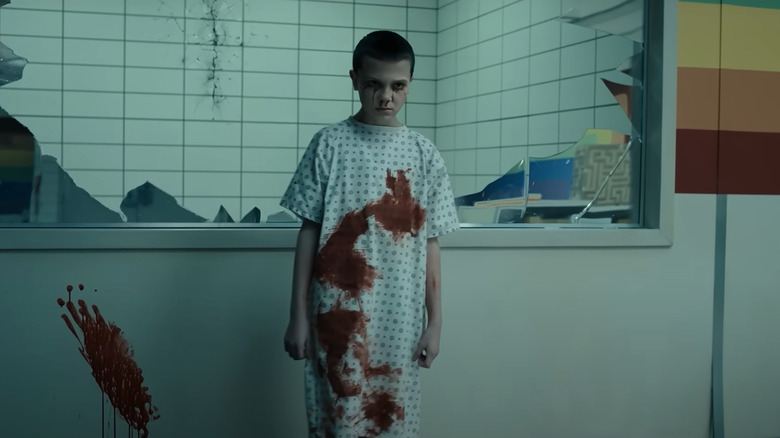 Netflix
The opening sequence of season 4 shows a flashback to Dr. Brenner (Matthew Modine) working with one of Eleven's (Millie Bobby Brown) "siblings" in the top-secret facility she escaped in season 1. He works with 010 and passes a door marked with 011, and soon things get violent. This first sequence was released ahead of time to drum up hype for the season, and it's a great throwback to sci-fi horror tropes of the 1980s, 1990s, and beyond. 
The facility and its experiments are reminiscent of Stephen King's novel "Firestarter," which went on to inspire a number of other sci-fi stories about telekinetic or genetically modified kids. There are shades of the video game "Galerians" and the James Cameron series "Dark Angel," but the most direct influence seems to be the anime series "Elfen Lied," which opens with a young woman with telekinesis making a very bloody escape from her laboratory prison.
Poor Mr. Fibley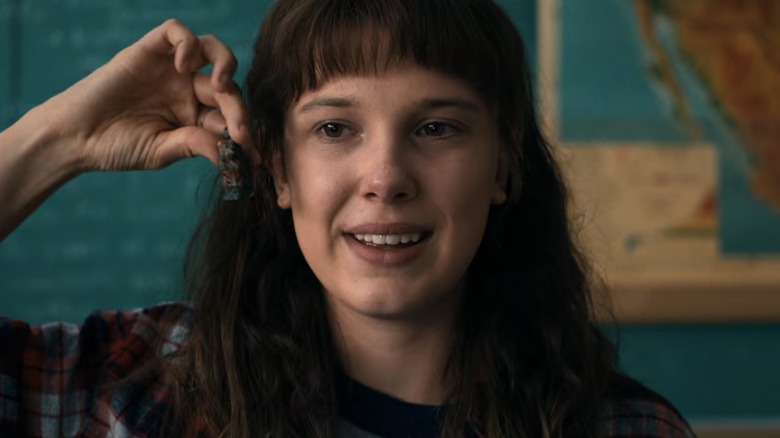 Netflix
Not only does "Stranger Things" reference pop culture, but sometimes it throws in fun references to itself, too. In the season 4 premiere, Eleven, living under the name "Jane Hopper," does a presentation on her hero for her new high school class. She makes a diorama of Jim Hopper's (David Harbour) cabin, complete with a little Sheriff Hopper and a tiny squirrel she calls "Mr. Fibley." The squirrel is a callback to season 2, when Eleven used her powers to kill a squirrel by throwing it into a tree. Maybe Hopper taxidermied the little guy as a joke, or got her a stuffed squirrel (the cute and cuddly kind). Either way, it's a cute (if slightly creepy) callback. 
Tammy mimics the Material Girl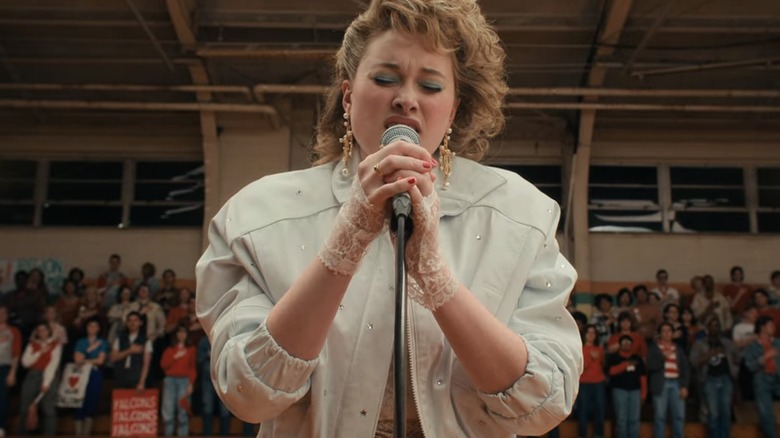 Netflix
Remember Robin's (Maya Hawke) crush Tammy that she revealed to Steve (Joe Keery) in season 3? The one she said wanted to go to Nashville and be a singer? Well apparently that's exactly what Tammy did, and she returns to Hawkins to sing the national anthem at the high school basketball championship game. Steve had teased Robin that Tammy "sounded like a Muppet," and it turns out that her singing voice isn't exactly great. Joking about her singing gives Robin a chance to flirt with her new crush, who doesn't know Robin is gay but apparently left "Fast Times at Ridgemont High" stopped on the famous topless scene, which Steve says is a sure sign "she likes boobies." 
Tammy's outfit is as 1986 as it gets; she's channeling "Lucky Star"-era Madonna in everything from her curly hairdo to her lace gloves. Tammy may not sound as good as the Material Girl, but at least she looks great.
Dustin channels his inner Han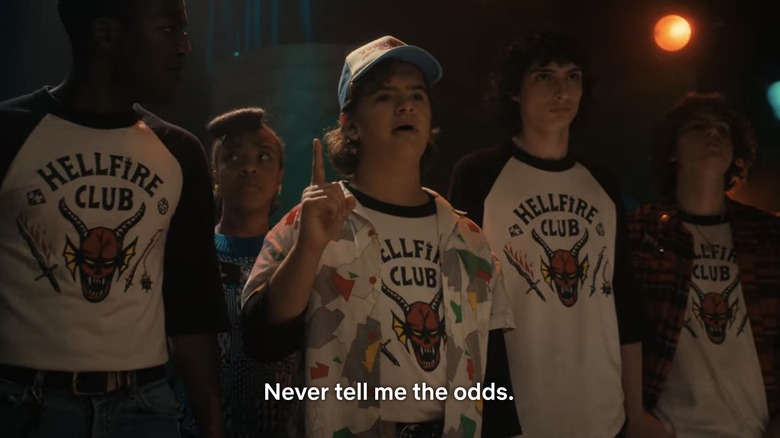 Netflix
We already know that the Hawkins guys love "Star Wars" and everything geeky, but there's a fun little reference to "The Empire Strikes Back" in episode 1. When Dustin (Gaten Matarazzo) and Mike (Finn Wolfhard) need a third to join their Dungeons and Dragons game after Lucas (Caleb McLaughlin) bails to play in the basketball championship, they get Lucas' little sister Erica (Priah Ferguson) onboard. Things aren't going so well and it's looking like they're going to lose all of their characters, leaving it to Dustin and Erica. One of the other players tries to tell Dustin how unlikely he is to roll high enough to win, and Dustin coolly responds with, "Never tell me the odds, give me the d20." 
In "The Empire Strikes Back," Han Solo (Harrison Ford) famously told C-3PO (Anthony Daniels) to never tell him the odds of success. Matarazzo delivers the line with the same kind of calm cool, and it's a really fun moment (even if he ends up rolling poorly.)
Chrissys nightmare parents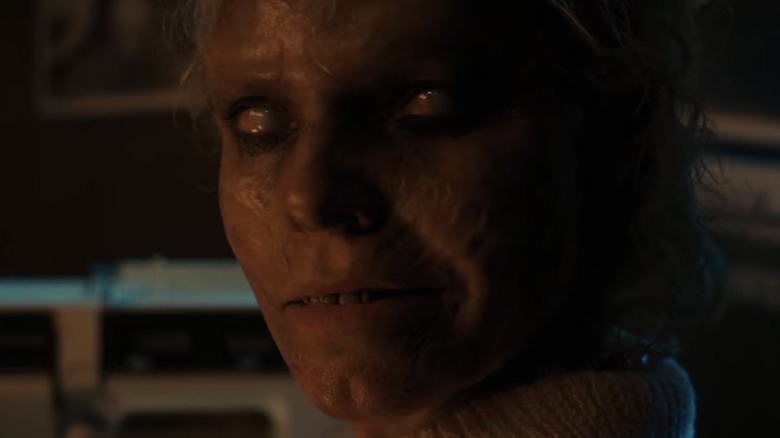 Netflix
Poor Chrissy (Grace Van Dien) can't seem to catch a break. She's a super-popular cheerleader, but she's also haunted. She sees twisted images from her own past, hallucinating her mother making snide comments about her weight while making a dress a little bigger for her, and her father trapped in his armchair. The way her mom spins around with her face contorted and her eyes glazed looks almost exactly like the various Deadite reveals in the "Evil Dead" franchise, where loved ones possessed by Deadites pretend to be normal only to spin around and reveal their horrifying visages. It's pure Raimi, and it's a great shock. 
When Chrissy goes looking for her father, she finds him sitting with his eyes and mouth sewn shut, and it's eerily reminiscent of the Paul W.S. Anderson movie "Event Horizon," in which a crew in outer space discovers an ancient evil. It's very Lovecraftian, and works great within the slightly more vicious horror world of "Stranger Things" season 4.
Where's Freddy?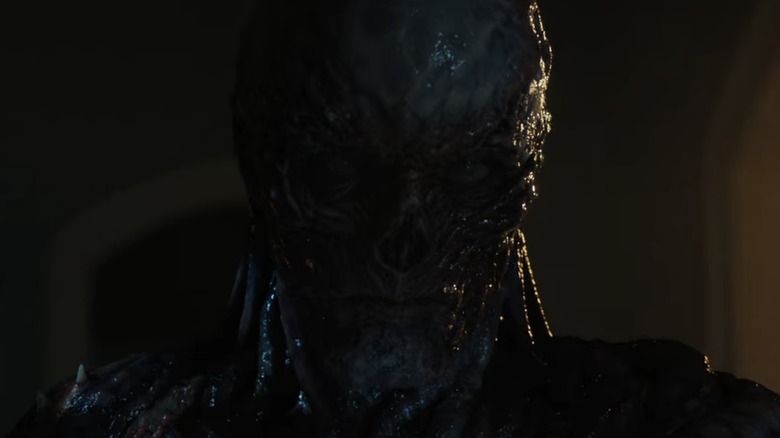 Netflix
Season 4 of "Stranger Things" draws heavily from the "Nightmare on Elm Street" franchise, and its the most obvious when we get glimpses of this season's big bad, Vecna. The Duffers have even said that Vecna is inspired by Freddy Krueger, and it's visible from his very first appearance this season. After terrorizing Chrissy with nightmarish visions from her past, he appears at the top of the stairs and the lights in her dream-world family home begin to flash. It's close enough to the kind of terror Freddy invokes to almost feel like "Elm Street" fan-fiction, but it's appropriately 1980s and deeply creepy.