20 Underrated Spy Movies You Really Need To See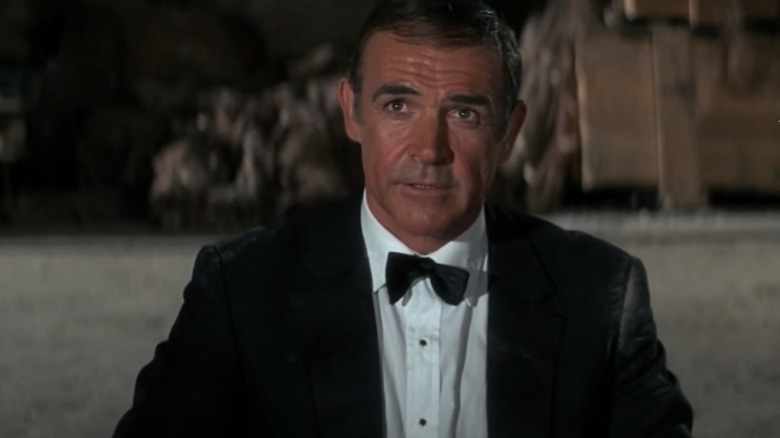 Warner Bros.
Who doesn't love spy movies? Between James Bond, Ethan Hunt, Jason Bourne, and Jack Ryan, there is no shortage of great film franchises centered on the world of espionage. It's always exciting to see what new gadgets these beloved secret agents have at their disposal. All of these franchises have cast many different actors in the central roles. Each actor has managed to interpret their characters in new and exciting ways.
Take James Bond, for example. The dark, brooding nature of Daniel Craig couldn't be more different from Roger Moore's comedic interpretation. The 007 franchise has certainly had its highs and lows. For every genuine classic like "Casino Royale" or "Goldfinger," you get a complete disaster, like "Diamonds Are Forever" or "Die Another Day."
Even if we all love Bond films, they are not the only espionage thrillers that are worth celebrating. You really need to see these 20 underrated spy movies.
All the Old Knives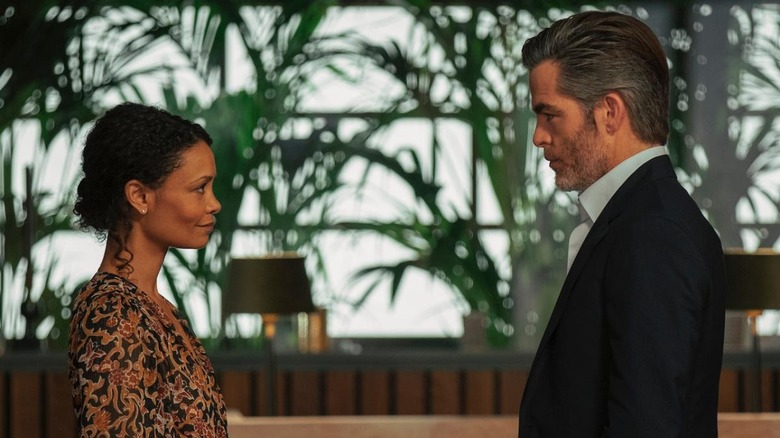 Prime Video
It is refreshing to see a spy film that isn't focused on gunplay, explosions, and fistfights. The realistic espionage thriller "All the Old Knives" debuted on Prime Video earlier this year. Author Olen Steinhauer adapted his novel of the same name. "All the Old Knives" director Janus Metz Pedersen created a plausible story centered on the aftermath of a terrorist plane hijacking. Although it is not directly based on a true story, "All the Old Knives" feels like it was ripped from the headlines.
"All the Old Knives" opens with a stress-inducing hijacking sequence. The film mostly focuses on a series of conversations. Various intelligence committees and international governments try to determine why the attack happened and how similar tragedies can be prevented in the future.
Chris Pine stars as CIA officer Henry Pelham. Henry failed to prevent terrorists from taking over a Turkish Airlines flight in 2012. He has felt guilty ever since. Henry's supervisor, Vick Wallinger (Laurence Fishburne), reopens the case. To review the events, Henry sets up an interview with his former lover, Celia Harrison (Thandiwe Newton). Pine is best known for his role as Captain James T. Kirk in the modern "Star Trek" franchise, but he gives a much more subdued performance as Henry. His chemistry with Newton creates a tragically doomed romance.
The Company You Keep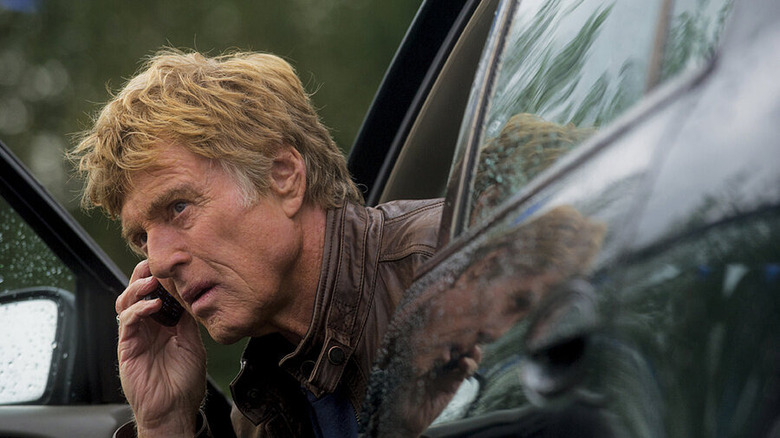 Sony Pictures Classics
Robert Redford has starred in some of the best spy thrillers ever made, including "Three Days of the Condor" and "All the President's Men." Although Redford is a great actor, he's an even better director. Redford returned to the espionage genre with his 2013 thriller "The Company You Keep." The film shares many qualities with his older classics. It focuses on the aftermath of the anti-Vietnam War riots and how a group of protestors has been forced to live with their actions for many decades. It is powerful to see Redford reflecting upon the events that he was involved with.
Redford stars as the former activist Nick Sloan, who goes by the fake name "Jim Grant." Grant helped create an anti-war organization known as the Weather Underground in the 1970s. Grant has a relatively normal life and raises his young daughter, Isabel (Jackie Evancho). Grant has not seen any of his old allies in years. The Weather Underground was accused of killing a guard during a bank robbery. Grant is forced to reckon with the past when his former ally, Sharon Solarz (Susan Sarandon), is captured by the FBI.
Enthusiastic reporter Ben Shepard (Shia LaBeouf) begins investigating Grant. He convinces his editor, Ray Fuller (Stanley Tucci), to let him interview Solarz. Ben discovers that Grant has been living under an assumed name for decades. After gaining information from FBI agent Diana (Anna Kendrick), his former lover, Ben manages to track down Grant.
Secret Agent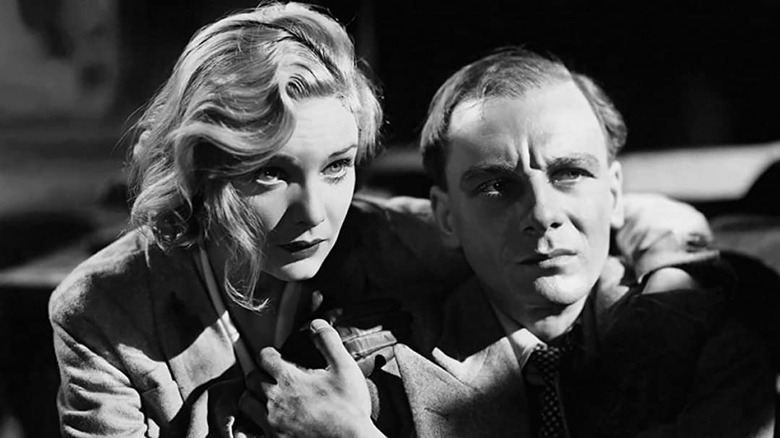 British International Pictures
The legendary director Alfred Hitchcock created some of the most iconic spy movies of all time. Films like "North by Northwest," "Notorious," "The 39 Steps," and "The Lady Vanishes" are among the greatest espionage films ever made. However, Hitchcock has a very extensive filmography and not all of his films are given enough credit. Hitchcock's 1936 thriller, "Secret Agent," is a great example of his ability to create mystery, suspense, and intrigue.
Hitchcock's early British thrillers were more streamlined and simplified than his later work. However, "Secret Agent" contains most of Hitchcock's trademark touches. There are many plot twists, shocking moments, and surprising betrayals. The film follows British novelist Richard Ashenden (John Gielgud) during the aftermath of World War I. Ashenden returns home from fighting in 1916, only to discover that the newspapers have declared him dead. A mysterious figure known only as "R" (Charles Carson) asks for Ashenden's help. He offers to give him a fake name: "Edgar Brodie." Ashenden agrees. He is a firm patriot and bravely defended his country during the war.
"Brodie" is assigned a dangerous mission. He travels to the Middle East to unravel a conspiracy involving a German spy. R's associate, Elsa Carrington (Madeline Carroll), goes undercover as his wife. Brodie and Carrington travel to Switzerland, which remained neutral during the war. Although there is not much action, it is exciting to watch Brodie and Carrington try to keep their identities a secret.
Never Say Never Again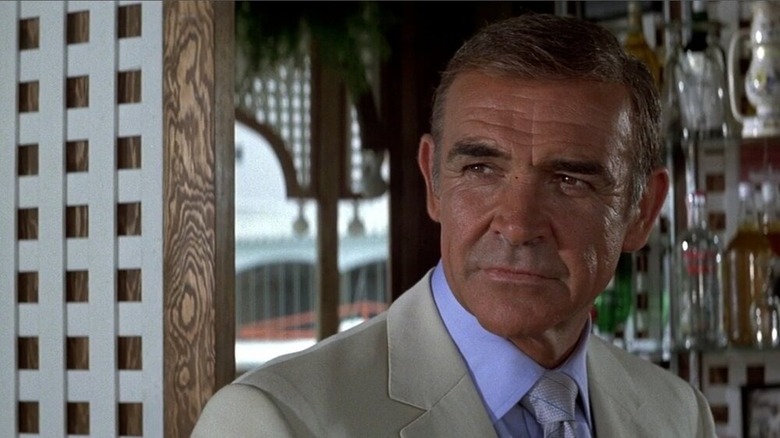 Warner Bros.
There are 25 films in the official EON Productions James Bond franchise. However, two other Bond films produced by other studios also exist. The 1967 version of "Casino Royale" is not worth watching. "Casino Royale" is a parody of the series and features Peter Sellers (among others) as 007. It is nothing more than a series of unfunny sketch gags.
However, the 1983 non-EON film "Never Say Never Again" deserves more appreciation from Bond fans. The film emerged as the result of a lawsuit, in which Ian Fleming's collaborator Kevin McClory was allowed to adapt the Bond novel "Thunderball." "Thunderball" was previously adapted into the 1965 film of the same name. Warner Brothers developed a new version of the original story and convinced Sean Connery to return to his iconic role. Connery had previously retired from the series after 1971's "Diamonds Are Forever." Ironically, "Never Say Never Again" was released during the same summer as the Roger Moore Bond film "Octopussy."
"Never Say Never Again" acknowledges Bond's age. 007 has to cope with his failing health. He feels out of place among the younger MI6 agents. Connery shows a more vulnerable side of the character. He's just as committed to his duty as ever, but finds that he can't take the same risks that he was able to when he was younger. The film was directed by "The Empire Strikes Back" filmmaker Irvin Kershner. Kershner creates several terrific action sequences, including the film's climactic underwater battle.
The Courier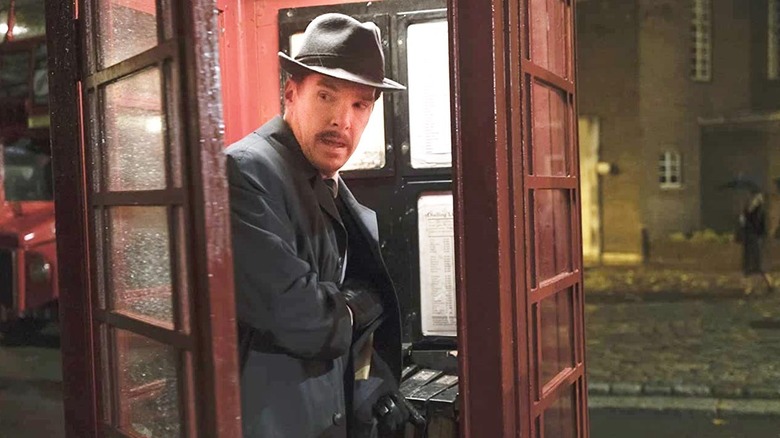 Roadside Attractions
The 2021 spy thriller, "The Courier," is inspired by an amazing true story. The film explores the life of Greyville Wynne (Benedict Cumberbatch), a British businessman who is recruited to become a spy. MI6 and the CIA ask Wynne to go undercover in the Soviet Union to make contact with a defector named Oleg Penkovsky (Merab Ninidze). While an official government operation could be interpreted as an act of war, Wynne is able to sneak into the communist nation undetected. He forms a friendship with Oleg. They reflect on their relationships with their home countries. Both men consider themselves to be patriots, even if they don't always agree with what their nations are doing.
"The Courier" is very suspenseful, but Wynne's perspective is unique. He isn't an experienced secret agent. Wynne struggles to keep up with all of the espionage terminologies. He is a fish-out-of-water, and Cumberbatch adds a subtle bit of humor that makes the character seem more realistic. Cumberbatch delivers one of his greatest performances ever. Wynne is a sympathetic character. It is heartbreaking to watch him suffer after his secret identity is revealed. The scenes Wynne shares with his wife, Shelia (Jessie Buckley), are very emotional.
Ninidze and Cumberbatch have great chemistry. Even when their relationship is revealed, Oleg tries to protect his new friend and claims that Wynne is innocent.
Zeros and Ones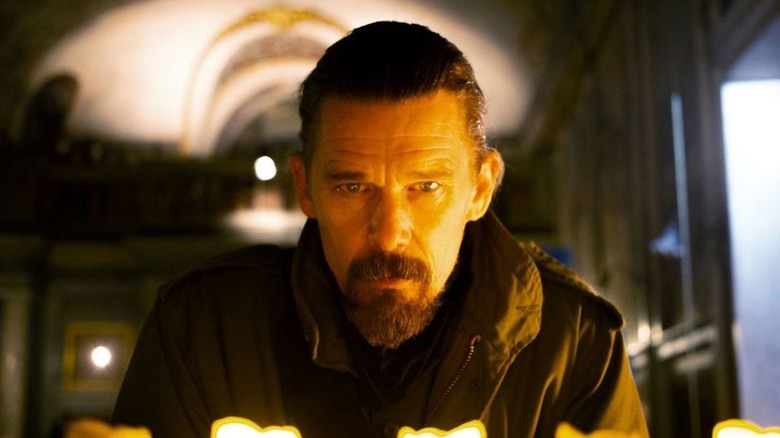 Lionsgate
Espionage films are effective if they can respond to the current political climate. In a world dominated by stories of surveillance and conspiracies, films about spies are more relevant than ever. Legendary arthouse filmmaker Abel Ferrara created a controversial film about modern terrorism. "Zeros and Ones" is one of the most divisive films in Ferrara's filmography. The parallels between its story and recent tragedies are disturbing.
"Zeros and Ones" is worthy of an in-depth examination. Whether you love it or hate it, you have to acknowledge Ferrara's bravery in dealing with such sensitive subject matter. Unfortunately, few film fans were able to see "Zeros and Ones" in its intended format. It was simultaneously released in select theaters and through video-on-demand platforms.
"Zeros and Ones" follows J.J. (Ethan Hawke), an American soldier who is assigned to stop a terrorist bombing at the Vatican. J.J. searches for the enigmatic bomber, Justin, who just so happens to be his identical twin brother. Hawke gives a dynamic performance. Sharing the screen with yourself is no easy task, but Hawke creates two completely different characters. While J.J. is calm and reserved, Justin is a complete wildcard. He delivers extended monologues about the collapse of the world's political and economic infrastructure. Despite his eccentricities, Justin believes that he has good intentions.
Kill the Messenger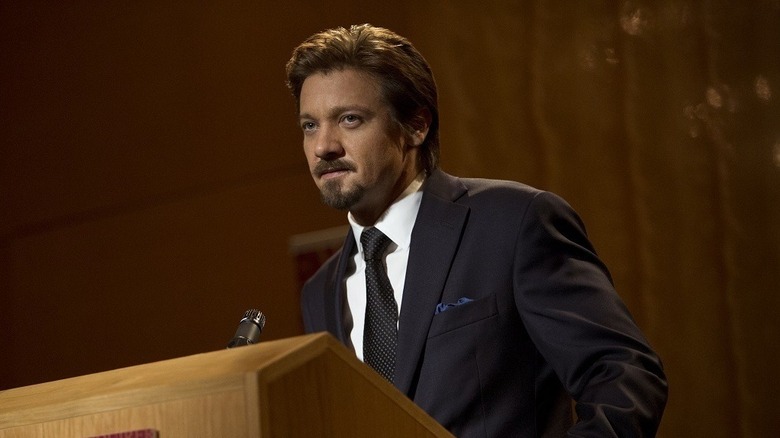 Focus Features
The 2014 true-crime thriller "Kill the Messenger" spotlights one of the most underreported controversies in modern American political history. Jeremy Renner stars as Gary Webb, an idealistic reporter for the San Jose Mercury News. The film is inspired by Webb's 1998 novel, "Dark Alliance: The CIA, the Contras, and the Crack Cocaine Explosion."
Webb is renowned for his pursuit of the truth. He believes that the government has a duty to be honest with its citizens. After he uncovers a secret cocaine smuggling operation, Webb learns that the U.S. government is secretly funding military operations for the Nicaraguan Contras.
Webb isn't about to let this conspiracy go unreported. He digs into the case, but the powerful political players involved want to silence him. Webb's home is put under surveillance, and the CIA threatens his family. Even though he was once a respected journalist, Webb is shunned by his peers. He is accused of being a traitor. Tragically, Webb died by suicide in 2004. Hopefully, more viewers will watch "Kill the Messenger" and learn about Webb's story. He was an unsung patriot whose heroism merits praise.
Renner gives one of the most empathetic performances of his career. Even though Webb is experienced, he's clearly in over his head dealing with drug smugglers. The only thing Webb cares about more than his profession is his family. He is forced to choose between risking his children's lives and revealing the secret rebel movement.
The Manchurian Candidate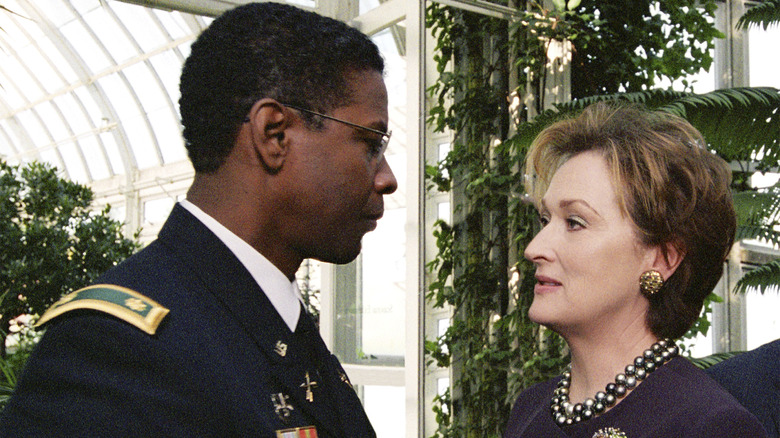 Paramount Pictures
A remake is rarely better than the original. For a remake to be effective, it must tell a different story but explore why the original themes are still relevant. The 1962 espionage thriller, "The Manchurian Candidate," was already a classic. However, Jonathan Demme's 2004 remake manages to surpass the original. Instead of replicating the same narrative, Demme's film updates the story for modern times.
The original film takes place during the Cold War. It follows a secret brainwashing tactic that communist spies use to infiltrate the United States intelligence infrastructure. The 2004 film moves the story forward to the 1991 Gulf War. It explores a plot by a powerful corporation to influence a presidential election, and Demme's vision of a borderline dystopian future is disturbing. The United States is overrun by corruption, xenophobia, and fascism. 
Sgt. Raymond Shaw (Liev Schreiber) is awarded the Medal of Honor for his heroism. Raymond's mother, Eleanor (Meryl Streep), is a prominent senator. A decade after Raymond is hailed as a hero, Eleanor supports his campaign for the vice presidency. However, Raymond was secretly brainwashed during his time in the service. Raymond's former commanding officer, Major Bennett Marco (Denzel Washington), has a vision of a cover-up operation during the war. It's a different type of performance from Washington. He usually plays calm, collected characters, but Marco is anxious and lacks confidence.
Anthropoid
Bleecker Street
Not every film about World War II has to center on soldiers in the heat of conflict. There are many inspiring true stories of espionage and spycraft during the fight against the Nazis. Any true story about spies is likely shrouded in mystery. The 2016 thriller "Anthropoid" explores the Czechoslovakian resistance movement. Czech soldiers had to flee their home country after the German occupation. Czechoslovakian spies led a secret effort known as "Operation Anthropoid" to assassinate Reinhard Heydrich (Detlef Bothe). Heydrich was one of Adolf Hitler's top advisors, and one of the architects of the "Final Solution."
The film focuses on two agents, Slovak soldier Jozef Gabčík (Cillian Murphy) and Czech Jan Kubiš (Jamie Dornan). Jozef and Jan go undercover in Prague to plan the assassination. Director Sean Ellis does a great job at building suspense. Jozef and Jan struggle to keep their identities a secret. Jozef worries that Jan will become distracted by personal obligations. During their stay in Prague, Jan falls in love with Marie Kovárníková (Charlotte Le Bon). Their heartfelt relationship makes Jan's death even more emotional.
Enemy of the State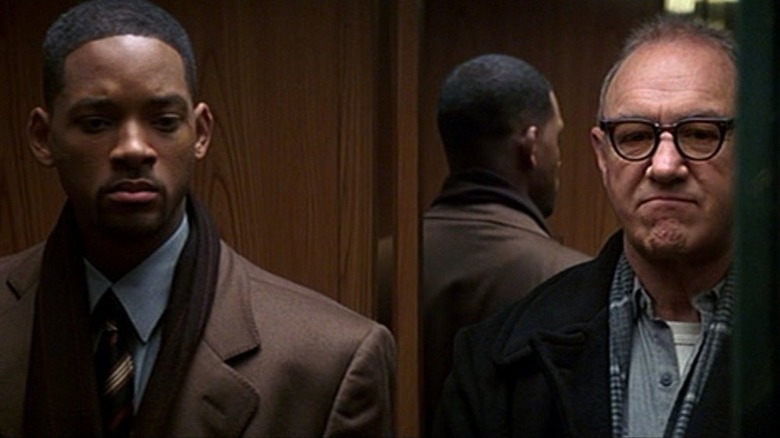 Buena Vista Pictures
Tony Scott was renowned for his frantic, flashy directorial style. His exciting action films such as "Top Gun," "The Last Boy Scout," and "Man on Fire," feature sharp humor and over-the-top action. While Scott's talent isn't up for debate, he didn't immediately seem like the right choice to helm a suspense thriller. Scott wasn't exactly known for his subtlety. However, his 1998 spy film, "Enemy of the State," was the perfect combination of crowd-pleasing action and relevant political themes. While there are many elaborate chase sequences, Scott uses "Enemy of the State" to reflect on the rising sense of paranoia within the surveillance state.
In "Enemy of the State," successful attorney Bobby Dean (Will Smith) is in the middle of an investigation into the Mafia. He is close to finding evidence that will convict the drug kingpin Paulie Pintero (Tom Sizemore). Bobby receives documents convicting Pintero from his ex-lover, Rachel Banks (Lisa Bonet). Banks is secretly working for an enigmatic surveillance expert known only as "Brill" (Gene Hackman). Brill is on the verge of uncovering an attempted assassination plot on a U.S. Congressman. He is pursued by the NSA.
Brill and Bobby are forced to join forces. Hackman is perfect for the role of a lifelong espionage agent who has grown paranoid. In many ways, it is very similar to his character Henry Caul in Francis Ford Coppola's 1974 classic "The Conversation." Smith is perfectly cast as a confident, charismatic lawyer.
Body of Lies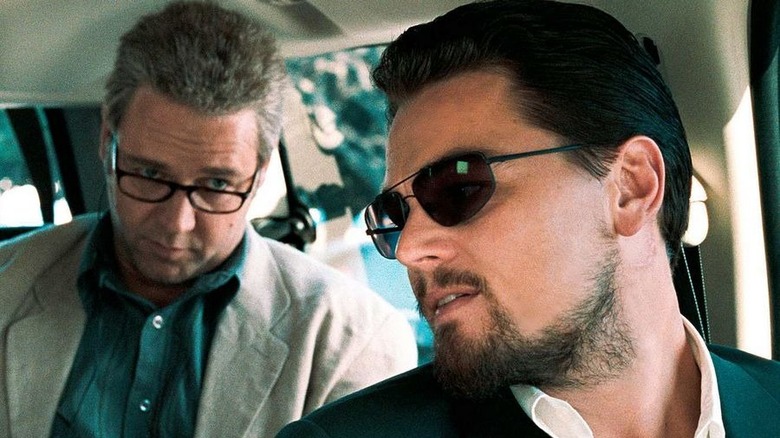 Warner Bros.
Spy movie franchises like "Mission: Impossible" and "Kingsman" are fun if you are looking for escapism. It's enjoyable to see over-the-top films that don't have any basis in reality. However, there are many spy films that take a more realistic approach to the world of espionage. Ridley Scott's 2008 thriller, "Body of Lies" examines the ongoing crisis in the Middle East. The film is based on David Ignatius' 2007 novel of the same name. Although Ignatius' story is fictional, the film could easily be mistaken for a true story.
"Body of Lies" delves into the American government's ongoing operations in Arab countries. Scott uses the film to criticize the overreliance on technological intelligence developments. New technology allows American spies to infiltrate dangerous situations without risking their lives. However, watching something from a computer screen is very different from being there in person. It takes empathy out of the equation. "Body of Lies" shows why these types of operations require an actual human being to make decisions.
The film follows CIA agent Roger Ferris (Leonardo DiCaprio), who is dispatched to Iraq. Ferris is tracking down the terrorist Al-Saleem (Alon Abutbul). Ferris' supervisor, Ed Hoffman (Russell Crowe), wants the operation to be swift and simple. However, Ferris is determined to offer asylum to his contact, Nizar (Mehdi Nebbou). Nizar is a defector within Al-Saleem's syndicate. Hoffman doesn't see the value in bringing Nizar to safety.
The Saint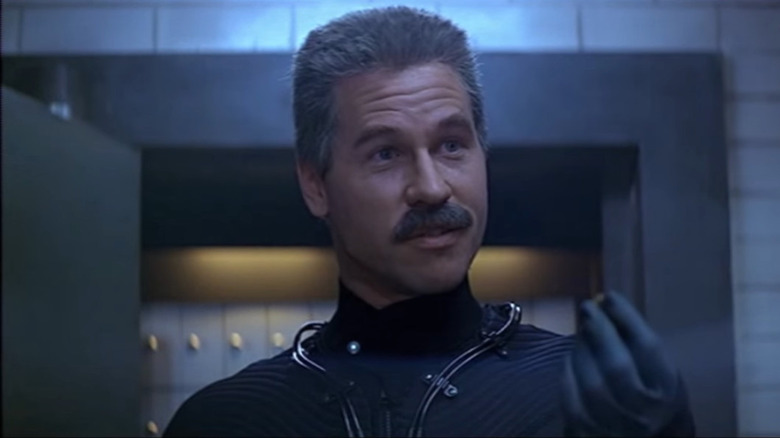 Paramount Pictures
Val Kilmer was never given enough credit during the height of his career. The 2021 documentary "Val" lends some insight into the personal struggles that Kilmer endured during the 1990s. Kilmer wanted to pursue more ambitious roles, but he was often typecast as a generic action movie lead. Even if he wasn't a fan of the material, Kilmer did his best to elevate every film he participated in.
Kilmer stars as secret agent Simon Templar in the 1997 film, "The Saint." The action-thriller is based on the classic British television series of the same name, which starred Roger Moore. Templar was raised as "John Rossi" in the Saint Ignatius Orphanage. After enduring abuse at the hands of the Catholic priests, Rossi escapes from the orphanage and proclaims himself "Simon Templar." It is the first of many false identities. Templar travels the world in elaborate disguises to perform heists.
It's the perfect role for Kilmer. Templar isn't a standard action hero. He enjoys creating new characters and deceiving the rich and powerful. The con is just as important to him as the reward. However, Simon's great acting abilities also present some challenges. Simon becomes so lost in the personas he adopts that he struggles to determine his own identity. "The Saint" could have easily been just another silly popcorn movie, but Kilmer adds emotional depth. Unfortunately, the film was poorly received.
Confessions of a Dangerous Mind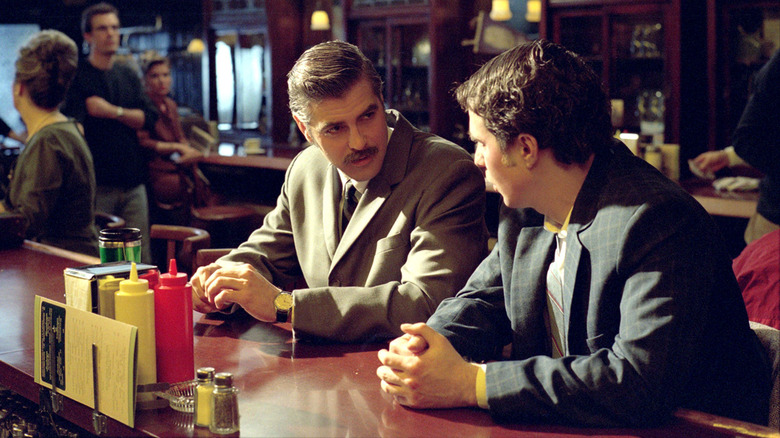 Miramax Films
George Clooney isn't just a great actor. He's also one of the best directors working today. Clooney made his directorial debut with the black comedy "Confessions of a Dangerous Mind." The film was written by the notoriously quirky screenwriter Charlie Kaufman, who adapted the "unauthorized autobiography" of game show host Chuck Barris. Barris claimed that he worked as an assassin for the CIA while also working in television. It's unclear how much of Barris' story is true, and "Confessions of a Dangerous Mind" doesn't offer a definitive answer. Clooney and Kaufman satirize the similarities between international espionage and the entertainment industry — both professions involve lies and deception.
Sam Rockwell delivers one of his greatest performances ever as Barris. Rockwell's idiosyncratic sense of humor is perfect for this eccentric role. There is something charming about Barris despite all of the horrible things he's done (or has claimed to have done). Barris dreams of becoming a famous television personality. After earning a part-time job as a page for NBC, Barris pitches concepts for game shows to the network. He fails to find the success he is seeking.
After a tough day at work, Barris meets CIA agent Jim Byrd (Clooney). Byrd recruits him as an international assassin. Barris realizes that he has all the skills needed to go undercover and helps Byrd take out a series of international targets. As he becomes an asset to the CIA, Barris' television career begins to take off.
Burn After Reading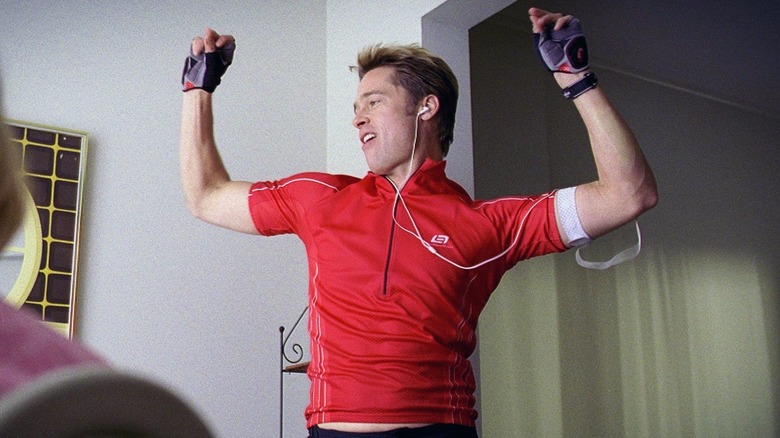 Focus Features
The Coen Brothers are among the greatest directors of all time. Most filmmakers hope to direct just one great classic in their lifetime, but the Coens have helmed many masterpieces. Picking a favorite film from the Coens is no easy task. However, not many fans would cite the 2008 spy thriller "Burn After Reading" as their favorite. It is a dark yet wildly weird exploration of the modern intelligence infrastructure.
The film follows disgruntled CIA agent Osborne Cox (John Malkovich), who decides to quit his job. Cox records details of his career and prepares to write a memoir. However, Cox does not realize that his wife, Katie (Tilda Swinton), is having an affair with U.S. Marshall Harry Pfarrer (George Clooney). Katie begins sending her financial records to Harry to finalize her divorce. She accidentally includes her husband's memoir. Harry is forced to search for the disk after he leaves it at the gym. The gym's employees, Linda Litzke (Frances McDormand) and Chad Feldheimer (Brad Pitt), discover the records.
Although it may not be as beloved as the Coens' other films, "Burn After Reading" is brilliantly subversive. It shows how clueless those with power really are. When asked by his employee, Palmer DeBakey Smith (David Rasche), what the intelligence committee has learned, the CIA supervisor (J.K. Simmons) says "I guess we learned not to do it again." The cycle of idiocy is bound to be repeated.
Snowden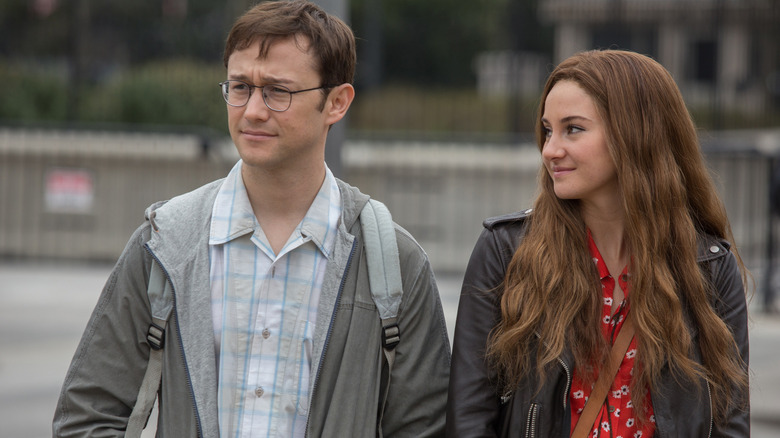 Open Road Films
Oliver Stone is one of the most politically outspoken filmmakers in Hollywood history. Stone was keen to give his take on the Edward Snowden controversy. His 2016 biopic "Snowden" explores the events that led the divisive CIA analyst to become a whistleblower. The film ends with a powerful moment that includes footage of the real Snowden delivering a speech.
While "Snowden" is certainly not subtle with its message, Joseph Gordon-Levitt's terrific performance makes the story more empathetic. Gordon-Levitt captures the difficult decisions that Snowden is forced to make. While he considers himself to be a patriot, he does not feel that he can support his country if the government is dishonest with its citizens. Snowden also fears for the safety of his girlfriend, Lindsay Mills (Shailene Woodley). While he's willing to risk his life, Snowden can't bear the thought of Lindsay having to face the consequences of his actions.
The Interpreter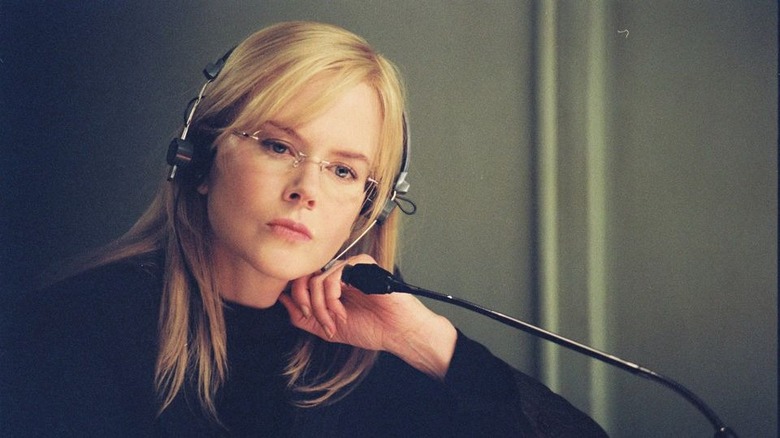 Universal Pictures
Legendary filmmaker Sydney Pollack helped define the modern espionage genre. Pollack's final feature film, 2005's "The Interpreter," is a fitting conclusion to his amazing career. The film allowed Pollack to offer his commentary on the political unrest in Africa, and how it has been affected by the action of the United Nations. It's just as sharp and timely as anything else Pollack ever did.
Nicole Kidman stars as Silvia Broome, a U.N. interpreter stationed in New York. Silvia's brother, Simon (Hugo Speer), assists a rebel movement in the African country Matobo. Agents of President Edmond Zuwanie's (Earl Cameron) secret police execute Simon and his accomplices. Unaware of her brother's secret involvement in the overseas conflict, Silvia is assigned to assist in the International Criminal Court's debate over the Matobo situation. When she stays in the office late into the night, Silvia overhears plans for a potential assassination
The Secret Service assigns Dignitary Protection Division agent Tobin Keller (Sean Penn) to question Silvia. Keller realizes that Zuwanie has been orchestrating a false flag operation to gain political power. As Silvia tries to clear her name, Keller must prevent her from killing Zuwaine herself.
Allied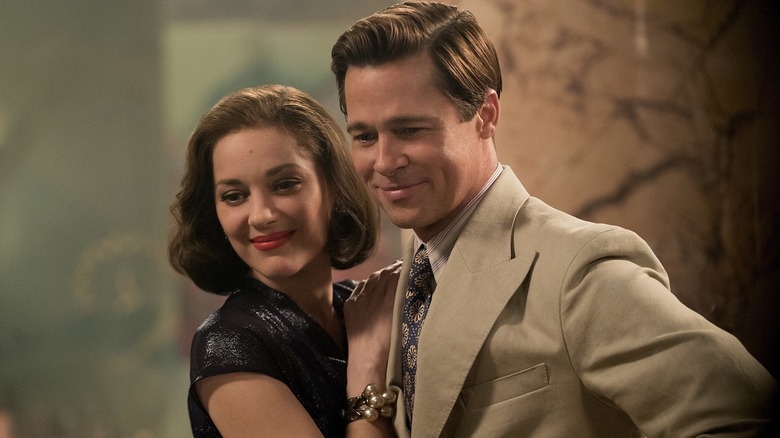 Paramount Pictures
Robert Zemeckis' 2018 spy thriller, "Allied," feels like a tribute to an earlier era of cinema. Zemeckis creates an emotional love story set during World War II. It's a classic example of the phrase "they don't make 'em like they used to." Unfortunately, the old-fashioned film failed to spark the interest of audiences or film critics. "Allied" isn't perfect. Some of the romantic scenes are melodramatic, and at times, the story feels bloated. However, any espionage film this well-crafted and thoroughly researched is worthy of celebration.
"Allied" follows a tragic romance between Royal Canadian Air Force Wing Commander Max Vatan (Brad Pitt) and French Resistance agent Marianne Beauséjour (Marion Cotillard). After they team up to assassinate a German ambassador, Max and Marianne fall deeply in love. They work together throughout the war to thwart the Nazis. However, Max learns from a special operations expert (Simon McBurney) that Marianne is a suspected double agent. Max struggles to determine where his loyalties lie.
The Limey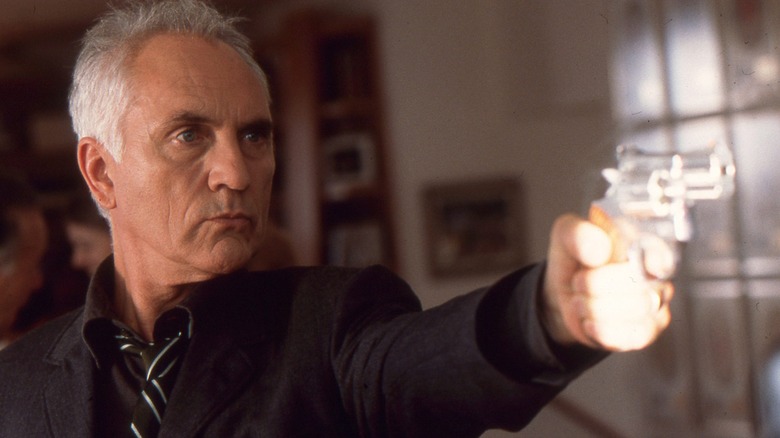 Artisan Entertainment
John Boorman's 1967 arthouse action classic, "Point Blank," was incredibly influential on an entire generation of filmmakers. Steven Soderbergh was inspired by "Point Blank" to create his own subversive spy thriller, 1999's "The Limey." Both films emphasize stylistic flourishes, which make them feel unique. Opening with a disorienting sequence set to The Who's classic song "The Seeker," "The Limey" does its best to both overwhelm and enthrall the viewer.
Terrence Stamp stars as Wilson, a grieving father. Wilson travels from his home in England to Los Angeles after learning that his daughter, Jenny (Melissa George), has been killed in a car accident. However, Wilson suspects that she was murdered. He learns that Jenny's boyfriend, Terry Valentine (Peter Fonda), is involved in a drug-smuggling syndicate. Wilson sets out on a violent quest for revenge.
Stamp's performance is subtle. While he maintains his steely demeanor throughout, he shows Wilson's anguish. He is so determined to get vengeance that he doesn't give himself time to process Jenny's death.
Beirut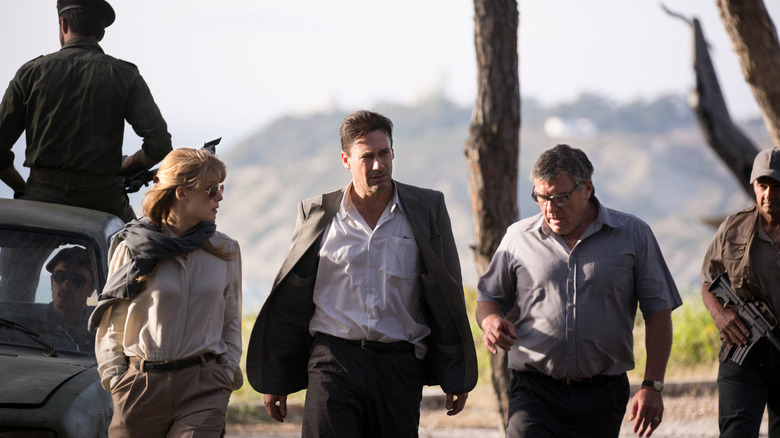 Bleecker Street
It is a shame that after giving an amazing performance on "Mad Men," Jon Hamm hasn't been nearly as successful in finding great film roles. Hamm is a charismatic leading man, but he's often cast in smaller parts that don't give him the chance to shine. However, Hamm delivered his finest film performance yet in the 2018 spy thriller "Beirut." The international espionage film combines relevant political subtext with elements of an old-fashioned spy film.
Hamm stars as former American diplomat Mason Skiles. Skiles retired from his profession after the death of his wife, Nadia (Leïla Bekhti), during the Munich massacre. Although he claims that he never wants to go back to fieldwork, Skiles reluctantly decides to assist in an operation to save his old friend, Cal Riley (Mark Pellegrino), during the Lebanese Civil War. Skiles learns that in exchange for Riley, the terrorist leader Karim Abu Rajal (Idir Chender) is demanding the release of his brother. Skiles is forced to negotiate during the tense standoff.
No Way Out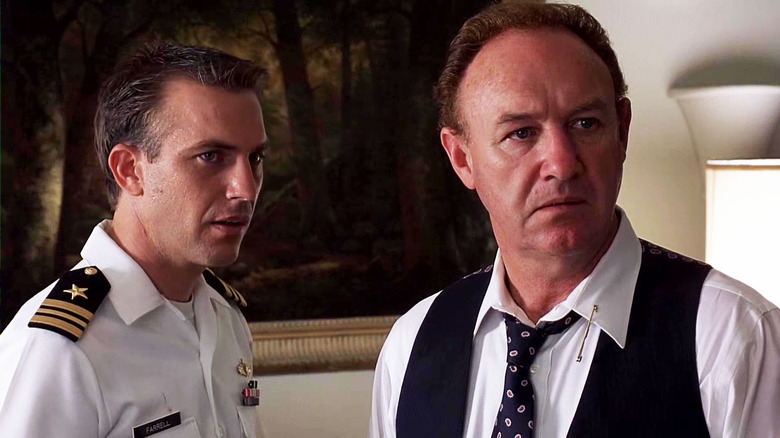 Orion Pictures
Every great spy film requires a few twists and turns, but the 1987 espionage film, "No Way Out," features one of the greatest plot twists in film history. The last few minutes completely change the context of the film. It's one thing to surprise the viewer with a shocking development, but "No Way Out" was already an effective thriller to begin with. The climactic revelation feels earned. Eagle-eyed viewers may pick up on the clues that are sprinkled throughout.
Based on Kenneth Fearing's 1946 novel, "The Big Clock," the film follows U.S Navy Lt. Cmdr. Tom Farrell (Kevin Costner). Farrell falls in love with a woman named Susan Atwell (Sean Young) but discovers that she is having an affair with Secretary of Defense David Brice (Gene Hackman). After discovering her disloyalty, Brice accidentally kills Atwell during an argument. To cover his tracks, he plants a story that Atwell's other lover is a covert KGB agent. He plans to find the man Atwell was in love with and murder him.