The Surprising Reason Roger Moore Retired From James Bond Films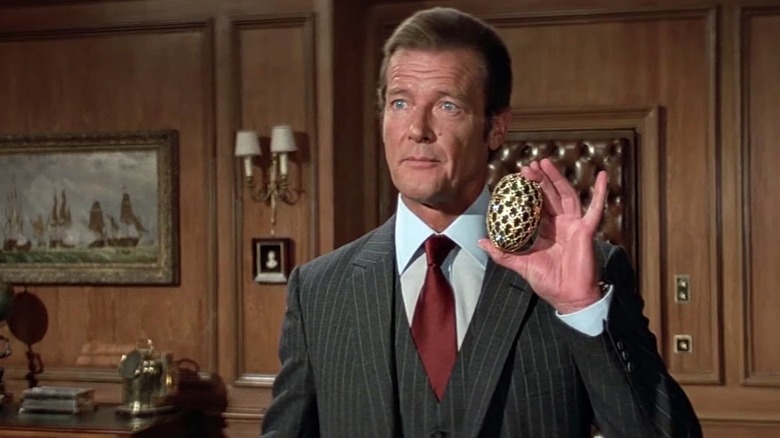 EON Productions
James Bond (played in this moment by Roger Moore) is stranded on a tiny island in the middle of a pond full of crocodiles, who smell fresh meat and start moving in for their afternoon snack. You can tell Bond is concerned because he fidgets with his tie slightly. He then tries using his magnetic watch to snag a boat abandoned by the bank, but no luck — it's tied up. With the hungry reptiles snapping at his heels, there is only one thing to do. Spotting several crocs still in the water, he hops across their backs like stepping stones, barely getting his feet wet, and makes his daring escape.
Everyone has their James Bond growing up, and Roger Moore was mine. The croc-stepping stone scene came in his 1973 debut, "Live and Let Die," and it's the quintessential Moore moment, setting the tone for the rest of his tenure — jokey, irreverent, cheeky, with the actor barely bothering to look worried whenever danger presented itself. If Sean Connery's Bond was devil-may-care, Moore's Bond was totally unflappable. His movies traded in wacky stunts, big set pieces, and innuendo-laden one-liners, all observed by Moore with a signature smirk and a rakishly raised eyebrow.
Some people love Roger Moore's light-hearted Bond, while others think his era was a low point in the series. Either way, he was the most successful actor to play 007 — Connery also starred in seven movies, but one of them was "Never Say Never Again," the pointless remake of "Thunderball."
Moore finally bowed out after "A View to a Kill" in 1985 ... but why?
The Fourth Best Bond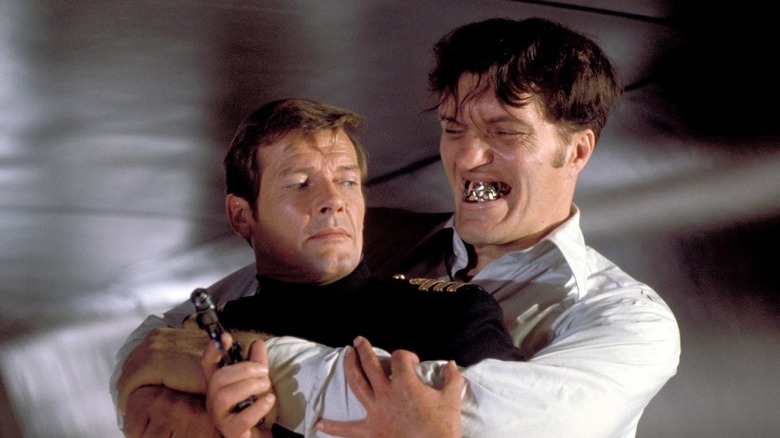 EON Productions
Towards the end of his life, the typically wry Moore joked that he was the fourth best Bond after Connery, Daniel Craig and ... George Lazenby. He took over from the Australian model and actor after Lazenby followed some bad advice from his agent and quit after just one film, "On Her Majesty's Secret Service," in 1969.
Moore's name had been in circulation to play Bond since before "Dr. No" in 1962, although producer Albert "Cubby" Broccoli considered him too young and pretty for the part at that point. When Connery stepped down after a five-film stint concluding with "You Only Live Twice" (he would return to series one more time with "Diamonds Are Forever"), Moore missed out again due to commitments to his TV show, "The Saint." Lazenby was eventually chosen instead.
Despite this, his work as Simon Templar on "The Saint" and as Lord Brett Sinclair in "The Persuaders!" gave Moore a chance to perfect that debonair man-of-the-world persona he would finally bring to the role of Bond in "Live and Let Die." Never the most heavyweight of actors, the screenplay was tailored to his lightly comedic style, and it fitted him like a freshly pressed safari suit.
The Moore era, despite its innate silliness, still featured some memorable villains and set pieces. Who could forget fan-favourite Jaws (Richard Kiel), the hulking henchman with steel gnashers, or the opening sequence of "The Spy Who Loved Me," arguably the greatest curtain raiser of any Bond movie?
Moore played Bond from 1973 to 1985, signing off with "A View to a Kill." Although it performed well at the box office, it was generally considered one of the weakest Bond entries to that point. Some of the criticism was leveled at a visibly aging Moore.
End of an Era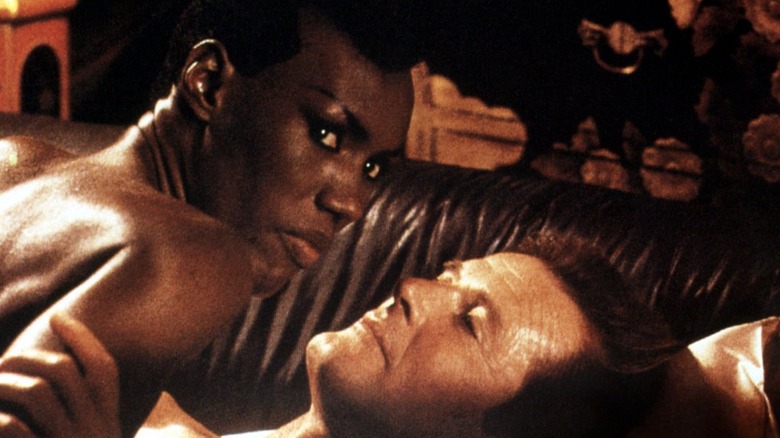 EON Productions
Moore was 45 when he took the role of Bond, older than any of the other actors to date, apart from David Niven in the 1967 spoof "Casino Royale." Moore was never the most dynamic Bond when it came to action, but he looked absolutely geriatric in "A View to a Kill." Realizing that time had caught up with him, Moore announced his retirement from the series at the age of 58.
When asked about his retirement from the role, Moore has always been endearingly open about it. As he told Entertainment Weekly:
"It had been on my mind for a long time...I became very conscious that I was getting long in the tooth to play the great lover. Not that I ever needed Viagra... You can see I was getting a little scraggy around the neck."
Moore's candor and self-deprecating humor was always one of the actor's most appealing aspects. In interviews and television appearances, he always seemed to regard the world with the same quizzical bonhomie that he brought to the role of 007.
He later returned to the topic in his last interview shortly before he passed away, admitting that at the time he thought he was getting too old to be "hanging around women in their early twenties without it appearing creepy."
Sir Roger Moore's death in 2017 prompted a round of reappraisal for his legacy as Bond, with a wave of nostalgia for his ironic, thoroughly unruffled spy. Daniel Craig may have given us some inkling of a battered soul lurking behind his grizzled visage, but could he have ever rocked a banana yellow ski suit like Moore? I seriously doubt it.