Soderbergh Talks About His Action/Spy Film Knockout, Compares It To Point Blank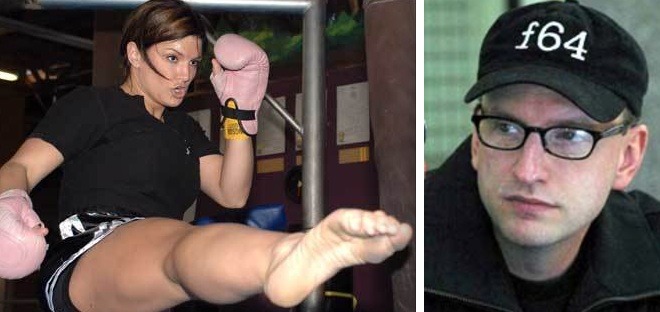 You might have read about Steven Soderbergh making an action thriller with MMA fighter Gina Carano and been interested, but perhaps not actually excited. That's about where I was, though the involvement of his screenwriter from The Limey, Lem Dobbs, was definitely a point in the movie's favor. But with Soderbergh describing the movie as a combination of old-school Bond and John Boorman's standard-setting weirdo action thriller Point Blank, my interest in Knockout just shot up to stratospheric levels.
Learning that Soderbergh and Dobbs were going all Point Blank on this one shouldn't come as a big surprise. Soderbergh is a big enough fan of Point Blank that he appeared on the commentary track on the film's US DVD release, and he acknowledges that he borrowed from the movie left and right for The Limey. (The commentaries on both Point Blank and especially The Limey are essential listening; the latter is one of the best public dialogues between a director and screenwriter that you're likely to hear.) The director tells Empire that he wants this story of a violent operative to be "a very realistic portrayal of somebody who gets hired, as these people do, by the government, to go and perform certain duties that it would be inappropriate to give to the military." In that respect he says the Bond + Point Blank comparison is "more on the scale of From Russian With Love than, you know, Quantum Of Solace... Something where the characters and the story are as prominent as the action stuff."
This movie came into being because Soderbergh had seen Carano, admired her skills and figured that someone was going to make a movie starring her, so it might as well be him. Plus, he'd been interested in making an espionage flick, but needed a hook. Turns out that hook is Carano. He explains, "then I thought, 'Why don't I just build it around her? She can actually break people in half.' I was interested in doing something ultra-realistic."