How To Watch Ambulance At Home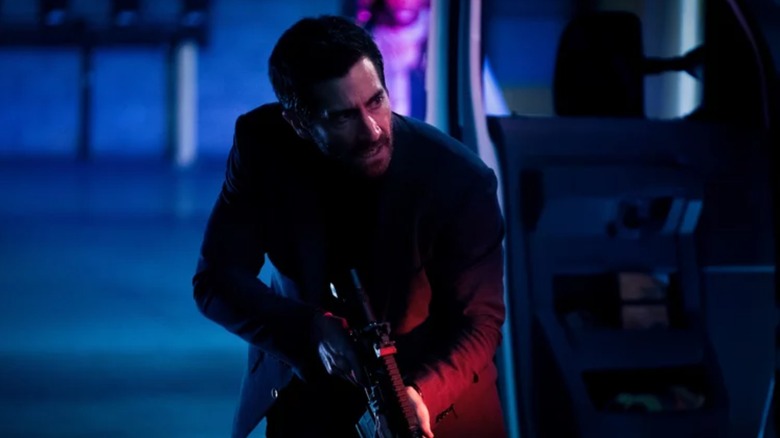 Universal Pictures
Oh yes, now you can finally experience Bayhem in the comfort of your home — Michael Bay's frenetic action-thriller, "Ambulance," is now available to stream, and we will tell you exactly how you can keep up with the dizzying drone shots.
"Ambulance" opened in U.S. theaters on April 8, 2022, and ended up underperforming at the box office, as it grossed merely $51 million against a $40 million budget. However, the film has been well-received by critics and audiences alike, apart from the usual Bay-isms that dominate the narrative, which does not necessarily hinder the viewing experience as a whole. 
The film follows war veteran Will Sharp (Yahya Abdul-Mateen II), who is in desperate need of money for his wife's surgery. After being at his wit's end, he finally turns to his adoptive brother Danny (a delightfully unhinged Jake Gyllenhaal), a longtime criminal who convinces Will that robbing a bank is the only way to procure the amount. While all goes according to plan for some time, things get needlessly complex (and fun) when the duo is forced to hijack an ambulance in order to escape. There are helicopters chasing them, entire units trying to get a rise out of the brothers, and various other shenanigans.
Queue the unnecessary (yet spectacular) drone shots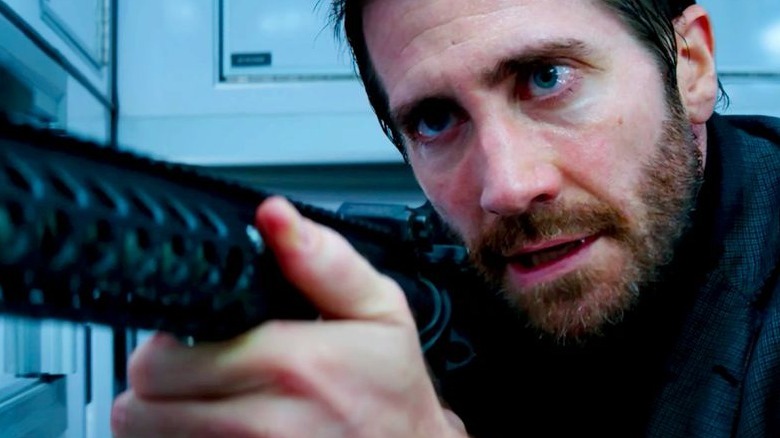 Universal Pictures
Luckily for you, "Ambulance" is currently available for streaming on Peacock Premium, as the film was made available for Peacock Premium and Premium Plus members on May 23, 2022. This obviously includes a paid subscription, divided into two categories, namely ad-supported and ad-free tiers, available at $4.99/month and $9.99/month respectively.
Apart from this, "Ambulance" is also available to rent on VOD via Amazon Prime Video, Vudu, Youtube, and Apple TV. So, grab a tub of popcorn and get ready to experience one of the most chaotic bank robberies in the history of cinema, replete with giant explosions, near-impossible, buy hilarious scenarios, and some really memorable lines uttered by a heated, animated Gyllenhaal.
Check out the official synopsis as an in-depth refresher of the premise:
"In this action thriller directed by Michael Bay, veteran Will Sharp (Yahya Abdul-Mateen II, Candyman), desperate for money, turns to his adoptive brother Danny (Jake Gyllenhaal, End of Watch) for help. A career criminal, Danny instead offers him a huge score. But when their heist goes awry, the desperate brothers hijack an ambulance with a wounded cop and EMT (Eiza González, Baby Driver) onboard. Will and Danny must evade a city-wide law enforcement response, keep their hostages alive, and somehow try not to kill each other, all while executing the most insane escape LA has ever seen."
You seriously do not want to miss out on all the fun — if you want to see two absolutely clueless people perform surgery inside a moving ambulance, in which they use a hair clip as a clamp, this is the movie for you.