Jake Gyllenhaal Didn't Know He'd Be Doing One Of His Most Dangerous Ambulance Stunts Himself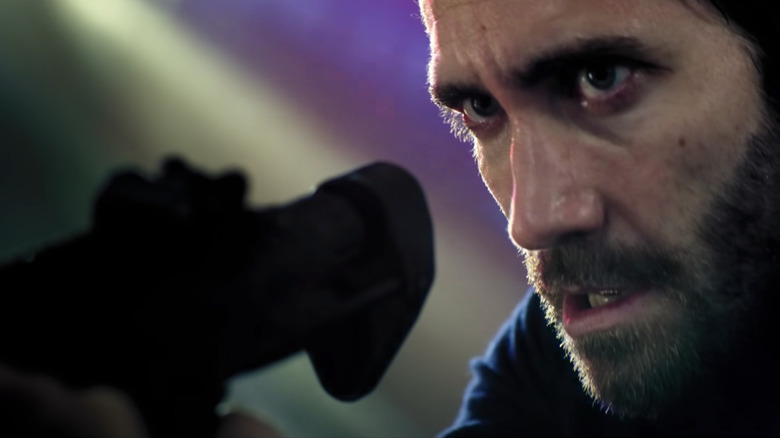 Universal Pictures
A lot can be (and has been) said about Michael Bay's filmography, a collection of mostly action Blockbusters and massive set pieces. In his latest film, "Ambulance," perennial treasure Jake Gyllenhaal plays a career criminal and adoptive brother of protagonist Will Sharp (Yahya Abdul-Mateen II), who helps him commit a multi-million dollar bank heist in order to find the funds to pay for a life-saving medical procedure for Will's wife. Knocking over a bank in today's day and age isn't an easy task, so when things turn sideways, the duo steals an ambulance as a getaway vehicle, only to find a severely wounded cop and EMT worker Cam Thompson (Eiza González) on the inside. They're quickly thrust into a high-speed chase where they have to not only evade criminal consequences but keep their new hostages alive.
With the chase a massive part of the movie, the actors were bound to have to pull off some tricky moves, but for Gyllenhaal, one of his most dangerous stunts was improvised on the spot. During the chase, Gyllenhaal hangs outside of the door of the ambulance, shooting at the helicopters in hot pursuit down the banks of the Los Angeles River. According to Gyllenhaal at the Los Angeles premiere of "Ambulance" last night, this high-octane moment wasn't part of the original script, but was instead improvised when Bay realized during filming that they opened up the Los Angeles River. Gyllenhaal said that he and Abdul-Mateen II were on their way back to change out of costume and head home for the day when Bay called them up to come back. "'He was like, 'I have an idea! I have two helicopters!'" Gyllenhaal told Variety. "And I was like, 'How? What are you talking about, you have two helicopters? Where are they?'"
Jake Gyllenhaal: dedicated stuntman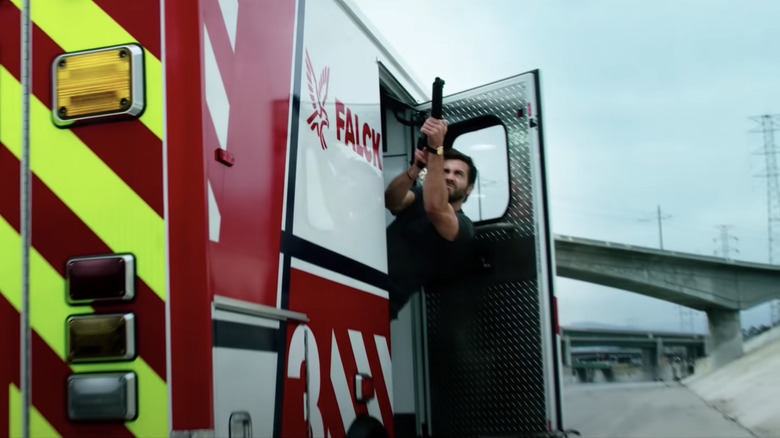 Universal Pictures
Bay told Gyllenhaal and Abdul-Mateen II his idea for the scene, improvising the beats on the spot. After getting the crew on board, he then had to make sure the helicopter pilots were coordinated and at the ready. It's truly a testament to Bay's influence that a spontaneous idea resulted in the immediate acquisition of professional helicopter pilots and two actors willing to improvise a dangerous stunt. "Every day was a little like that," Gyllenhaal said. "And I was like, 'That's why you make a Michael Bay movie.' That's the reason. To hang out of a moving vehicle and have fun."
Bay corroborated Gyllenhaal's claim, confessing that the scene was shot in only two and a half hours. The scene required helicopters to fly right up on Gyllenhaal, who was thrilled to tackle the challenge. "I said 'Listen, Jake, the helicopter's way up there, it's gonna come down about 20 feet from you,'" Bay told Variety. "These are the best pilots in the world, these guys have flown for 25 years. It might scare you, but don't be scared." Gyllenhaal is known for his dedication to the craft, and doing his own stunts is clearly part of his commitment. "He loved it," Bay said. "He thought it was great."
"Ambulance" is due out in theaters everywhere on April 8, 2022.