The Mummy Inspired Daniel Radcliffe To Take On His The Lost City Role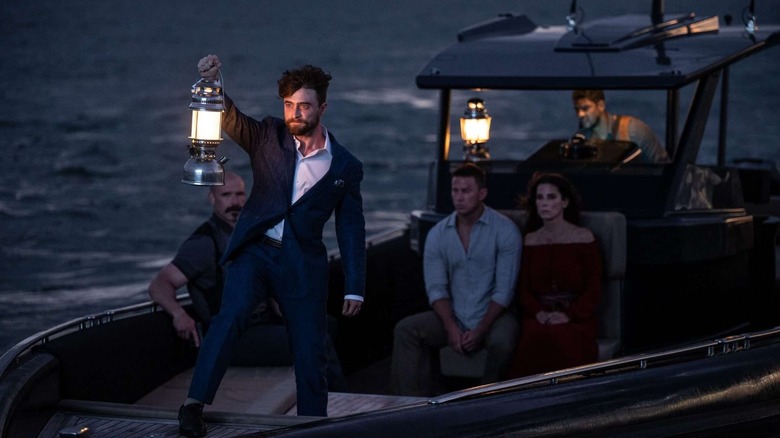 Paramount
Aaron and Adam Nee's "The Lost City" recently made an unexpectedly large splash in theaters, earning over $170 million worldwide and generally pleasing critics. The film is about a romance author (Sandra Bullock) who only turned to writing archeology-themed smut when her interest and skill in genuine archeology was stymied by the death of her husband. Daniel Radcliffe plays a spoiled billionaire named Abigail Fairfax who understands that Bullock has written actual archeological clues into her novels kidnaps her to find a real-life treasure on a remote tropical island before the island's volcano erupts. Fairfax is depicted as violent, sociopathic, impetuous, entitled, slightly mad, and actually pretty hilarious. 
Radcliffe has had a long and interesting career, starting out as the child star of a notable fantasy franchise, and afterward moving into Hammer Horror ("The Woman in Black"), biography (he played Allen Ginsberg in "Kill Your Darlings" and will play "Weird Al" Yankovic in the upcoming "Weird: The Al Yankovic Story"), mainstream Hollywood entertainments ("Now You See Me 2," "Victor Frankenstein"), and numerous fascinating indie projects ("Horns," "Swiss Army Man," "Guns Akimbo"). "The Lost City" is Radcliffe's first major foray into mainstream comedy (beyond work on shows like "Robot Chicken"), and the actor certainly brings the appropriate amount of crazed, manic energy. 
In a recent interview with Empire, Radcliffe talked about working on "The Lost City," and how a recent revisit to a 1999 adventure comedy film convinced him to take the job.
'This is one of them'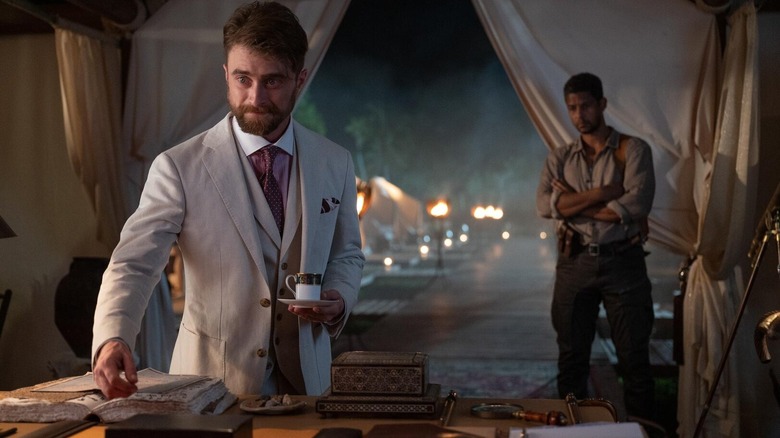 Paramount
There was no alchemy in place to get the script for "The Lost City" (credited to Aaron and Adam Nee, Oren Uzeil, and Dana Fox) into Daniel Radcliffe's hands. It was simply one of many that the star was offered in the regular course of looking for work. In the Empire interview, however, Radcliffe admitted that watching Stephen Sommers' "The Mummy" — the version with Brendan Fraser and Rachel Weisz — was what convinced him to accept "The Lost City":
"I read the script! I got sent the script around March last year, and they started shooting in June or July. I have a vague blanket rule — make the films you would want to see. I read this, and I had recently watched the first 'The Mummy' movie again. We had a moment watching that going, 'Oh, there are no films like this anymore! It's sad.' And then I read this, and I was like, 'Oh, this is one of them.'"
That rule seems like very practical advice, and Radcliffe, knowing that Sandra Bullock and Channing Tatum had already agreed to play the lead heroic roles, knew that he wanted to be involved: 
"When I was reading it, I knew that Sandra and Channing Tatum were the leads, and I was just reading it thinking, 'I want to see this. I want to see them play these parts and do these scenes, and if I get to be in it and be a part of it, then even better.'"
Yes, Mr. Abigail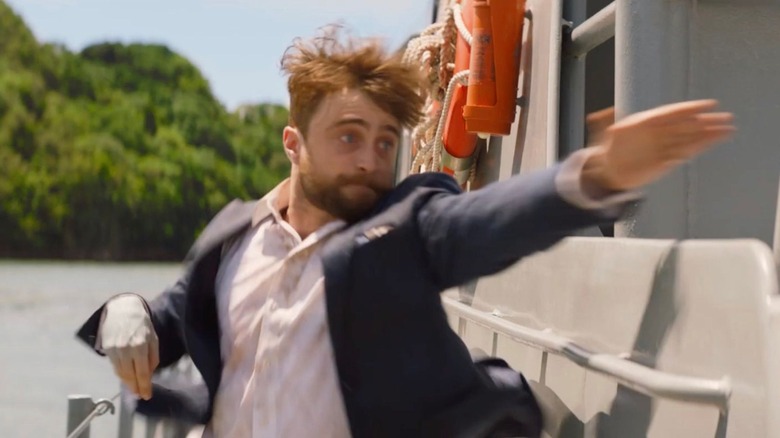 Paramount
Daniel Radcliffe went on to discuss a quirk of the production that allowed him to stay in character, even when not filming. The filmmakers asked the actors to check into their hotels under assumed names ("The Lost City" shot in the Dominican Republic):
"I play Abigail Fairfax. On the shoot, we checked into all our hotels under our character names. But then everyone at the hotel thought it was proper and right to call you by whatever you checked in as. So whenever I went anywhere in the hotel, they would say 'Ah, yes, Mr. Abigail.' I was like, 'Yes, yes, that's me.'"
Radcliffe has played morally ambiguous characters in the past, but this was his first proper "villain" role. When Empire asked him about that, Radcliffe had a lot to say about filmmakers' perception of him. His early career cemented him in a certain role in the heads of many audience members, and Radcliffe, even at age 32, is still occasionally butting heads with the typecasting:
"I think directors go one of two ways with me. Maybe less so now, but after '[Harry] Potter' in particular, if 50% of directors only saw me as one thing and only saw me as Harry, then the other 50% were excited by the chance to be the people who showed me as something else. I think these directors were really excited about getting to show me as this sociopathic villain."
The pinch-yourself moment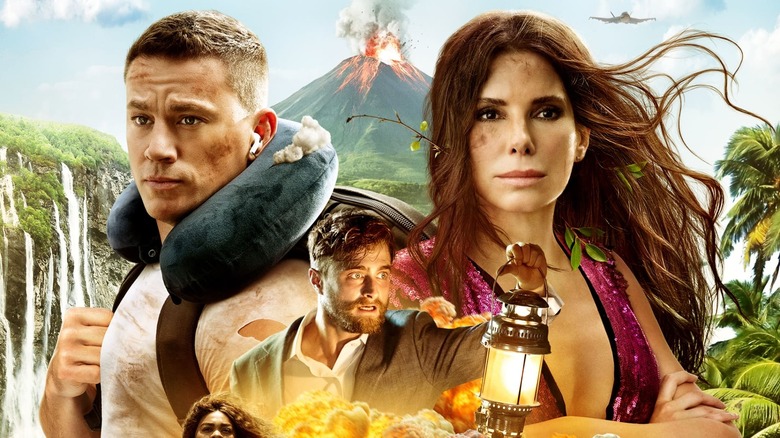 Paramount
But the broad comedic elements of Abigail Fairfax were appealing to Daniel Radcliffe. As such, he was availed the opportunity to delve into the head of Abigail Fairfax:
"There's something so pathetic about all of his motivations. It's the idea that, obviously, no one's the villain of their own story, so he thinks he's really cool and nice, and he's kidnapping Sandra's character, all the while thinking, 'If you really think about it, you'll find being kidnapped is fun! If you realize what a cool opportunity this is.' That was a very, very funny aspect of this character for me."
Oh, and kidnapping Sandra Bullock — or, more correctly, working with her — was something Radcliffe admitted he was dazzled by. While he worked with legends of British cinema as a boy, it wasn't until his scenes with Bullock that he really realized he was working with a capital-letters Movie Star: 
"I obviously grew up on the 'Potter' films with Maggie Smith and Richard Harris and all these people who were legends and amazing, and I was aware of their status as those things, but I wasn't familiar with their films. I hadn't watched 'A Man Called Horse' when I was 12 or whatever. Working with Sandy was a real 'pinch yourself' moment, because I did grow up watching her, and have been a fan of hers for so long. So to actually get to be in a movie with her is still mind-blowing to me."
"The Lost City" is now available to watch on Paramount+. Radcliffe's next movie, "Weird: The Al Yankovic Story" will be released on the Roku Channel this fall.