Daniel Radcliffe Took Sandra Bullock By Surprise While Shooting The Lost City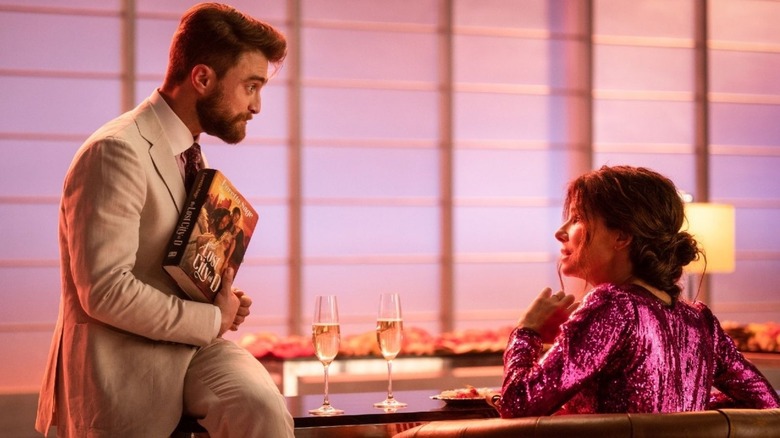 Paramount Pictures
Daniel Radcliffe hasn't had an easygoing career. The English actor is most prominently known for his breakout role in the "Harry Potter" franchise, and his transition from a major child star to an adult actor has been somewhat challenging. Radcliffe headlined one of the biggest movie franchises in history and went on to earn over 30 acting credits to his name across the big screen as well as on stage. The actor particularly reaches toward roles that require him to step outside his comfort zone; he most recently played a villain in the adventure comedy "The Lost City," alongside Sandra Bullock and Channing Tatum.
Radcliffe played the eccentric billionaire/international criminal Abigail Fairfax, who abducts Bullock's character so she may lead him to an ancient city's lost treasure. Bullock appears to have had a great experience filming with the former child star and illustrated how he surprised her and was nothing like the "narcissistic, entitled child actor" she thought he would be.
Sandra Bullock is slightly obsessed with Daniel Radcliffe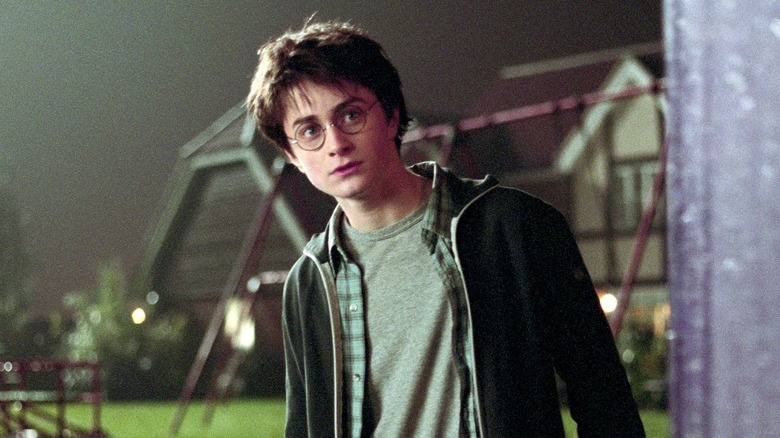 Warner Bros. Pictures
We're not saying that. Sandra Bullock is. The award-winning actress shared on "The Zoe Ball Breakfast Show" (via Express) that Daniel Radcliffe wasn't who she envisioned him to be. You'd be surprised to hear how cool Radcliffe is, an actor who accomplished so much leading a historic eight-part movie franchise that grossed over $7.7 billion and cemented his name in Hollywood forever. His work in "Swiss Army Man," "Miracle Workers," and "Kill Your Darlings" has further proved Radcliffe can tackle just about any genre.
Bullock admitted she was "slightly obsessed" with Daniel Radcliffe since she was aware of who he was, based on "the tremendous amount of success that he garnered at a very young age in a massive franchise." The "Bird Box" actress stated that she could see how proud Radcliffe was of his work in "Harry Potter":
"... I think I can see that he carries that ['Harry Potter'] with him with a lot of respect, but in a guilty pleasure way, I want to see him turn things on its ear. Like, he's a grown man who has such charm and charisma and when he came aboard it was so fun to think about how he was going to look. We knew the acting would be a no-brainer, but how do you present Daniel Radcliffe so that the minute you see him you go, 'What?'"
The actress was surprised at how grounded Daniel Radcliffe was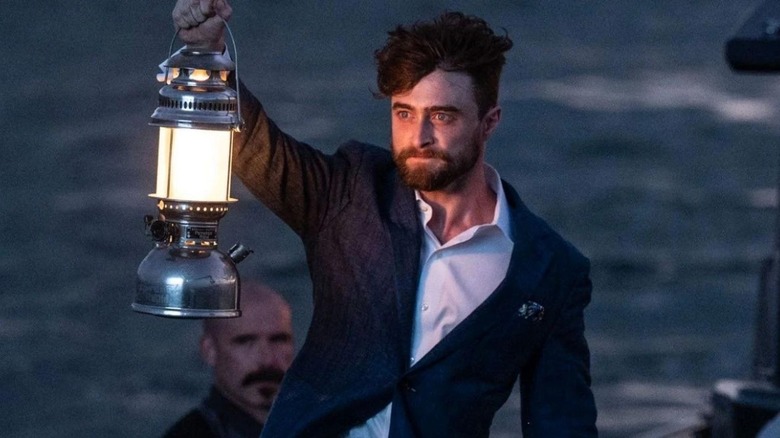 Paramount Pictures
Sandra Bullock knew Daniel Radcliffe would nail his role as the film's big bad. Bullock and the film's crew never once doubted his talent, but they were a little cautious at the possibility of the actor being a bit of a brat. But when a grounded, humble Radcliffe arrived at the film set, Bullock was surprised. She admired him because he was nothing like she had assumed he would be. She continued on "The Zoe Ball Breakfast Show" (via Express):
"And to me, I don't know, I just came to really admire and like him so much, because he was not at all what I expected him to be. I thought he'd be some narcissistic, entitled child actor who's grown into an adult who would just come with all kinds of drama and he was nothing even close to that."
Radcliffe is one of the "Harry Potter" franchise's many non-problematic stars, a feat often credited to the filmmaker behind the first two films, Chris Columbus. He helmed the monumental franchise's most formative years and supervised its casting. The star cast has all grown to be talented adult actors, many of whom (including Daniel Radcliffe) have publicly distanced themselves from "Harry Potter" creator J.K. Rowling, following her damaging comments about the transgender community.
Radcliffe will be next seen in "Weird: The Al Yankovic Story," wherein he stars as the titular American singer. The film is scheduled to be released on The Roku Channel later this year.