Daniel Radcliffe To Portray 'Weird Al' Yankovic In A Biopic For ... Roku?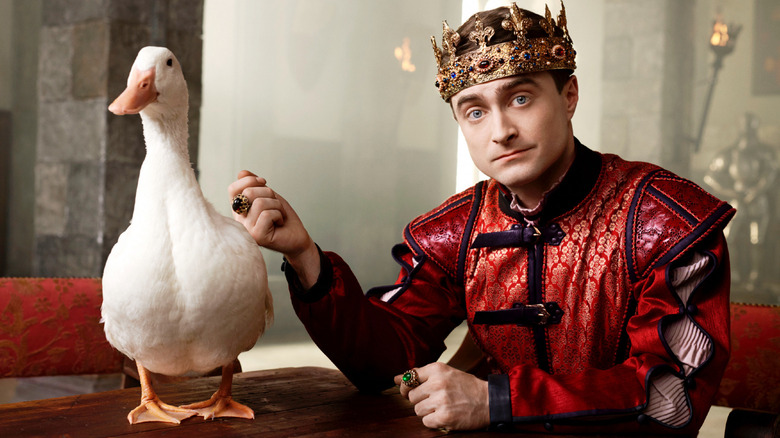 20th Television
What do you do after spending a decade playing one of the most well-known characters in one of the biggest franchises on the planet? Whatever the heck you want, of course! That's been Daniel Radcliffe's philosophy since he finished his run as Harry Potter (pending his all-but-inevitable return to the role when he's older), and the world is a better place for it. Over the last 10 years, the actor has done his very best to keep things weird by portraying, among other things, a farting corpse in the film "Swiss Army Man," a guy who sprouts horns in the movie "Horns," and a reverend with a penchant for performing burlesque-style shows in leather chaps on the third season of "Miracle Workers."
Speaking of weird (segue!), Radcliffe seems to have found his next project: a film biopic about Alfred Matthew "Weird Al" Yankovic, the beloved song parodist and generally eccentric multi-hyphenate known for his love of the accordion and all things polka-related. The movie, which is titled "WEIRD: The Al Yankovic Story," is being produced by Funny Or Die and Tango exclusively for The Roku Channel — a very strange mix of creatives and companies for what promises to be a very strange movie.
Definitely the Role Radcliffe Will Be Remembered For
Some of you out there may recall that Funny Or Die actually released a fake trailer for a movie biopic titled "Weird: The Al Yankovic Story" back in 2013. (See above). Well, now it's becoming a real thing, with "WEIRD: The Al Yankovic Story" set to begin production in Los Angeles in early February (via Comic Book). The film's Very Serious synopsis claims it will "hold nothing back when it comes to exploring every facet of Yankovic's storied life, from his meteoric rise to fame with early hits like 'Eat It' and 'Like a Surgeon' to his torrid celebrity love affairs and famously depraved lifestyle."
Yankovic issued his own Extremely Serious statement as part of the announcement:
"When my last movie 'UHF' came out in 1989, I made a solemn vow to my fans that I would release a major motion picture every 33 years, like clockwork. I'm very happy to say we're on schedule. And I am absolutely thrilled that Daniel Radcliffe will be portraying me in the film. I have no doubt whatsoever that this is the role future generations will remember him for."
Eric Appel, who directed the "Weird: The Al Yankovic Story" trailer, will call the shots on the movie version, drawing from a script he co-wrote with Yankovic (who's also among the film's producers). Appel's other directorial credits include the live-action/animated sitcom "Son of Zorn" and Kevin Hart's meta action-comedy Quibi series "Die Hart," all of which suggests "WEIRD: The Al Yankovic Story" will be anything but your average musician biopic. Although, personally, I do hope we get a Very Serious scene where Weird Al thinks about his whole life before he gets on-stage to perform "White & Nerdy."
In the meantime, Radcliffe will be keeping things weird with his turn as an odball billionaire-turned kidnapper in "The Lost City," which arrives on March 25, 2022.