How Daniel Radcliffe And Gary Oldman's Real-Life Relationship Reflected Harry And Sirius' Dynamic Onscreen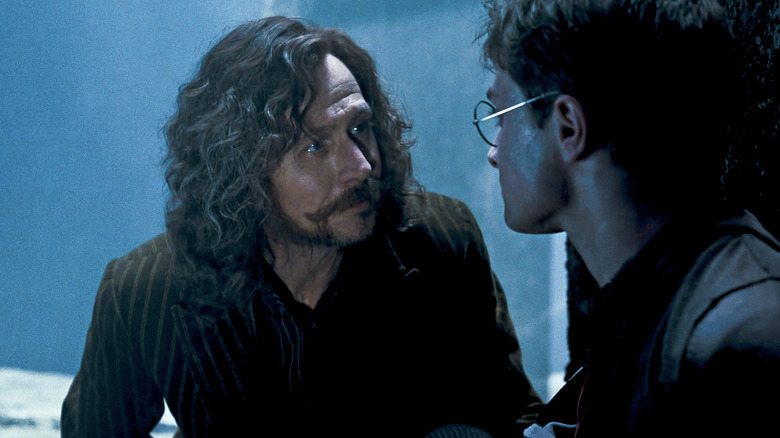 Warner Bros
Before the Harry Potter trio were superstars themselves, Daniel Radcliffe, Emma Watson, and Rupert Grint were just kids making a few movies ...  though said movies ended up becoming major blockbuster hits, some of which remain among the 50 highest-grossing films of all time. Given that they are the face of one of the world's most recognizable franchises, it's hard to imagine the trio getting starstruck, but thanks to the "Harry Potter: Return to Hogwarts" reunion special, we now know that they too were blown away by the star power of series.
From the very first film in the franchise, the Harry Potter saga was full of acting legends. The Hogwarts staff alone included the likes of Dame Maggie Smith, "the one and only Alan Rickman," Richard Harris, Warwick Davis, and many more. In the 20th anniversary special, Radcliffe talks about this being a formidable experience for him, working alongside such esteemed actors and learning from them in the process. In a particularly sweet moment, he even goes full puppy-dog as he reflects on the very first time he was nervous to work with a cast member. And who better to leave the Chosen One starstruck than the godfather Harry spends a movie determined to hunt down?
Daniel Radcliffe Wanted to "Be Cool"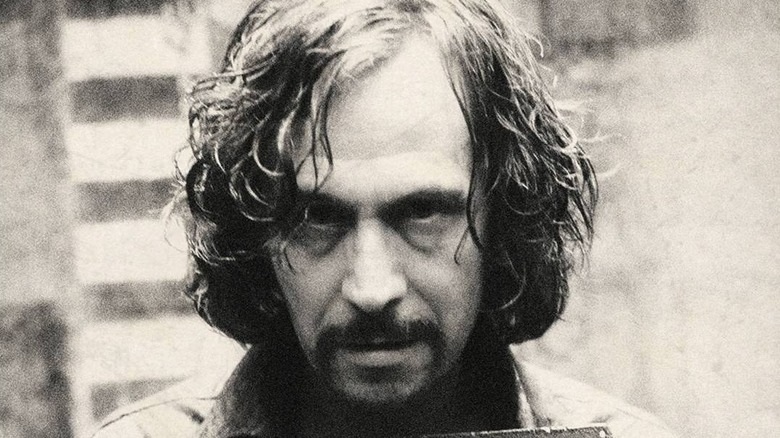 Warner Bros
Harry Potter's introduction to Sirius Black (Gary Oldman) is a ravenous mugshot of a murderer. Caked in blood and looking certifiably insane, this image of Sirius is plastered all throughout the Wizarding World and even comes with a couple dozen warnings as the adults in Harry's life hint at looming danger. According to them, Sirius had a hand in killing Harry's parents and is back to finish the job. So you could say that their relationship gets off to a rocky start — especially since Harry ends up on a warpath for revenge, hoping to run into the convict to avenge his parents. As for the Gary Oldman and Daniel Radcliffe of it all, the start of their relationship was very different, didn't involve any mugshots, but in an odd way, still mirrors that of their characters.
When Gary Oldman signed on to join the Potterverse, he was already in the middle of an incredible career. He was part of the Royal Shakespeare Company before rising to Hollywood prominence in films like "Sid and Nancy," "JFK," and "Bram Stoker's Dracula." This is precisely how he earned the title of the first cast member Radcliffe remembers "being in awe of." Mentioning this in a room with Emma Watson turns out to be a great gift for the audience of the anniversary special, as the actress revealed her memory of Radcliffe's amazement:
"I remember that. I remember you giving me the Gary chat. You were like, 'listen Emma, you need to be cool. Because Gary Oldman... it's a really big deal and you need to be cool.'"
Radcliffe dubs this a "projection of his own fears." He also follows this up by gushing about Oldman's performance as Sirius, the man who goes from appearing to be a crazed murderer to becoming a warm parental figure for our hero.
The Unbreakable Bond Between Harry and Sirius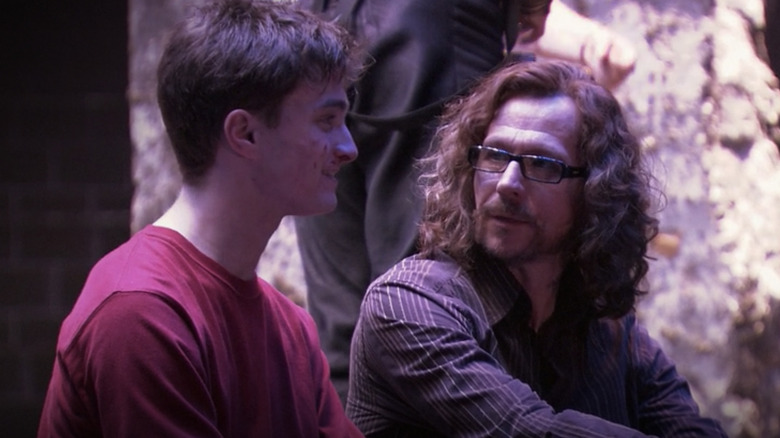 HBO Max
Much like the Sirius-Harry relationship, Radcliffe started off intimidated by Oldman but their relationship morphed as the pair spent more time together. The cast and crew reflect on the way Oldman welcomed the young Radcliffe into the acting process and bonded with him during filming. Over time, the intimidation faded and the relationship opened up. Alfonso Cuaron, director of "Harry Potter and the Prisoner of Azkaban," saw this up close, as he was the one tasked with introducing Sirius into the franchise and bringing the crucial relationship to screen. He explained:
"Dan was first a bit daunted and Gary was amazingly generous as a person but also as an actor. He immediately embraced him and included him in the acting process. It was really sweet to see the two of them, and it was almost as if it was mirroring that relationship because in many ways Harry has made a totem out of Sirius Black, a totem that is kind of unapproachable and in many ways scary. That is not unlike in the film, when they discover who they truly are, is when suddenly there's an amazing bond."
The reunion special is filled with fun insights, but this one is particularly special because we get to see the trivia in action. Oldman and Radcliffe are reunited for the franchise anniversary and spend some time reflecting on "Prisoner of Azkaban" and the series overall. We get to see for ourselves as Radcliffe looks at Oldman with the same "adulation" referenced by franchise producer David Heyman, who recalls them talking and laughing between takes. Radcliffe is no longer that same 14-year old kid and has since gone on to have an interesting career outside of the Potterverse. Meanwhile, Oldman now has an Oscar in his back pocket. Yet despite some changes, the adoring relationship between our onscreen Harry Potter and Sirius Black is very much intact.
"Harry Potter: Return to Hogwarts" is now streaming on HBO Max.