Nicolas Cage And Pedro Pascal Took A 'No Acting' Approach To The Unbearable Weight Of Massive Talent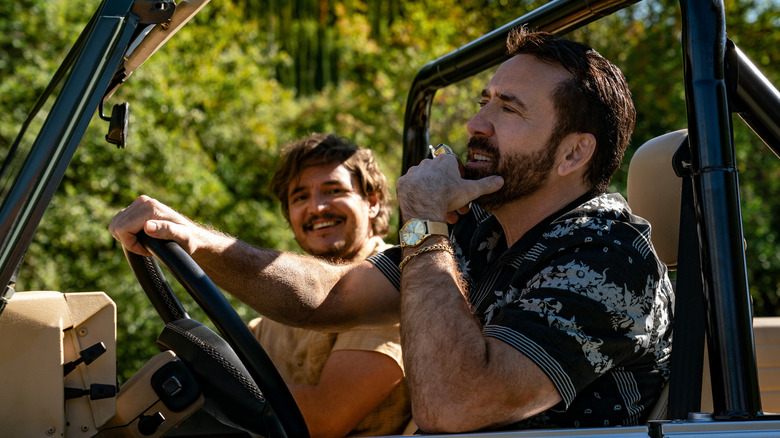 Lionsgate
"The Unbearable Weight of Massive Talent" is finally in theaters, which means audiences can experience one of the weirdest, most bizarre movies of the year ... and one of the most wholesome. The film stars Nicolas Cage as Nick Cage, an incredibly neurotic fictional version of himself who is going through a bad batch of financial troubles. After losing out on the movie of his dreams, Cage (the fake one) takes a job appearing at the birthday party of an eccentric billionaire named Javi (Pedro Pascal).
The initial trailers focused on the weirdness of seeing Nic Cage play himself (and acting against himself, as he also plays a younger, even stranger version of himself), as well as teasing a spy subplot. The film's biggest trick, however, is how much better it is when it leaves behind its Nic Cage movie homage and its bizarre spy subplot in order to just show Cage and Pascal becoming best bros who bond over movies.
It turns out, this blooming bromance happened off screen as well as on screen, and both Pascal and Cage made it a point to have their shared love of cinema feel as genuine as possible in the film.
Guys being dudes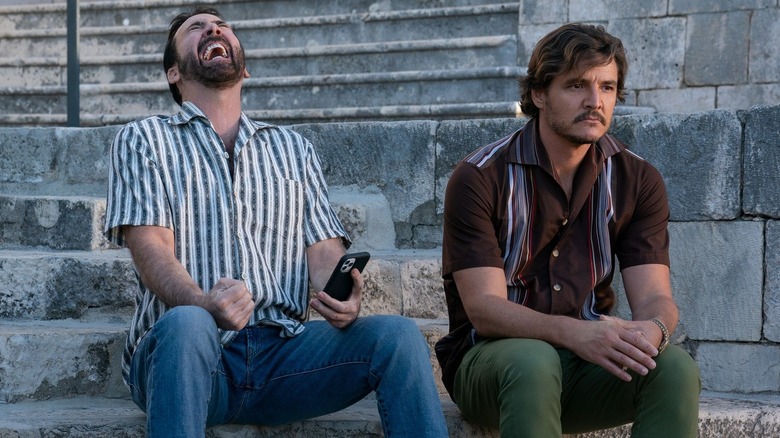 Lionsgate
The best and most insightful aspect of "The Unbearable Weight of Massive Talent" is when it portrays Nicolas Cage as a cinephile who appreciates all kinds of movies, a man obsessed with German expressionism, and one who easily becomes best friends with a strange billionaire when he mentions "The Cabinet of Dr. Caligari." In one of the best scenes of the film, Nic and Javi praise the brilliance of Film Twitter's favorite movie, the masterpiece of kindness that is "Paddington 2."
Speaking to Screen Rant, Cage talked about how important it was for him that his and Pascal's shared love of movies came off as genuine on screen:
"He and I, we're both film enthusiasts, we would share ideas about movies and we would talk together about movies. And so, it was kind of like, "No acting, please." We'd be off-camera talking about movies, and we'd be on-camera talking about movies. It was just very easy."
After the premiere of the film at SXSW, Pascal said he and Cage would bond offscreen over horror movies, with him sharing his favorite Spanish horror films and Cage sharing his favorite Japanese horror films, as you do. Indeed, for Pascal, acting as a big Nic Cage fan came easy, as he just had to channel his personal life. Pascal is a huge fan of Cage, and as he told Bro Bible, "It was really easy to anchor myself into admiration and worship." He continues:
"There was almost something about, I don't know, reawakening the things that you care about and why you got into it in the first place, because [Cage's] still challenging himself, he's super prepared, he's coming up with new ideas, and, honestly, it was an incredible challenge to rise to but it was mostly a really beautiful inspiration and a reminder of why I had this fantasy to start with and then study and then job. It was because of how he feels and how he treats acting."
"The Unbearable Weight of Massive Talent" is now in theaters.