The Unbearable Weight Of Massive Talent Trailer: Nicolas Cage Stars In The Role He Was Born To Play: Nicolas Cage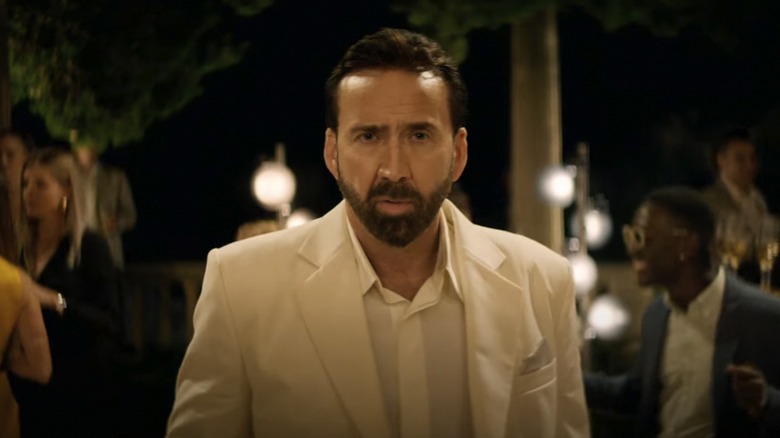 Lionsgate
Now more than ever, I feel the absence of the excellent comedy series "Community" all too sharply — and especially the Nicolas Cage-obsessed Abed (Danny Pudi). If Cage's filmography as of the season 5 episode "Introduction to Teaching" in 2014 was enough to send Abed into a full-blown meltdown over whether the enigma of an actor ought to be considered "good" or "bad," then we can only imagine how would he would have reacted upon seeing the news that Cage is now attached to play Dracula in the upcoming "Renfield," the actor's shockingly moving performance in last year's "Pig," or, on the exact opposite end of the spectrum, his gloriously meta role as, you guessed it, himself in the upcoming "The Unbearable Weight of Massive Talent."
The incredibly self-aware comedy looks to take full advantage of the actor's career to this point, banking on pop culture's broad curiosity about many of the actor's more memorable movie choices over the years. The larger-than-life figure is about to become even more so, however, as his latest movie sees the fictionalized Cage swept up in a much larger and far more dangerous adventure than he ever could've pictured. Driven to desperation from a stalled acting career, a simple meet-and-greet with a wealthy client soon turns into something else altogether. We're already fully on board with this, but Lionsgate has thoughtfully gone ahead and released another new trailer anyway, just to make sure. Check out the newest Nicolas Cage antics in the footage below!
The Unbearable Weight of Massive Talent Trailer
Our first look at "The Unbearable Weight of Massive Talent" teased the broad strokes of the plot for the must-watch Nicolas Cage movie, with Cage's agent (played by Neil Patrick Harris) dropping the news of a $1 million offer to attend a billionaire and Nicolas Cage super-fan's extravagant birthday party. What could possibly go wrong, right? Apparently, a lot. Portrayed by Pedro Pascal, the mysterious Javi turns out to be a dangerous drug kingpin and probably the last person that the naïve Cage ought to be hanging around with. Things go from bad to worse once the U.S. government recruits Cage into serving as a double agent of sorts, putting his acting abilities to the test in the highest stakes story he's ever encountered.
This new trailer doubles down on that amazing premise, ratcheting up the ridiculous stunts and budding bromance between Cage and Javi to levels that will surely need to be seen to be believed. The film is directed by Tom Gormican and co-written by both Gormican and Kevin Etten. In addition to Cage, Pascal, and Harris, the cast also includes Tiffany Haddish and Ike Barinholtz (both of whom are coming off the delightful "The Afterparty" series on Apple TV+) as Cage's CIA handlers, along with Sharon Horgan and Lily Sheen as his ex-wife and daughter, respectively. Oh, and let's not forget that Cage will also be playing "Nicky," an even more stylized version of himself (who we seem to get a glimpse of in this trailer) who also happens to be a figment of the fictionalized Cage's imagination. Wild, wild stuff, folks. "The Unbearable Weight of Massive Talent" comes to theaters on April 22, 2022.
Nicolas Cage stars as... Nicolas Cage in the action-comedy The Unbearable Weight of Massive Talent. Creatively unfulfilled and facing financial ruin, the fictionalized version of Cage must accept a $1 million offer to attend the birthday of a dangerous superfan (Pedro Pascal). Things take a wildly unexpected turn when Cage is recruited by a CIA operative (Tiffany Haddish) and forced to live up to his own legend, channeling his most iconic and beloved on-screen characters in order to save himself and his loved ones. With a career built for this very moment, the seminal award-winning actor must take on the role of a lifetime: Nicolas Cage.