Nicolas Cage's Acting Inspirations Are As Eclectic As You'd Probably Expect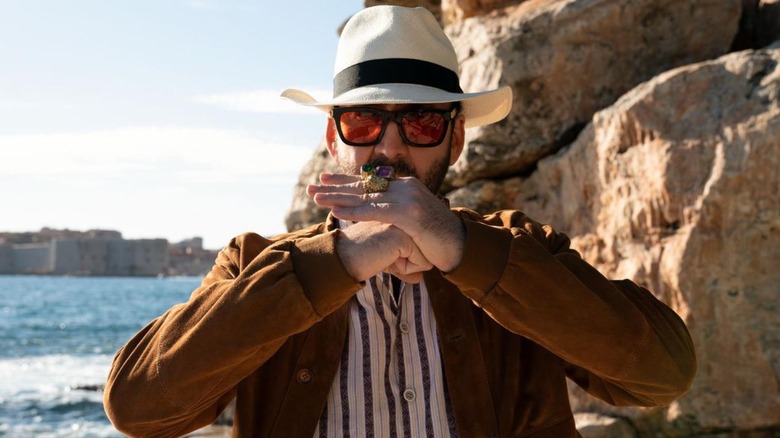 Lionsgate
We seem to be in a Nicolas Cage Renaissance of sorts. Well, arguably, most of the actor's career has been a Nicolas Cage Renaissance, but this past year, in particular, has seen critics and moviegoers embrace the oft-memed actor in a new way. Film fans have been re-evaluating every nook and cranny of his eccentric, impressive career in light of his beautiful dramatic turn in "Pig" and his meta role in the upcoming movie "The Unbearable Weight of Massive Talent."
The actor took to Reddit recently to answer users' questions ahead of the new film, in which he plays a version of himself that ends up embroiled in a CIA mission involving a wealthy superfan played by Pedro Pascal. Cage didn't stick solely to questions about the movie, but instead offered insight into several of his most beloved and offbeat roles. Along the way, he dug deep into his creative process, which–as longtime Cage fans will happily tell you–goes way deeper than what Cage detractors would call "overacting."
The artist shares his influences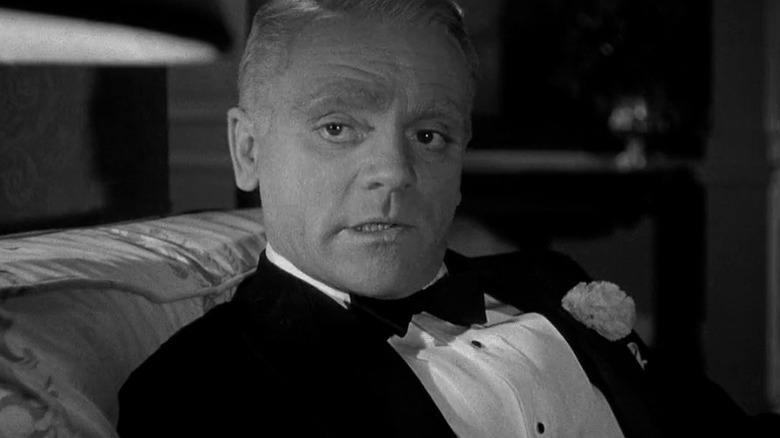 Warner Bros.
One of Cage's most casually insightful answers came in response to Reddit user Idk_Very_Much. The user asked if Cage had any thoughts on a complimentary comparison Ethan Hawke once made in his own Reddit AMA. Back in 2013, Hawke confessed to being obsessed with Cage, saying:
"He's the only actor since Marlon Brando that's actually done anything new with the art of acting; he's successfully taken us away from an obsession with naturalism into a kind of presentation style of acting that I imagine was popular with the old troubadours."
In Cage's AMA, he responded in kind to his "Lord of War" costar's comments, saying he's always been "spellbound by [Hawke's] talent." He also confirmed that, while he may not think he's the next Brando, he does pull from several different styles of acting. "Many of the choices I've made have been inspired by film stars from the silent era as well as cultural expression of performance like Kabuki," Cage shared, before adding that James Cagney is another major influence. Always self-deprecating, the actor concluded, "I don't know how to say I've done something new because those elements are always on my mind."
These are some deep cuts that show just how invested the actor is in his unique performance style. Kabuki is a stylized form of Japanese theater that vastly pre-dates cinema. Silent films, too, often included purposely over-the-top performances that were still evolving from the pre-camera stage performances actors were used to at the time. Cagney, too, was known for bringing unbridled energy to his roles, ultimately winning an Oscar for his turn in the 1942 musical "Yankee Doodle Dandy." Cage seems to be not only a film lover, but a perpetual student of cinema, as he cites separate inspirations for individual performances as well as overarching influences.
The endless versatility of Cage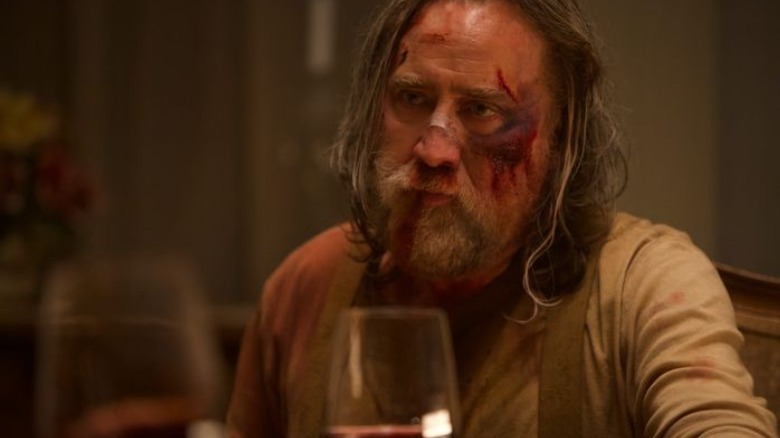 Neon
In another Reddit comment in response to user BennieWilliams, Cage explains that Adam West was his major inspiration for the role of Big Daddy in the 2010 superhero flick "Kickass," revealing that West apparently wasn't entirely taken by the impression. "I met Adam West once and I said 'did you see I was channeling you?' and he said "I saw you TRY to channel me!" Cage shared on Reddit.
The actor also reflected on the role that won him some of the strongest acclaim of his career, as the isolated truffle hunter in Michael Sarnoski's "Pig." In response to a question posed by user speakerboxxed, Cage revealed that for the role of Robin, he "was interested in returning to a more quiet, naturalistic style of film performance, having done a series of more operatic performance styles" before it. Clearly, this experiment worked, as the film earned Cage a Critics Choice nomination and won several key guild awards last year.
There's a reason that Cage's Reddit AMA apparently garnered even more comments than President Obama's. In an internet landscape that's generally pretty disheartening, this brief creative detour is smart, funny, and even, somehow, heartwarming. Cage is a great and thoughtful actor whose talent has been misunderstood for too long, and there's something special and surprisingly emotional about seeing him get to speak about his craft to thousands of people who really admire it. If he ever wants to open up the Nicolas Cage school of acting, we'll be there with bells on, and clearly, we won't be alone.