Fast And Furious 10 Gets An Appropriately Nonsensical Title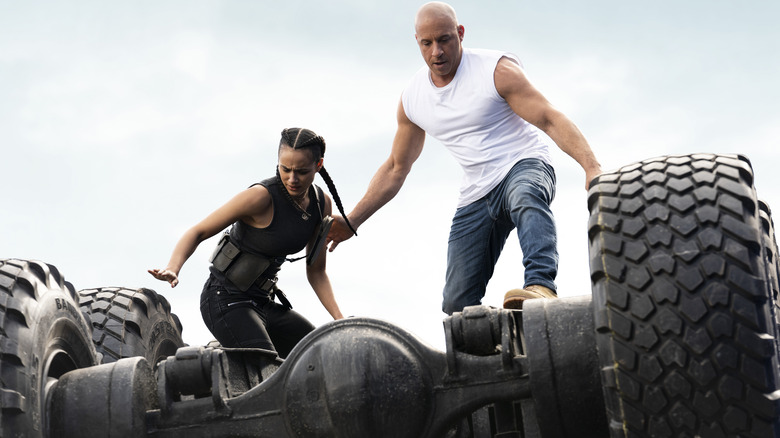 Universal Pictures
You know those insufferable movie fans out there who can't handle when blockbuster franchises just can't be bothered to maintain consistent movie titles with each installment? Yeah, I'm absolutely one of those people. Going from "John Wick" to "John Wick: Chapter Two" to "John Wick: Chapter 3 – Parabellum" still makes my eye twitch, to say nothing of "Prometheus" leading to a sequel called "Alien: Covenant" or the recent trend of referring to legacy sequels as if they were the original movie — looking at you, "Scream" (1996) and "Scream" (2022)!
However, none of those maddeningly arbitrary naming conventions have anything on the "Fast and Furious" movies, which has officially been christened "The Fast Saga" as of last year's ninth movie. Don't ask me why, but the franchise's aggressively indifferent stance against concepts like "common sense" and "good taste" has failed to bother me whatsoever. Reusing "Fast and Furious" in random variations throughout multiple movies until it's impossible to tell them apart by their titles alone simply doesn't phase me anymore!
On that note, believe me when I say that it's my honor and privilege to bring you the news of the tenth and latest movie title to grace this increasingly absurd and knowingly ridiculous series of action movies. Unfortunately, it would appear that the creative team behind the franchise has neglected to listen to the fan demands of "Fast 10 Your Seatbelts." On the bright side, we're now officially entering uncharted territory as the new sequel will now live up to its "Saga" ideals and embrace the Roman numeral.
That's right, folks. May I introduce you all to the newest member of the Fast Fambly: "Fast X."
Fast X begins filming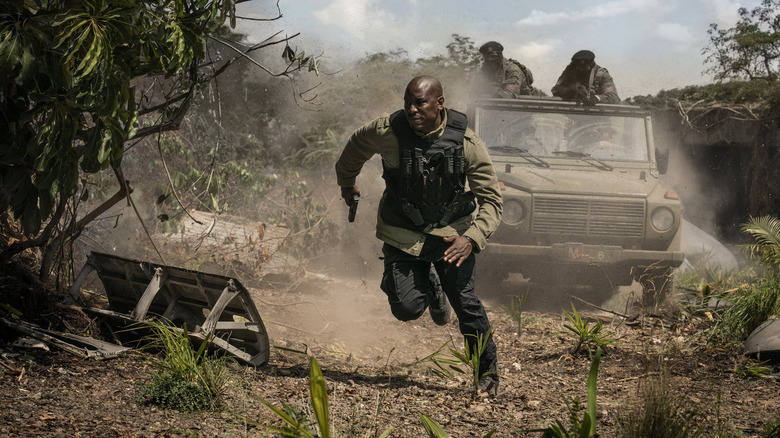 Universal Pictures
Did someone say Roman numerals? In news that stands a hilariously high chance of being remarked upon in the actual movie itself by Tyrese Gibson's Roman Pearce in the fourth-wall-breaking moment that the entire series has been leading to, we now know that the tenth movie in the illustrious soap opera/car-heavy action movies known as "The Fast Saga" will now be titled "Fast X." The news comes courtesy of star Vin Diesel himself, who lives his life a quarter-mile at a time ... on Instagram, apparently. In a post on the social media site, the actor proudly unveiled the new title along with the information that "Fast X" has officially entered day 1 of production.
We've known that the tremendously successful franchise (that originally started as a movie about street-racing, #neverforget!) would be heading towards the finish line with these next couple of movies, planned as a two-part conclusion. Aquaman himself, Jason Momoa, is attached to "Fast X" as a villain (and may have recently spilled the beans about another villain set to return) along with Brie Larson in an unknown role. These new additions will join a stacked cast of musclebound, fan-favorite returnees that, despite what some may say about the future of the franchise, should absolutely lend a grand and mythic aura to these last few entries. Having finally gone to space after years of build-up, it's only natural for the Saga to end with the biggest bang humanely possible!
Filmmaker Justin Lin is set to step back into the director's chair for "Fast X," a title that sounds infinitely more raunchy than I'm sure anyone involved actually intended ... or did they? The sequel is set to release in theaters on May 19, 2023.