My Man! Jason Momoa To Join The Family For Fast And Furious 10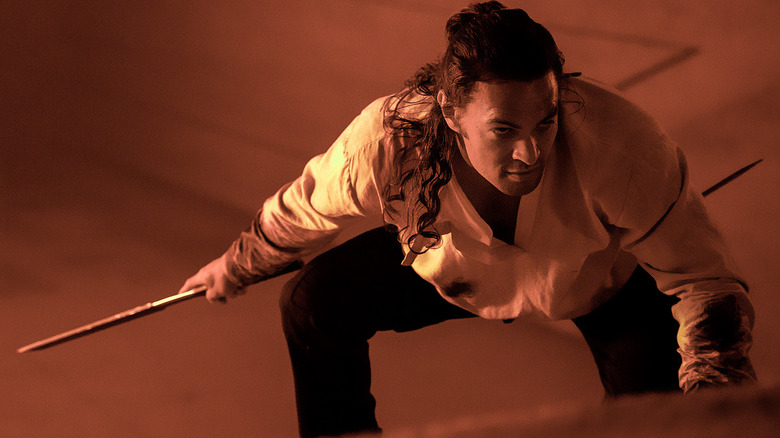 Warner Bros.
My man! Alright! Everyone's favorite himbo (a term I use with as much affection as humanely possible), Jason Momoa, is joining the franchise that feels like the most natural fit for his talents, charisma, and scene-stealing prowess: "Fast and Furious." As most recently shown in last year's "Dune," Momoa's turn as Duncan Idaho had audiences incessantly calling for spin-off shows, prequel movies, and endless amounts of expanded universe material dedicated to Momoa's lovably dudebro take on the character ... or was that just me?
In any case, THR brings the thrilling news that Jason Momoa has entered into "final negotiations" to join the next installment of the "Fast and Furious" franchise, tentatively titled "Fast & Furious 10" (and not, frustratingly enough, "Fas10en Your Seatbelts"). Outside of "Dune," Momoa has enjoyed even more of a resurgence lately as one of our last remaining movie stars between his appearances as Arthur Curry/Aquaman in the DC Universe franchise, the recent Netflix film "Sweet Girl," and the ongoing AppleTV+ series "See." Not a bad career trajectory for the hulking giant who once appeared in the very first season of "Game of Thrones" as a mostly mute Khal Drogo, eh?
Check out all the details of his upcoming role in "Fast & Furious" below, including whether he'll be playing a villain, a hero, or ... perhaps both!
Jason Momoa Joins the Fambly
The "Fast" family saga is about to get even bigger — literally. You know what's one surefire way to get around the messiness of the ongoing drama between stars Vin Diesel and Dwayne "The Rock" Johnson? Replace the Rock with another beloved performer who will surely fit right into the "Fast & Furious" universe with even more ease. In fact, THR reports that once the Rock rejected the Rock's passive/aggressive public invitation, their irreconcilable differences directly led to the search for someone who could fill in that "needed quotient of star power and muscle power." Enter Jason Momoa, who the report describes may or may not be playing the villain of the picture. Apparently, plot details are being kept under wraps just as tightly as Momoa's exact role, which could potentially be "protagonistic or antagonistic in nature, or perhaps even both."
Consider us fully on board with whatever role the creative team has in mind for the star, ideally one that requires firing a bunch of absurdly large weapons, driving wildly expensive cars and/or military vehicles, and drinking an upsetting number of Coronas. With all due respect to Jason Statham, there's absolutely nothing Jason Momoa could do that wouldn't have me (and other "Fast" fans, I'm sure) eagerly welcoming him into the fambly barbeque. Director Justin Lin is back behind the wheel for "Fast 10" and is expected to bring back Michelle Rodriguez, Tyrese Gibson, Ludacris, Sung Kang, and Charlize Theron.
This next role will undoubtedly add to the ever-growing legend of Jason Momoa, which is nothing but good news for us. Stay tuned for more details as they come in.