Roar Was A Chance To Finally Get Closure Following GLOW's Cancellation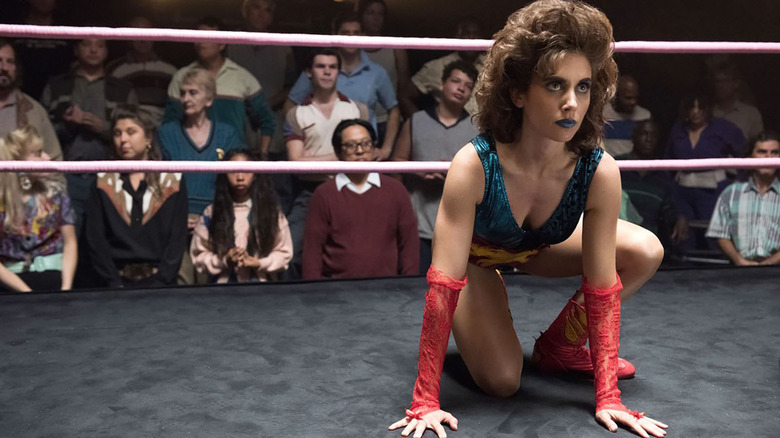 Netflix
I remember where I was on October 5, 2020 when Netflix announced that it was canceling its wrestling dramedy "GLOW," after previously announcing its renewal. I was at home, where I had been for the past seven months of quarantine, and it was the moment where hopelessness finally took hold. I had mourned the losses of loved ones, I had elected not to renew my teaching contract knowing virtual teaching for the entire year was not a guarantee — but something about "GLOW" being canceled just broke me. 
Perhaps it's because I'm a lifelong wrestling fan. Perhaps it's because I was really looking forward to seeing how "GLOW" finished up its story. Or perhaps it was because one of the few things I could look forward to after all of (gestures wildly) this had been swept away. It's impossible to predict how a loss is going to impact you, and the perfect storm of everything COVID-19 had taken already compounded with the premature end of "GLOW" pushed me to the brink.
The fans weren't the only ones devastated by the loss of the show. In a recent interview, "GLOW" star Alison Brie discussed how difficult it was to accept that the show wasn't returning, but was thrilled to share that she was finally able to achieve some closure during the production of "Roar." Based on a collection of short stories by Cecelia Ahern, "Roar" is an anthology series for Apple TV+ that tells darkly comedic fables through a feminist lens. It also unexpectedly reunited a lot of the former "GLOW" cast and crew.
'It did give me some catharsis there'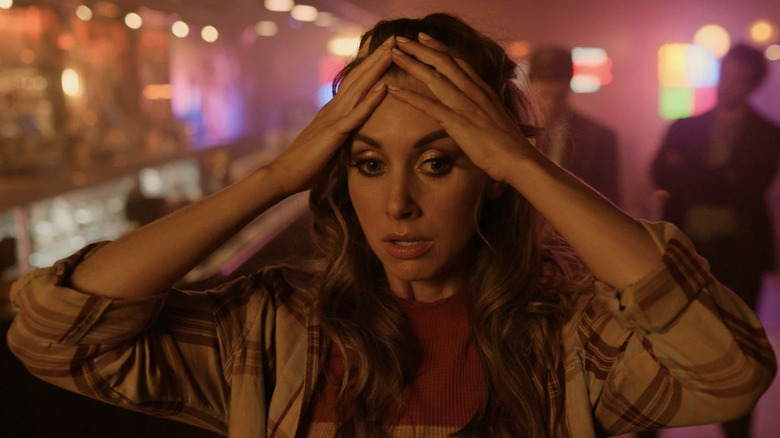 Apple TV+
"Roar" was created by Liz Flahive and Carly Mensch, the duo who also created the "GLOW" series for Netflix. It makes sense that they'd want to call on some of their trusted favorites for their new project, and by doing so offered the "GLOW" family a chance to make peace together regarding the end of the show. 
"It was especially hard because it all happened during COVID, when everybody was quarantining away from one another," Brie said. She noted that due to the physicality required of the dramatized series based on the "Gorgeous Ladies of Wrestling" from the 1980s, the cast was extremely tight-knight. "To go through the show's cancellation apart, and extremely apart, just felt really strange," she said. "It's part of what made working on ['Roar'] so great, because I got that closure that I couldn't really get when we first learned of 'GLOW's' cancellation."
By being on set for "Roar," Brie was able to reunite with Flahive, Mensch, and co-star Chris Lowell ("Promising Young Woman," "How I Met Your Father"), as well as a variety of the crew members. "GLOW" co-star Betty Gilpin also appears in an episode of "Roar," giving audiences the chance to see Debbie "Liberty Belle" Eagan and Ruth "Zoya the Destroya" Wilder on the same show one last time. "There was a lot of joy and excitement just to be reunited with my buds and my family from GLOW," said Brie. "It did give me some catharsis there."
'Sometimes you get lucky'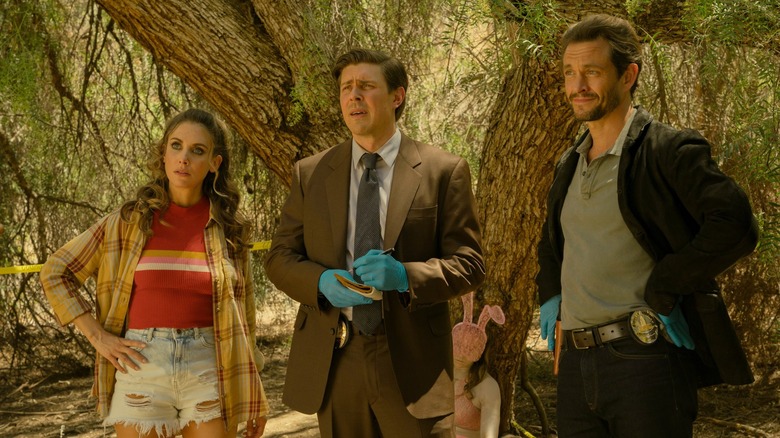 Apple TV+
During an exclusive interview with HollywoodLife, Liz Flahive echoed Brie's sentiments, saying, "sometimes you get lucky." Flahive also noted the irony of Alison Brie and Chris Lowell co-starring on "Roar," given that the two seldom shared one-on-one scenes during "GLOW." According to Flahive: 
"They were thrilled obviously to see each other, and the other reunion that people may not realize is that a lot of our crew from 'GLOW' came on board 'Roar,' so our hair and makeup teams, our costume team, we had so our production designer, we had so many people that we had previously worked with come with us to build 8 worlds, which was super lucky ... I think it was also nice for them to see some familiar faces behind the camera."
It does help soften the blow just a little bit to know that so many of the cast and crew were able to find a little bit of closure through their working relationship on "Roar," but the wound for "GLOW" megafans still feels fresh. I know I'm not supposed to get my hopes up for a possible "GLOW" movie, but if I've learned anything from watching nearly three decades of Royal Rumble matches, it's to never say never. You never know when a wrestler is going to come through the other side of the curtain.