Roar Review: Apple's Anthology Series Falls Victim To Its Fables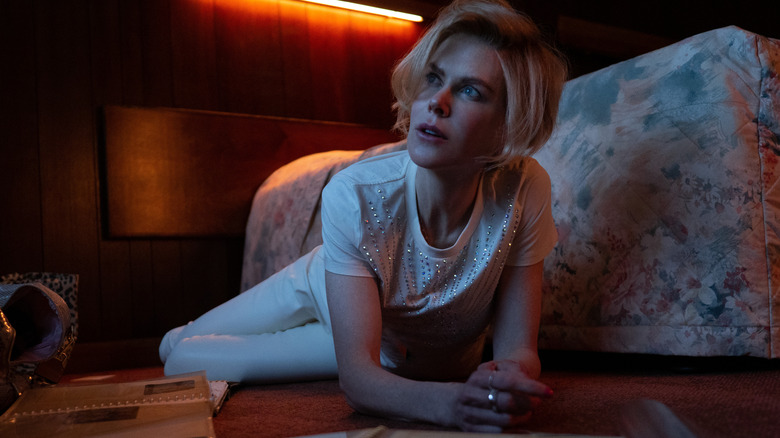 Apple TV+
Fables have an important place in every culture, using magic or unrealistic storytelling conventions to help teach audiences a real-world lesson. Each of the stories in the new Apple TV+ series "Roar" is a different fable about womanhood, and some are more effective than others. Telling a fable is a balancing act between entertainment value and teaching a lesson, and when "Roar" strikes that balance, it makes for excellent television. When it doesn't, it's well-made but ultimately frustrating, like after-school specials made by Women's Studies majors. 
"Roar" is an anthology series with eight unique episodes, each chronicling the bizarre experiences of a different woman. The women are never named and are instead referred to by their circumstances in each episode title. Nicole Kidman is "The Woman Who Ate Photographs," for example, and you can likely guess her peculiar dining habits from such a name. The stories are all taken from the book "Roar" by Cecelia Ahern and have been adapted for TV by creators and co-showrunners Carly Mensch and Liz Flahive, known for their work on the brilliant and canceled-too-soon Netflix series "GLOW." Each episode has a different director, and as such, they have some very different styles, though this works well because the tones are all so different. You'll laugh, you'll gasp, you'll cry, and you'll probably cringe. That is the full femme experience, after all.
As a collection of stories with a central theme of the weirdness of being a woman, "Roar" mostly works. Individually, the stories are as varied as the women themselves, for better and for worse. 
"Roar" is at its best when it lets the allegories serve the characters and stories, but unfortunately some are too on-the-nose to feel like anything other than a bludgeoning. Even the best episodes have moments where the fables are over-emphasized, which is the series' greatest failing. If the series trusted its audience just a bit more, everyone would have been better off for it. "Roar" is one part "Black Mirror," one part "The Twilight Zone," all filtered through the lens of feminism.
A mixed bag of metaphors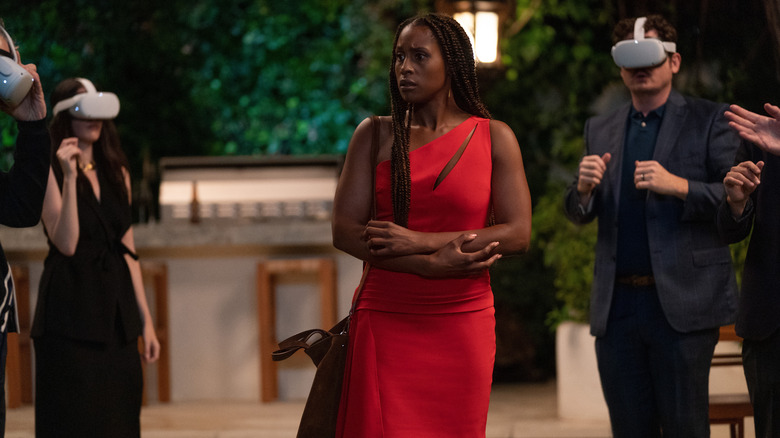 Apple TV+
The most compelling and satisfying story of the bunch is "The Woman Who Returned Her Husband," directed by Quyen Tran. The episode stars Meera Syal as Anu, who lives in a world where husbands can be purchased at the local big-box superstore. After decades of marriage, she decides to return her husband to the store where she bought him. Due to the store's return policy, she has to pick a replacement instead of getting a refund, and starts learning more about men, marriage, and most of all, herself. The episode is funny and relatable for anyone who's ever lived with a significant other for any length of time, and the lesson it's trying to teach is as complex as it is sweet.
"The Girl Who Loved Horses," directed by So Yong Kim, is less sweet but thankfully just as subtle, with a lesson about the meaning of revenge at the core of a sort of western buddy-comedy. The episode has the aesthetic of something like "The Ballad of Buster Scruggs," with just enough violence to remind you that the old west was an anarchic nightmare. Fivel Stewart plays Jane, a young woman whose father is killed over a debt, and she's excellent in the role. Kara Hayward is sweet as her long-time friend, the local pastor's daughter. Alfred Molina also appears as the man who killed Jane's dad, giving the episode some heaviness and grit beyond Stewart's annoyed glares.
"The Woman Who Disappeared" stars Issa Rae as a memoir writer who travels to meet with executives to discuss a book deal, but then she begins, well, disappearing. It's the most "Twilight Zone"-like of all of the episodes, but Rae's performance and eerie direction by Channing Godfrey Peoples make it sing. The metaphors start getting a bit heavy-handed in the back half, and one shocking, timely sequence would feel like exploitation in any other hands — but it's still one of the better episodes of the series.
The most truly terrifying episode of the bunch is "The Woman Who Found Bite Marks on Her Skin," directed by Rashida Jones. Cynthia Ervio stars as a woman who almost dies giving birth to her second child, then begins having mysterious bite wounds develop on various parts of her body. The episode deals with many of the challenges facing working mothers, along with other kinds of guilt, and it's extremely unsettling even without the bite marks. This one also almost overplays its hand with its metaphors, but the performances and sharp direction keep it afloat. 
The Nicole Kidman-starring "The Woman Who Ate Photographs" is poignant, but gets a little lost in its metaphors. Kidman's character takes in her mother, who is slowly fading due to dementia, and begins eating photographs as a way to deal with the pain of her own memories fading. Kidman gives one great monologue near the end, but the episode, directed by Kim Gerhig, just sort of ends with a bittersweet sentimentality that doesn't feel entirely earned. 
"The Woman Who Was Kept on a Shelf," starring Betty Gilpin and directed by So Yong Kim, "The Woman Who Was Fed by a Duck," starring Merritt Weaver and directed by Liz Flahive, and "The Woman Who Solved Her Own Murder," starring Alison Brie and directed by Anya Adams, are all completely mixed bags even within their 30-minute episodes. All three have some interesting ideas but lean so hard into the lesson of it all that they ultimately feel trite. Gilpin, Weaver, and Brie all do great work, and Hugh Dancy is clearly having a laugh playing a detective that's the polar opposite of his empathetic weirdo Will Graham from "Hannibal," but without going into spoilers, all three of these episodes miss the mark.
While it is an interesting experiment in anthology television, the episodes are so wildly different that addressing "Roar" as a whole is as messy and complicated as the series itself. Instead of feeling like a full-blown roar, it's more of a trained growl, and that's a real shame.
/Film Rating: 6 out of 10