Documentary Trailers: 'Glow: The Story Of The Gorgeous Women Of Wrestling' And 'First Position'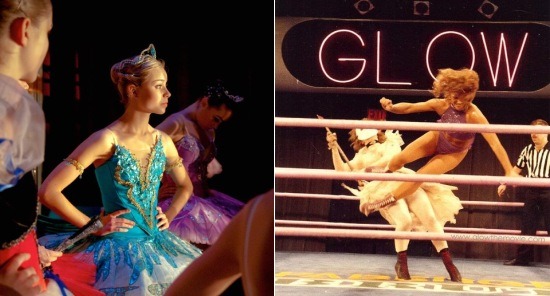 While documentaries of every stripe have their charms, my favorites tend to be the ones that offer up-close-and-personal looks at worlds I'd never really considered before. Like, say, professional women's wrestling. Brett Whitcomb's GLOW: The Story of the Gorgeous Ladies of Wrestling looks at the all-female wrestling promotion that featured in their own syndicated TV series from 1986 to 1990, through footage from the original series and interviews with the women who were once involved with the organization. I'd be lying if I said I remembered much about them — I've never been much into pro wrestling — but GLOW looks like an intriguing look at odd corner of the universe all the same.
Along the same lines but at the other end of the spectrum is Bess Kargman's festival circuit hit First Position, about six child ballet dancers competing in the huge, prestigious Youth America Grand Prix. That professional dancing is a tough business to break into is no secret, and Kargman's film explores just what these kids are giving up to shoot for their dreams as well as what they're getting out of it in return. Watch trailers for both films after the jump.
Since, as I've said, I was never into the original GLOW, those of you who were fans will have to tell me if this looks good. As a non-fan, I look forward to learning more about what was clearly a gleefully bizarre group, but the snippets we see of the interviews don't look especially insightful or thought-provoking.
And next, Kargman's First Position:
Kid competitions have been the subject of many a documentary, including 2002's Spellbound and last year's Make Believe, but as long as the topic yields such compelling narratives I'm not complaining. First Position looks like it features some lovable, talented characters — I can't help rooting for the teenagers from Sierra Leone and Colombia in particular.
GLOW: The Story of the Gorgeous Ladies of Wrestling will get its world premiere at the Hot Docs Canadian Documentary Film Festival on April 27. Hit their Facebook page for more info. First Position is expected to hit theaters sometime in May; keep an eye on Facebook for updates.