How Colin Trevorrow Recruited The Original Cast For Jurassic World Dominion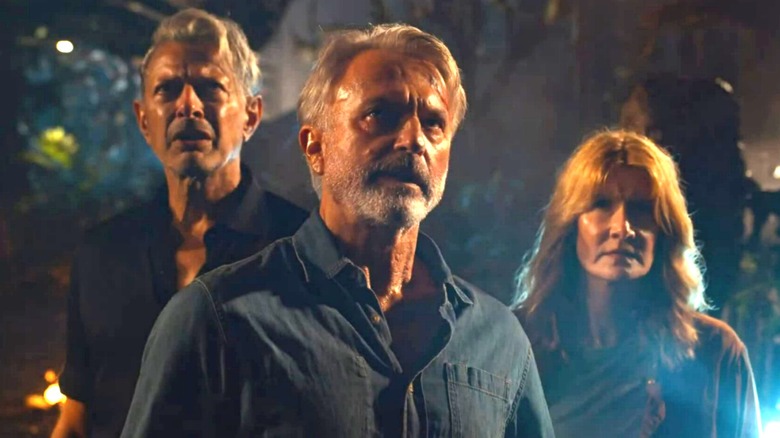 Universal Pictures
Can you remember a time when multiplexes across the world could sustain movies of all (genre) shapes and (budget) sizes? When smaller independent movies served as counter-programming to giant blockbuster behemoths, allowing both extremes (and everything in-between!) to flourish simultaneously? If you can (as I do), that just might make you — dare I say it — a dinosaur of sorts. Those days seem more and more like a distant memory in the past few years, hastened by the arrival of the ongoing pandemic that has further changed moviegoing habits and driven audiences away from the movie theaters. There have been signs of life recently, at the very least, but the reality of the situation appears clear. Similar to how prehistoric creatures like Giganotosaurus crowded out their carnivore competition at the top of the food chain, $200 million blockbusters promising huge amounts of spectacle seem to be the alpha predators of the movie industry, fearlessly staking their ground as the ones best equipped to survive and thrive at the box office.
The "Jurassic World" movies just might be the perfect symbolic representation of this trend, as the (arguably unnecessary) franchise continuation has taken everything about the 1993 Steven Spielberg classic (except, it seems, its blisteringly prescient stance on runaway capitalism) and dialed it up to 11. For those most excited about the upcoming threequel, however, all this preamble about spectacle and going "bigger and better" neatly explains why returning director Colin Trevorrow moved heaven and Earth to send out the trilogy in style — not just by upping the dinosaur mayhem or delivering a Cretaceous-sized runtime, but also by reuniting the original trio of fan-favorite characters.
Sam Neill, Laura Dern, and Jeff Goldblum are all set to reprise their roles as Alan Grant, Ellie Sattler, and Ian Malcolm (respectively) for the upcoming threequel, and the print issue of Empire magazine has the details on just how this grand reunion came to be.
A 'delicious' reunion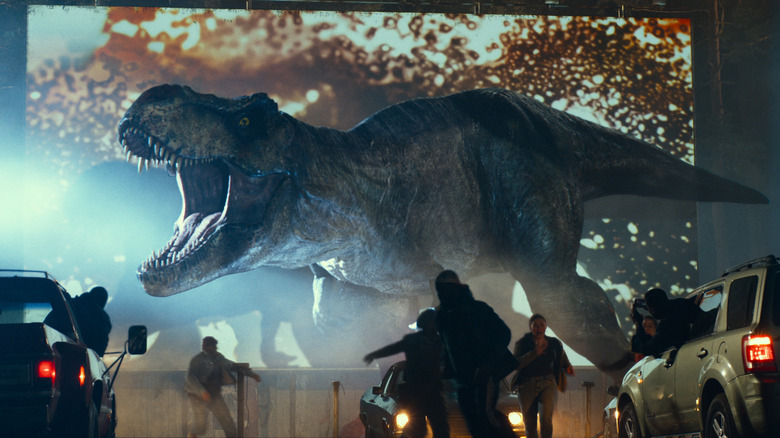 Universal Pictures
Thus far, every movie in the "Jurassic World" trilogy has permanently changed the status quo. The 2015 movie proved just how bad an idea a fully functioning dinosaur park on a secluded island really is, as if not a single living person learned their lesson from two decades prior. The fascinating (and very stupefying) sequel, "Fallen Kingdom," brought a gloriously gothic and an almost classic Universal monsters flair to the film's final act before unleashing the dinosaurs onto the mainland, leading to the circumstances of "Dominion." This, apparently, necessitates the involvement of the original visiting experts who narrowly survived the park all those years before. 
Empire explains how Colin Trevorrow rounded up the beloved cast, having known Goldblum from the dino-themed Jeep commercial for the Super Bowl a few years back, meeting Dern for lunch in sunny Santa Monica, and finally sitting down with Neill at the Sitges Film Festival in Spain. Trevorrow detailed the pressure of meeting Neill in the upcoming issue of Empire, saying:
"At the beginning of that, he was probably looking at me with a certain amount of skepticism and side-eye. I'm not Steven Spielberg. I never will be. So I really had to start from scratch in convincing these people that I was going to be able to guide them through the return to these characters that mean so much to them."
As gargantuan as the main monsters in these creature features may be, the shadow cast by Spielberg on the rest of the "Jurassic" franchise might be even larger. But all those fears could be put to rest, to hear Neill himself tell it. Referencing the masterful director, Neill described Trevorrow as, "That's the guy he reminds me most of. And I don't say that lightly — I really don't. He's inventive, enthusiastic, always energetic." Talk about high praise! Dern chimes in to gush about the three actors joining forces on-screen once again.
"We discover what it would feel like if these three characters came back together, and how they would feel about each other. And it's delicious."
As cynical as I am about these movies, it's tough to feel similarly about Neill, Dern, and Goldblum themselves. "Jurassic World: Dominion" stomps into theaters on June 10, 2022. The June 2022 issue of Empire magazine hits shelves on April 14, 2022.