How To Watch Yellowstone Season 4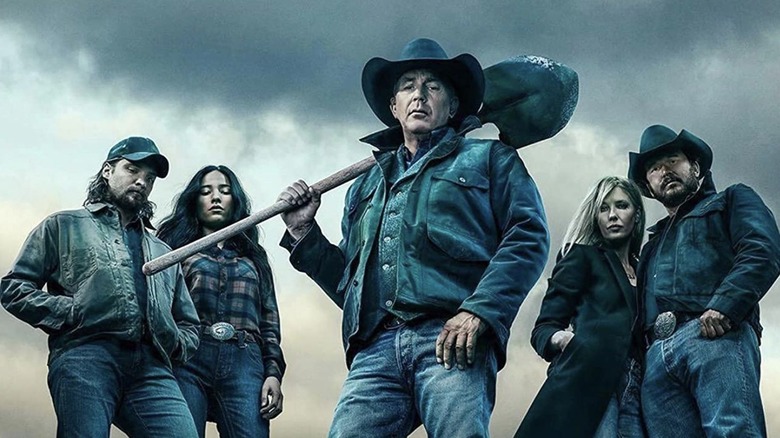 Paramount Network
(Welcome to How to Watch, where we get down to brass tacks and tell you "Hey, here's how you can watch this thing." In this edition: "Yellowstone" season 4.)
In a world of constant streaming and binge-watching, it's somewhat comforting to know that TV networks can still attract viewership the old fashioned way. This is certainly true for Paramount Network's "Yellowstone," which drew 14.7 million viewers for its season 4 premiere alone. Though this number dwindled slightly for the January 2 finale, it still amassed 9.3 million live viewers according to The Wrap — the largest number for a cable telecast since "The Walking Dead" in 2017.
Basically, the hype for "Yellowstone" is so strong that people are probably keeping their cable service around because of it. But what about viewers who want to play catch-up, or simply want to re-watch their favorite episodes without waiting around for reruns? Luckily, the latest season of "Yellowstone" is available to stream — just maybe not where you might think. Especially ahead of the much anticipated (and recently green-lit) season 5, there's really no excuse not to at least check out the fan-favorite series.
Where to stream Yellowstone season 4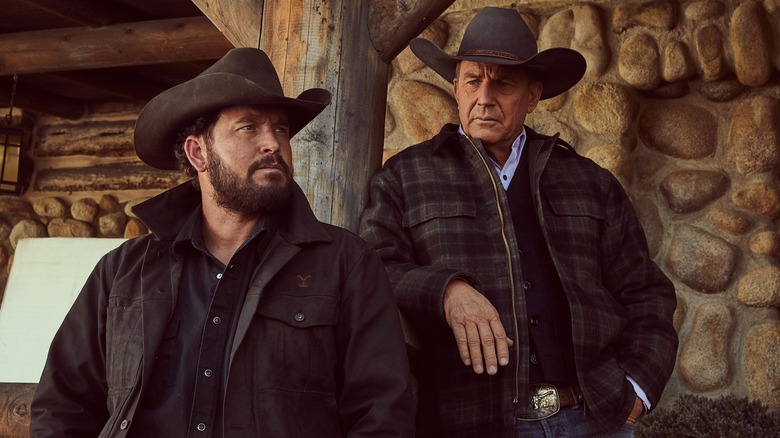 Paramount Network
All 10 episodes of "Yellowstone" season 4 — alongside all of the other previous seasons — are readily available for streaming on Peacock. This might seem odd considering that it aired on Paramount Network, which has its own streaming service in Paramount+, but we'll get to that later. However, all of the "Yellowstone" spin-off series, including the prequel series "1883" and "Mayor of Kingstown" (which share a creator in Tyler Sheridan) are exclusively on Paramount+, as they were created as original programming for the streamer.
For those who need a speedy refresher on what "Yellowstone" is all about, it follows John Dutton (Kevin Costner) and his family, the owners of Montana's largest ranch, aptly named the Yellowstone Dutton Ranch. While there's plenty of familial drama to keep the show's narrative afloat, there's also tension between the ranch and the bordering Broken Rock Indian Reservation led by Chief Thomas Rainwater (Gil Birmingham), who believes much of the ranch's land rightfully belongs to the local Native American population. Of course, the ranch also faces threats on the behalf of developers and the nearby national park, making "Yellowstone" a drama that's diverse in its perspectives and interests.
For the forthcoming fifth season, the show will be split into two distinct seven episode installments, bringing the tally up to 14 episodes as opposed to the show's traditional 10 episode seasons. Dads everywhere, rejoice! 
What about Paramount+?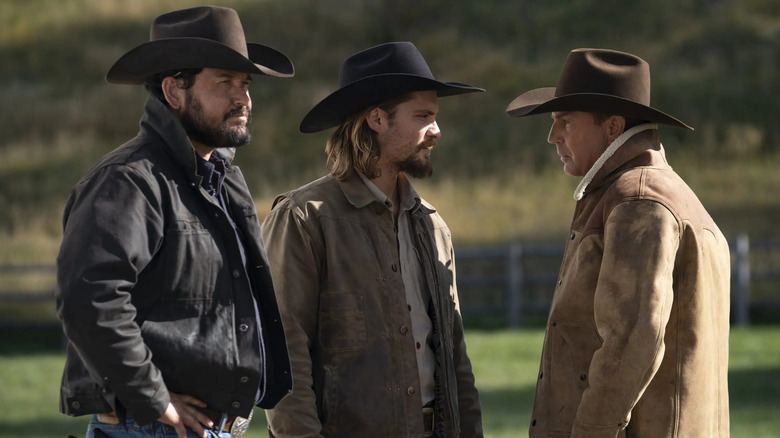 Paramount Network
Basically, Peacock (owned by NBC Universal) swooped in on exclusive streaming rights in 2020, before Paramount Plus was established as a streamer. The network didn't launch its own service until March 2021, putting it in a sore spot when it comes to platforming one of its most popular series. However, with the "Yellowstone" spin-offs streaming exclusively on Paramount Plus, there's reason to believe that at the very least, all future seasons of the show will be housed on the network's own streaming service.
It's unclear when the first 4 seasons of "Yellowstone" will debut on Paramount+, and it's not clear if it'll happen before forthcoming fifth season airs. Streaming rights are a fickle beast. In the meantime, head over to Peacock and binge this show while you can — then toggle back to Paramount+ for the spin-offs (with some more content still on the way), hopefully leaving you with just enough time to brush up on the intra-show lore before the premiere of "Yellowstone" season 5.