Every Single Dad In America Watched The Yellowstone Season 4 Premiere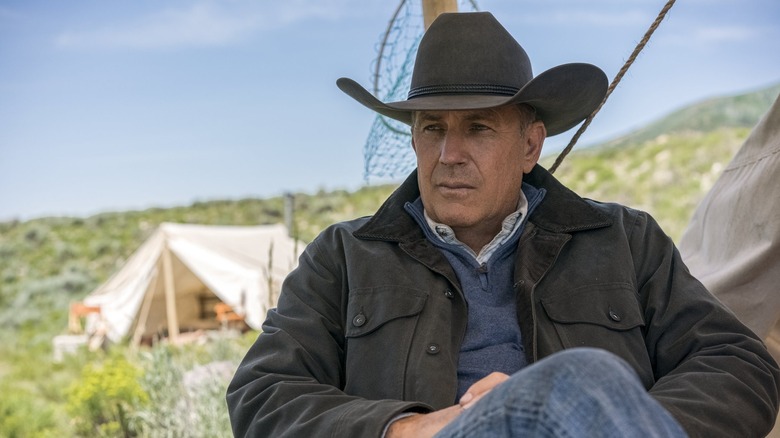 Paramount Network
I am not a dad, so I was unfortunately not a part of the metric crapload of people that tuned in for the season 4 premiere of "Yellowstone." In fact, I'll put all of my cards right on the table and admit that, as someone who hasn't had cable in over a decade, and doesn't frequent the "Kevin Costner is a God" side of Film Twitter which may or may not exist, I didn't even know "Yellowstone" was a thing until everyone started freaking out about the massive viewership numbers. According to a report from Variety, the two-part season 4 premiere on linear TV soared to 14.7 million viewers in Nielsen's L3 ratings without any additional numbers from streaming. This makes "Yellowstone" the #1 series of 2021 across all forms of television, including broadcast, cable, and premium networks. It's also the highest-viewed cable season premiere since "The Walking Dead" in 2017.
Considering how many people are cord-cutting and shifting to exclusively consuming via streaming, this is a huge deal. "Yellowstone" is a neo-western drama starring Kevin Costner. The show comes from Taylor Sheridan of "Hell or High Water" and "Wind River" fame, who is set to make two more series with Paramount Network as part of an exclusive multi-year deal with MTV Entertainment and ViacomCBS: "Mayor of Kingston" and "Yellowstone" spinoff, "1883."
Who's This Hardcore About Watching Yellowstone?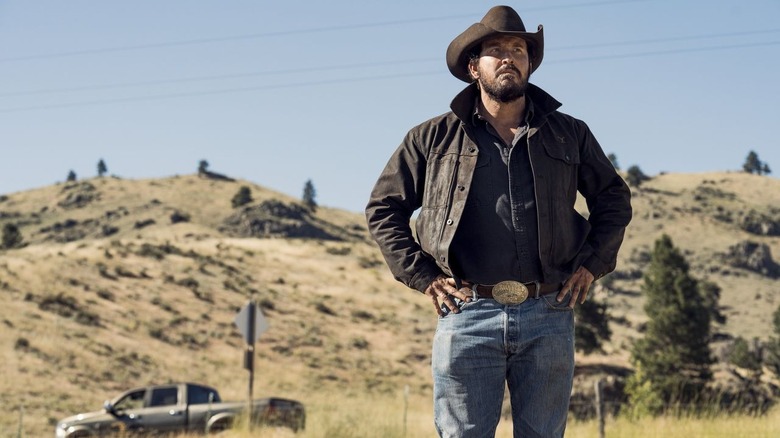 Paramount Network
Okay, okay, we'll come clean. It's not just dads that are watching "Yellowstone." In fact, some of the biggest viewership numbers come from the markets near the actual Yellowstone National Park and the Montana ranch where they film the series. According to that same report from Variety, "Yellowstone" was the most-watched show in markets including Billings, Butte, Bozeman, Helena, and Great Falls in Montana, Casper and Cheyenne in Wyoming, and Idaho Falls (Jackson) and Twin Falls in Idaho. The series also reportedly performed well in areas that are big on agriculture and livestock, in cities like Abilene, Amarillo, Boise, Cedar Rapids, Des Moines, Evansville, Laredo, Lexington, Louisville, Lubbock, Topeka, and Wichita.
There have been a lot of conversations over the last five years in particular regarding representation, and "Yellowstone" seems to be proof positive that catering to an underrepresented demographic is a recipe for success. The CBC found success with their show "Heartland," but other than the public relations nightmare known as "The Ranch" on Netflix, shows like "Yellowstone" haven't been this popular since "Dallas." Fingers crossed this leads to bolo ties and bulky belt buckles coming back in style.