'Yellowstone' Trailer: A TV Series From The Writer Of 'Hell Or High Water'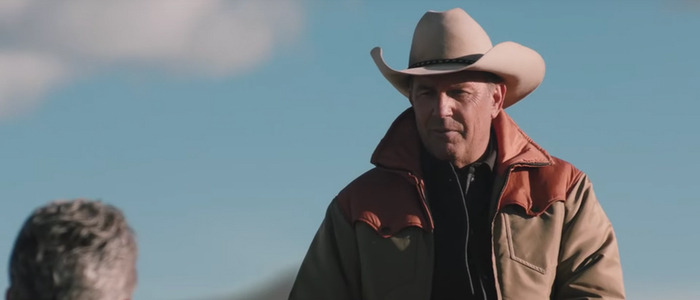 A new Yellowstone trailer has arrived, offering a look at the gritty new TV drama from the writer of Hell or High Water and Sicario. Kevin Costner stars as the matriarch of the Dutton family, who own the largest ranch in the United States.
I continue to enjoy the later half of Kevin Costner's career. His leading man days are mostly over, and he's instead settled into gruff character actor roles that allow him a chance to shine. Heck, I even thought he was pretty great in the otherwise not-so-great Man of Steel. The new Yellowstone trailer reveals that Costner is in top character actor form yet again. "This ain't checkers, son!" Costner growls. "This is chess!" You said it, Mr. Costner.
Yellowstone Trailer 
Yellowstone comes from  Taylor Sheridan, the writer behind Sicario, Hell or High Water and Wind River. This show looks to be right in line with those films – a story about harsh, open, unforgiving landscapes inhabited by violent men doing violent things to other violent men. This seems to be Sheridan's niche, and he's sticking with it. That's fine I suppose, because Yellowstone looks like it could be pretty good. At the very least, it'll give Costner a chance to sink his teeth into another good role.Yellowstone isn't the only Taylor Sheridan project arriving in 2018. Sheridan also wrote the sequel to Sicario, Sicario: Day of the Soldado, due out June 29, 2018. That, too, seems to fit right in with Sheridan's violent landscape filmography.
"Wind River was a real challenge in every way," Sheridan said. "The opposite of what Yellowstone was. We had no money, no time and I was trying to find my voice as a filmmaker...With Yellowstone I had time and money. I was able to see a vision through without those restrictions."
In addition to Costner, Yellowstone also stars Wes Bentley, Kelly Reilly, Luke Grimes, Cole Hauser, Kelsey Chow, Dave Annable, Gil Birmingham, Jefferson White and Danny Houston. Sheridan is both writing and directing the series for the Paramount Network.
Yellowstone debuts on the Paramount Network June 20, 2018.
Yellowstone follows the violent world of the Dutton family, who controls the largest contiguous ranch in the United States. Led by their patriarch John Dutton, the family defends their property against constant attack by land developers, an Indian reservation, and America's first National Park. The cast of Paramount Network's Yellowstone, starring Kevin Costner, features actors Wes Bentley, Kelly Reilly, Luke Grimes, and Cole Hauser.