'Yellowstone' Trailer: Kevin Costner Tries To Survive Another Season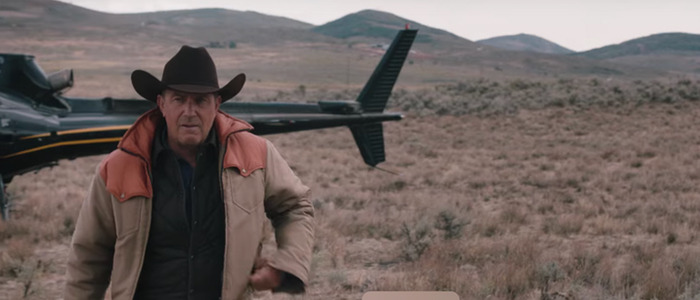 Kevin Costner teams up with the creator of Sicario, Hell or High Water and Wind River for Yellowstone, an intense-looking new series from the Paramount Network. The series follows the Dutton family, who controls the largest ranch in the United States. Watch the Yellowstone trailer below.
"All men are bad," a character says in the Yellowstone trailer. "But some of us try real hard to be good." That statement more or less sums up the work of Taylor Sheridan, the writer behind Sicario, Hell or High Water and Wind River. Sheridan specializes in stories about bad people dealing with bad things, usually set against the backdrop of some vast, unforgiving landscape. Sheridan's new Paramount Network TV series Yellowstone looks like it treads familiar ground for the writer and director. Check out the unflinching trailer.
Yellowstone Trailer
There's not a lot of plot here. But there are plenty of scenes of intense confrontations scored against a moody soundtrack that sounds lifted directly out of Sicario. I can't get much of a feel for this show here, beyond the fact that it's going to be unpleasant. One thing Yellowstone does have going for it: Kevin Costner.
Costner has had a weird career. He enjoyed a brief stint as a box office star, with lead roles in successful films like JFK, Robin Hood: Prince of Thieves and The Bodyguard. However, one box office bomb after another derailed his trajectory. Now, he's settled into the older character actor phase of his career, and it's kind of great. I thought his role as Pa "Let The School Kids Die" Kent was one of the best elements of the otherwise lackluster Man of Steel. Costner also turned in a memorable supporting turn in Molly's Game. I'm interested to see what he does on a show like Yellowstone.
In addition to Costner, Yellowstone also stars Wes Bentley, Kelly Reilly, Luke Grimes, Cole Hauser, Kelsey Chow, Dave Annable, Gil Birmingham, Jefferson White and Danny Houston. Taylor Sheridan is both writing and directing the series.
Yellowstone premieres June 20, 2018 on the Paramount Network.
Yellowstone" follows the violent world of the Dutton family, who controls the largest contiguous ranch in the United States. Led by their patriarch John Dutton, the family defends their property against constant attack by land developers, an Indian reservation, and America's first National Park. The cast of Paramount Network's Yellowstone, starring Kevin Costner, features actors Wes Bentley, Kelly Reilly, Luke Grimes, and Cole Hauser.