Jerrod Carmichael Makes A Splash On Saturday Night Live, And Oscars Jokes Basically Guest Starred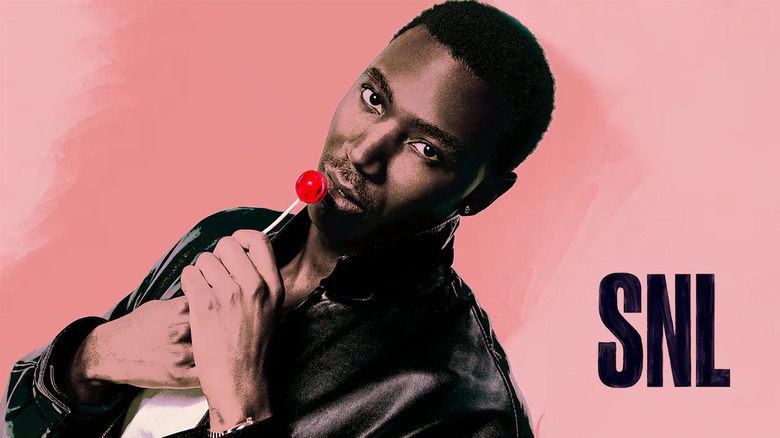 NBC
If you tuned in to "Saturday Night Live" this weekend, you might have found yourself asking, "Who is Jerrod Carmichael, and why is he hosting the show?" The comedian may have created and starred in his own NBC sitcom, appropriately titled "The Carmichael Show," but it only lasted three seasons, and it wasn't exactly a "Seinfeld"-level hit. There's also a chance that you might recognize him as one of the frat boys from the "Neighbors" film franchise. But Carmichael's greatest success comes from his stand-up comedy career, and he proved that very well with a monologue that managed to address the pop culture frenzy surrounding the 2022 Oscars controversy heard 'round the world without actually bringing up any of the names involved or even the specifics of the incident itself. 
Unfortunately, this wasn't the only appearance that the tired subject made throughout this episode of "SNL." Thankfully, there were a variety of fantastic sketches that didn't need the crutch of a headline-making celebrity misstep to spark laughter. 
So, let's dig into the Jerrod Carmichael-hosted episode of "Saturday Night Live."
The Best
Short-Ass Movies – Look, it's not just because this is /Film that this came out on top as the best sketch of the night. It's simply a fantastic premise, a well-written rap, a slickly produced track, and it lets Pete Davidson do one of two things that he consistently knocks out of the park (the other being stand-up bits at the Weekend Update desk). Whom among us hasn't scrolled through the endless streaming services at our disposal to find the shortest feature film we can squeeze in before bed. Aside from the great rap itself, the roster of titles included (whether they qualify as a short-ass movie or get dismissed as being far too long) makes it even better. Just a great sketch all around.
Shop TV – We've seen the home shopping television framework on "SNL" many times before, and it typically involves something going horrifically wrong or being incredible inappropriately. This qualifies as both, with Jerrod Carmichael showing off a Rainbow Brite-inspired doll known as Rhylee Rainbowlocks. Aside from the technicolor design, the doll is named for the hair that kids can cut and style before magically regrowing the hair to do it all over again. But then the source of the doll's growing hair is revealed, and it's all downhill from there. Cecily Strong and Mikey Day as enthusiastic Southern hosts reacting in horror to this inadvertently inappropriate doll is already good enough, but Carmichael trying to explain it away with technical "Dollmaking 101" certainly adds to the hilarity. The cherry on top is ending with a callback to the beginning of the sketch, and it's nice to see that "SNL" can perfectly end a sketch when they put their mind to it. 
Story – Awkward Kyle Mooney can be hit or miss, but when he hits, it hits pretty damn hard. In this case, Mooney is Heidi Gardner's cousin who is visiting her in New York City. He's so desperate to enjoy himself and seem cool that it's just a little too much when he reacts to an average story from Jerrod Carmichael. It's cringeworthy comedy at its best, and it just keeps getting worse. But the pièce de résistance is the end when Mooney just can't handle that he's embarrassed himself. It's capped off by physical comedy that's executed so well that Gardner clearly breaks when everything on the table is knocked down. That's the good stuff.
The Average
Scattering Remains – Man, this sketch could have been one of the best of the night. This funeral service takes a dark turn when the typical scattering of a deceased family member's remains ends up being the entire body thrown over the end of a cliff. It's not just the physical comedy, but the audio used to depict the sound of the body falling down the cliffside. It's so loud and cartoonish, like a bunch of junk was thrown over instead of a body. While Andrew Dismukes and Jerrod Carmichael's dry approach to their misstep is hilarious, the pacing of the dialogue makes it feel rather stilted, and it really takes the wind out of the sketch's sails. Plus, the conclusion of this sketch is rather clunky. But even so, it was still one of the better sketches of the night.
Baby Clothes – On the surface, this sketch might seem based on the inappropriate nature of the phrases on these new Oshkosh shirts. However, what's great about this sketch is how it speaks to the inherent silliness that we allow from heteronormative perspectives with gender-based shirts. That's not to say that some of these shirts can't be cute on unsuspecting babies, but if any kind of relationship or gender dynamic was represented in the same way on children, it would create an uproar on Fox News that would last for at least a week. There's still some hilarity that comes from the framing of the advertisement itself, especially reactions from Bowen Yang, but it's the commentary that works best. 
Post-COVID Game Show – Even though the premise of this sketch is almost too simple and silly, the way it's played by Kate McKinnon, Bowen Yang, Sarah Sherman, and Jerrod Carmichael makes it feel a little less elementary. In particular, I loved the part where the contestants answer McKinnon as she rhetorically asks herself, "What's wrong with me?" But this sketch also had pacing issues where it felt like there were silences that lasted just a little too long, on top of being maybe a tad too broad.
The Worst
Seat Fillers – Welp, we knew that "SNL" was going to touch upon the Oscars controversy that erupted after Will Smith slapped Chris Rock on live television, following a joke the comedian made about Jada Pinkett Smith's shaved head. However, this was the second attempt at mining the incident for comedy (we'll get to that later), and it certainly wasn't the last. Aside from the parade of Weekend Update jokes about what happened, this was the most direct riff on the moment itself, and it just felt unnecessary. Furthermore, the set-up for the sketch is just far too basic to be worth entering the conversation nearly a week later. Though Carmichael and Mooney reacting at the Oscars ceremony itself wasn't without amusement, it wasn't good enough to justify its existence. They should have just stuck with Jerrod Carmichael's opening monologue and half of the Weekend Update jokes.
Fox & Friends: Supreme Court Confirmation Hearings (Cold Open) – It should come as no surprise that the political cold open was again the worst of the night. Having said that, there were two commendable parts of this sketch. Kenan Thompson's work as Clarence Thomas allowed him to bat clean-up and bring laughs to an otherwise disappointing sketch. And you can always rely on Cecily Strong as Judge Jeanine Pirro. It's just a shame the rest of the sketch doesn't work very well, especially when you have Alex Moffat, Heidi Gardner, and Mikey Day doing great impersonations of the "Fox & Friends" buffoons.
Weekend Update
Almost the entire first half of Weekend Update was focused on the Oscars controversy involving Chris Rock and Will Smith. They tried to lead-in cleverly with a misdirect about Vladimir Putin, and then they really leaned in. Granted, the punchlines are much more varied than simply mocking the incident itself, unlike the aforementioned, unimpressive sketch, they're not really adding much to the conversation that was had throughout the entire week. However, even though Che's defense of Rock (and presumably many others) not knowing that Jada Pinkett Smith had alopecia feels a little misguided, the punchline about comedians being held responsible for the insecurities of others (especially when it comes to not being aware of details in certain people's lives) is much better than the manner in which it's set up. 
Thankfully, the rest of Weekend Update made up for the overflow of Oscars jokes. Jost's riff on Senator Lindsey Graham looking like he wants to be part of an orgy in the aforementioned headline was aces, and Che even made a joke tied into a radio show appearance where he made it sound like he would be leaving the Weekend Update desk. Watch the second part of Weekend Update right here.
Senator Marsha Blackburn on Judge Jackson's Confirmation Hearings – Cecily Strong doesn't quite have the same streak of political personalities that someone like Kate McKinnon has on the show, but when she impersonates a prominent government figure, she knocks it out of the park. This Weekend Update appearance by Senator Marsha Blackburn, who had some ludicrous moments during the confirmation hearings for SCOTUS nominee Judge Jackson, is thoroughly enjoyable. But sadly, that's because it's painfully accurate.
O.J. Simpson on Will Smith's Oscar Slap – After Jerrod Carmichael's opening monologue (we'll get to that next), the obvious sketch attempt, and the barrage of Weekend Update jokes, you might have thought we were done with Will Smith. But the Weekend Update desk had one more riff. Thankfully, this one isn't actually about the incident itself. Instead, it's merely a launching point for Kenan Thompson to give a great performance as O.J. Simpson, who is hilarious concerned about having awards and accolades taken away from him. It may not be the most timely or relevant take on the incident, but it's certainly much better than almost all the other comedic takes that have arrived this week.
The Host
Jerrod Carmichael is an outstanding stand-up comedian, so it should come as no surprise that he walked out onto the "SNL" stage comfortable as hell. He knows how to work a crowd, and much like the many stand-up comics who have monologued before him, this one is a stand-up bit through and through. However, what's supremely impressive is that this entire bit is predicated on the Oscars controversy with Chris Rock and Will Smith. But much like John Mulaney's bit about a horse running rampant through a hospital as a comedic metaphor for the Donald Trump presidency, Carmichael does this entire bit without mentioning any specifics about the event and instead focuses on the pop culture cycle that has followed in the week since then. Carmichael even makes a joke at the expense of Lorne Michaels and addresses him directly during the monologue. If you were impressed by this, then you simply must seek out Carmichael's stand-up specials.
With that out of the way, I must say that Carmichael wasn't the best sketch comedy performer. It's not that he doesn't have good comedic timing or delivery, but he wasn't really given an opportunity to do anything except be himself with various wigs and costumes. Carmichael also stumbled over some lines and flubbed punchlines. That happens to some of the best, seasoned cast members, but in this case, Carmichael didn't have much that made him stand out. Even though he gave a decent comedic performance overall, it wasn't exactly remarkable. But I certainly wouldn't mind seeing him get the chance to do it again.
The MVP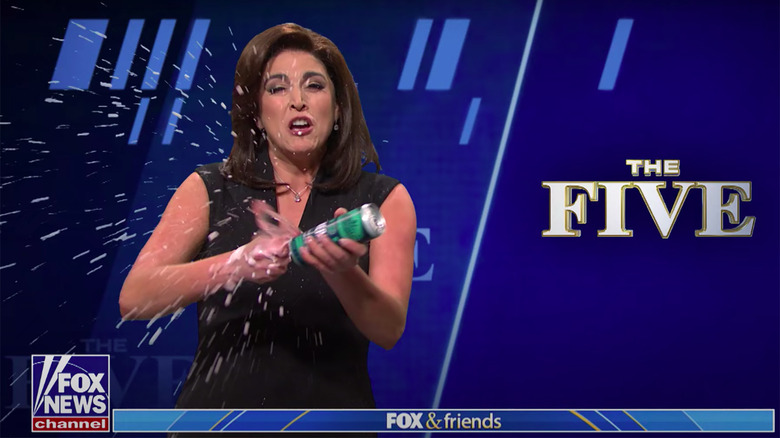 Saturday Night Live
Cecily Strong – Even though her appearances throughout the night weren't always in the best sketches, Strong was easily a high point whenever she was on screen. In fact, Strong also gets point for her off-screen work as the voiceover in the Oshkosh commercial for baby clothes. It's something that she frequently does whenever there's a commercial parody for Target, Old Navy, Kohl's and plenty of other companies, and it often goes overlooked, but it deserves just as much recognition as any other comedic turn. Sometimes the best comedic performance doesn't stand out, but in this case, Strong was the clear MVP. 
The Final Word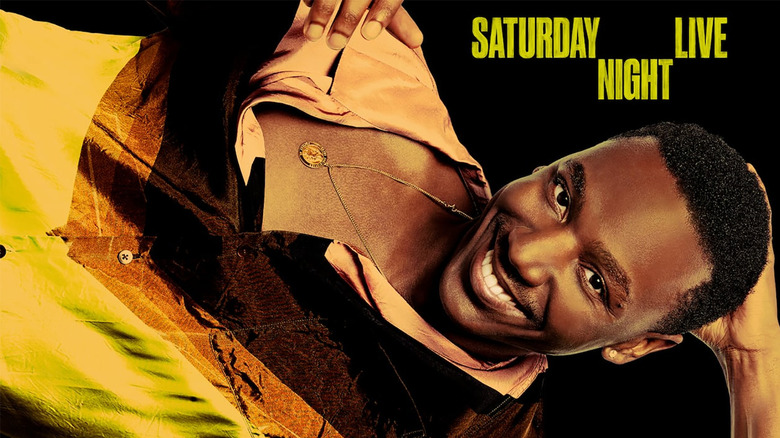 NBC
With an untested, more obscure host taking the stage, "SNL" still came back with a solid episode, even if it relied too much on a specific pop culture moment that has already worn out its welcome in the news cycle. Thankfully, even though Carmichael isn't the best sketch comic, he's still funny enough to deliver an amusing episode of "SNL." For those looking for what will likely be a little more sensational episode, Jake Gyllenhaal will be hosting next week (just after "Ambulance" arrives in theaters), and considering the last "SNL" appearance by Taylor Swift, audiences are curious to see what happens. Stay tuned.