Walking Dead Spin-Off Isle Of The Dead Will Star Maggie And Negan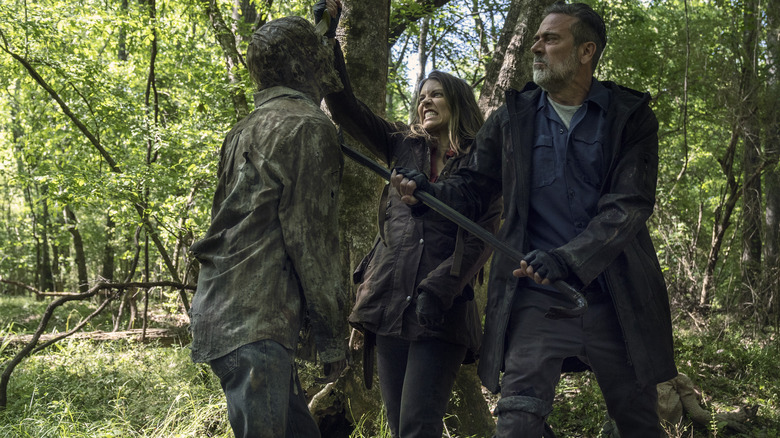 AMC
I've got an elevator pitch for you. What if I came up with a zombie show titled "The Walking Dead," but the real twist was that the humans were the real, metaphorical walking dead. Not the zombies! Okay, credit where it's due because that concept was actually pretty nifty ... way back in 2010, at least, when the series first made its way onto our airwaves. Well over a decade later, "The Walking Dead" just continues to chug along and defy death. Hey, isn't that kind of like... Okay, you know what, I'm not even going to go for that incredibly low-hanging fruit. All snark aside, the long-running series has remained immensely popular for a reason, even if former fans like myself can pinpoint exactly the moment where we lost interest and waved the white flag. (For me, that would be when the writers decided to kill off Emily Kinney's Beth Greene halfway through the fifth season in arguably the most unnecessarily bleak way they could.)
But to borrow a phrase from another (better?) show, "What is dead may never die." AMC's flagship program may finally be winding down with its eleventh season, as the second of three separate 8-episode chunks is set to release in just a few weeks, but naturally, the franchise has found a way to live on in other forms anyway. It's been a few years since we first heard about AMC's plans to expand the franchise with movies and spin-offs, which has borne fruit with "Fear The Walking Dead" (now set to begin its eighth season!), a Daryl and Carol spin-off, "The Walking Dead: World Beyond," and the anthology series "Tales of the Walking Dead."
But today brings the news that yet another spin-off series is now in the works, because there's no such thing as too much, apparently. According to Variety, AMC has greenlit a new series that will currently be called "Isle of the Dead." It'll star two very familiar faces from the original series, as Lauren Cohan's Maggie Greene and Jeffrey Dean Morgan's villainous Negan will once again join forces to star in the new show.
Isle of the Dead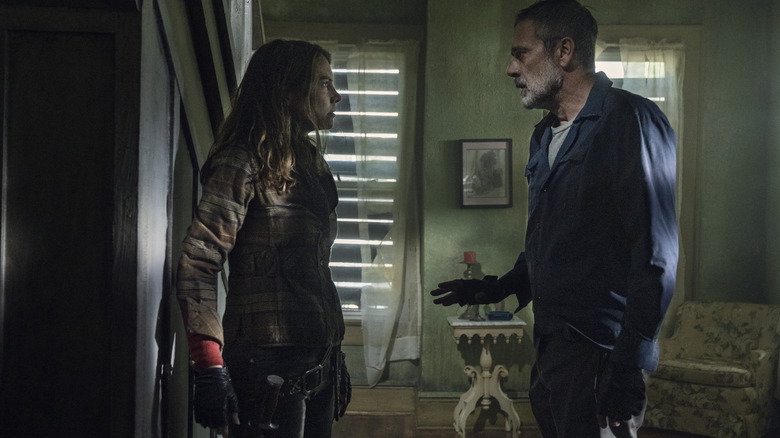 AMC
Boy, I hope you don't have "The Walking Dead" fatigue just yet, because the property isn't going anywhere anytime soon.
In fairness, "Isle of the Dead" sounds like a very natural extension of the ongoing storyline in the main series. It will revolve around Maggie and Negan, a pair of characters who obviously have in-universe history stemming from that fateful, unforgettable, and incredibly controversial season 6 finale. The season 7 premiere revealed Negan had brutally murdered Maggie's beloved Glenn (thus freeing Steven Yeun to do many more interesting projects in the years since, so maybe we shouldn't begrudge that episode so much after all), providing plenty of drama and conflict to come once Maggie and Negan finally came face-to-face. Their meeting in Alexandria didn't exactly lead to many fireworks and any reunions since then have been sporadic at best, but an entire series dedicated to both characters should lead to plenty of potential storytelling opportunities.
According to the report, the series will be comprised of six episodes and "will see the two characters traveling into a post-apocalyptic Manhattan long ago cut off from the mainland. The crumbling city is filled with the dead and denizens who have made New York City their own world full of anarchy, danger, beauty, and terror." Eli Jorné, who has written and co-executive produced "The Walking Dead" for multiple seasons, will write, executive produce, and serve as showrunner on the series. Interestingly, both Cohan and Morgan will also serve as executive producers in addition to starring in the series. In addition, original "The Walking Dead" producer, writer, and showrunner Scott M. Gimple will return to oversee the spin-off as the franchise's chief content officer. As he said in a statement:
"Eli has created a chaotic, beautiful, grimy madhouse of the dead for Negan, Maggie, and fans of the show eager to discover an unseen and insane world of the TWD Universe. Lauren and Jeffrey have always been fantastic collaborators and now, we bring that collaboration to the next level with a series that will take these characters to their limits with the world — and each other. All of us are thrilled to take you on an all new, all different TWD epic for the ages."
Fans can expect "Isle of the Dead" to drop on AMC and AMC Plus in 2023. Meanwhile, "The Walking Dead" season 11 is currently airing.