Atlanta Season 3 Trailer: Things Are Getting Pretty Intense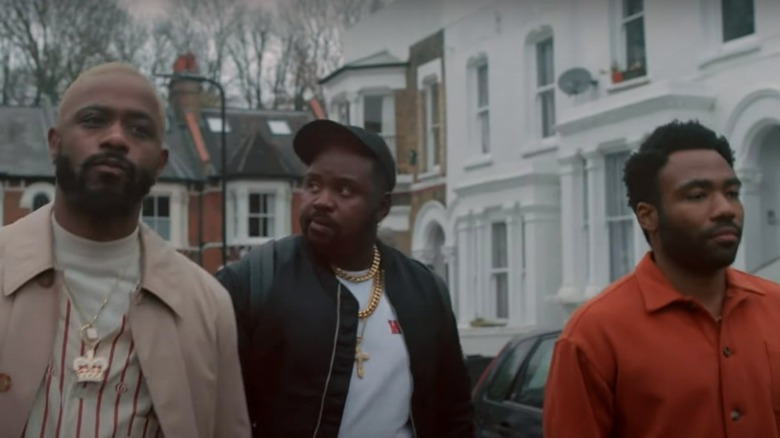 FX
From the friendly (if stifling) confines of Atlanta, Georgia, to the new, intoxicating, and sometimes bewildering locale of Europe, the upcoming season of "Atlanta" appears on track to deliver the strangest and most interesting batch of episodes yet in the hilarious and distinctive FX series. Fans have followed the humble musical origins of rapper Paper Boi (Bryan Tyree Henry), his at-times ineffectual manager/cousin Earn (Donald Glover), Earn's long-suffering girlfriend Van (Zazie Beetz), and the human embodiment of an enigma wrapped in a riddle of Darius (LaKeith Stanfield) for several years now. A total of 21 episodes of some of the most memorable and off-putting stories in all of television have been sprinkled over six (!) years of real-time as the unfathomably busy schedules of the core cast members have prevented the series from airing as consistently as fans may prefer.
Let it be a lesson to the kids out there that patience pays off, however, as our long wait since the season 2 finale in May of 2018 is finally about to end. The previous season saw our favorite group of ambitious misfits take to the skies and travel across the Atlantic Ocean for Paper Boi's big break — the tour of a lifetime that will bring the group to Europe. If they had trouble enough with dealing with the various colorful characters they encountered in their home city, the strange locales on the other side of the pond are set to pose a whole new level of challenges altogether. The latest trailer for season 3 puts their fish-out-of-water energy on full display, teasing some hilarious vignettes, some interpersonal drama, and all the bizarre detours we've come to love from "Atlanta." Check it out below!
Watch the Atlanta trailer
Yup, things are definitely getting a little intense, alright.
All our fan-favorite characters are back for another go-around as Paper Boi's musical career finally seems to have taken off. With fame and fortune come a whole host of unforeseen complications, however, as the newest trailer teases plenty of new developments that will be sure to keep him, Earn, Darius, and Van busy throughout the season ... like figuring out how to pronounce all those impossible European names.
"Atlanta" quickly established itself as one of the most nuanced, thoughtful, and hard-edged shows on television upon its debut way back in 2016 and nothing seems to have changed that during the long hiatus. All the prior marketing for season 3 over the last several months have gone out of their way to play up the return of exactly the sort of heightened, abstract, and slightly disturbing antics that landed "Atlanta" on the map in the first place. For anyone who has yet to pull the trigger and jump on board the series, it's actually pretty difficult to describe exactly what the show is "about" and, well, how it's about it. The series has proven capable of going from slapstick comedy to farce to horror, sometimes in the span of a few minutes within individual episodes, and all while providing a cutting commentary on race, class, and other social concerns.
The series comes from creator Donald Glover and his brother/screenwriting partner, Stephen Glover. To the dismay of fans, Donald Glover previously announced that the upcoming season and the fourth to follow will be the show's last. According to Glover, the story has simply reached its natural endpoint and will go out on its own terms. For those of us who've followed along since the beginning, that news should probably make us want to savor this final stretch of episodes as much as possible. Luckily, we'll get a double dose of "Atlanta" this year to help make up for that. Season 3 premieres on FX March 24, 2022, with the fourth and final season debuting towards the end of 2022.
Taking place almost entirely in Europe, Season 3 of Atlanta finds "Earn" (Donald Glover), "Alfred 'Paper Boi' Miles" (Brian Tyree Henry), "Darius" (LaKeith Stanfield) and "Van" (Zazie Beetz) in the midst of a successful European tour, as the group navigates their new surroundings as outsiders, and struggle to adjust to the newfound success they had aspired to.