Sonic The Hedgehog 2 Takes A Bite Out Of The Bat In A New Trailer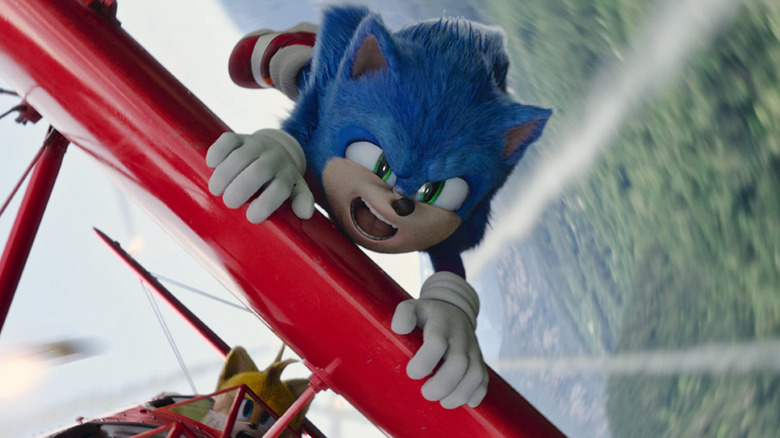 Paramount Pictures
Matt Reeves' "The Batman" is easily the most-hyped event film to hit theaters in 2022 so far (sorry "Uncharted"). As such, it's only natural that Paramount Pictures would try and ride on the DC movie's coattails by releasing a new trailer for "Sonic the Hedgehog 2" that explicitly name-drops "The Bat."
Titled "Blue Justice," the promo starts with Sonic (Ben Schwartz) doing his best growly Bat-voice while narrating over shots of police cars pursuing a van full of armed criminals in a vast metropolis at night. "I have been called many names. Vengeance. The Spiky Supernova. But you may call me ... Blue Justice!" Sonic proclaims, pausing only to clear his throat when his raspy vocals become too hard to sustain. The trailer goes on to include title cards that similarly reference "The Batman" with phrases like "The Quills of Justice" and "The Fists of Rage," culminating with Sonic getting a finger-wagging from his pal Tom (James Marsden) for "pretending to be Batman." So, uh, do you want to see the movie now?
Sonic the Hedgehog 2's 'Blue Justice' trailer
All snark aside, I honestly enjoyed the frivolity of the first "Sonic the Hedgehog" movie, bizarre Olive Garden plugs and all. If anything, the sequel looks like a step up in quality for the family-friendly property, between Jim Carrey's Dr. Robotnik going full Eggman and Colleen O'Shaughnessey returning as the voice of Sonic's buddy Miles "Tails" Prower (a character she's voiced in the "Sonic" animated series and video games since 2014).
Most exciting of all, "Sonic the Hedgehog 2" is bringing Idris Elba onboard to voice Knuckles. The lovable himbo (er, Echidna-bo?) made his debut as an antagonist in the 1994 video game "Sonic the Hedgehog 3" before wising up to Robotnik's evil ways and joining Team Sonic in the sequel-spinoff game "Sonic & Knuckles" (which released the same year). It seems the plan is for Knuckles to have a similar arc in the live-action "Sonic" franchise, with Paramount already working on both a third "Sonic" movie as well as a spin-off series for Elba's antihero.
"Sonic the Hedgehog" director Jeff Fowler is back at the helm for the sequel, drawing from a script by John Whittington ("The LEGO Batman Movie") and "Sonic the Hedgehog" co-writers Pat Casey and Josh Miller. Paramount recently canceled the movie's planned theatrical release in Russia in response to the country's ongoing invasion of Ukraine, but it remains set to reach U.S. theaters on April 8, 2022.