Robert Pattinson's Batman Initially Spoke In A Bat-Whisper Until People Asked Him To Stop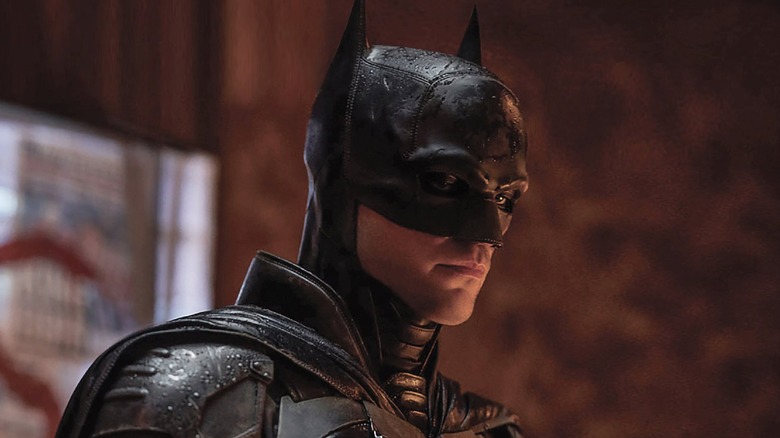 Warner Bros
Robert Pattinson, connoisseur of weird pasta and self-proclaimed Batman fanatic, is living every fanboy's dream this year by starring as the Caped Crusader on the big screen. And because he's nothing if not downright strange, Pattinson saw this as an opportunity to get experimental with his take on the brooding hero. Beyond just making his Bruce Wayne an extra emo weirdo, Pattinson also tried his hand at changing the Bat's famously gruff voice.
You see, it's not enough for Bruce Wayne to physically embody a walking Bat when he slinks through the shadows of Gotham as a lone vigilante — he goes to great lengths to keep his identity secret and his playboy billionaire persona intact. Like a true thespian, he does a voice to go along with his costume and if you've seen even a single iteration of Batman, you know exactly what it sounds like: low, raspy, and gruff. But Robert Pattinson is built different, so he tried something new. During his guest appearance on "Jimmy Kimmel Live!" (via THR) Pattinson said:
"Everyone does this kind of gruff, gravelly thing, and I'm like, 'I'm going to do the opposite — I'm gonna go really whispery. And I tried to do it for the first two weeks, and it just looked absolutely atrocious, and they told me to stop doing it."
Now, we've recently learned that everything out of this man's mouth should be taken with a grain of salt, but his Bat-voice experiments have been corroborated by "The Batman" director himself, Matt Reeves. Discussing the search for the perfect voice, Reeves said of Pattinson: "He could do things with his voice, it was a crazy thing, I was like going, 'Oh, you can go lower.' And then he would. I was like, 'That's amazing.' He went through this process of searching for where it felt like that voice should sit." In the end, the voice landed in that typically gruff Bruce Wayne register, and his weird whispers are forever lost to time.
The whispering Dark Knight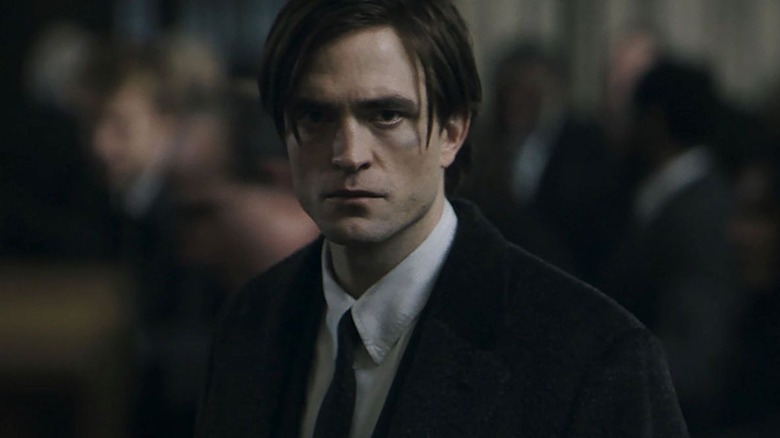 Warner Bros
Picture this: Darkness. No parents. Bruce Wayne decked out in his cape and cowl, beating down some nameless Gotham goons, pulling them close and whispering in their ear — "I am vengeance." Sounds good to me! Losing the whisper almost feels like a missed opportunity to have Batman spend the first half of the movie just trying out different voices on different villains like the deranged lunatic he truly is. And eventually, like Pattinson, he would realize that the only way to keep Gotham's villains in check is to growl at them in his usual low register. As Pattinson said during the chat with Kimmel, "You can feel when it feels right. You put the suit on, and you have to speak in a certain way."
Deciding to follow in the footsteps of his fellow Bat-people was probably the right call, but it turns out Pattinson wasn't the first Batman (and certainly won't be the last) to spice things up with a new interpretation.
"I found out from Nick, who was putting me in the suit every day, that's what Christian Bale did on Batman Begins as well. And if you listen to the first Batman Begins teaser trailer, you can hear the original voice. I only found this out a couple of weeks ago."
The teaser he mentions sees the whispering Bat hanging from a ceiling and terrifying a criminal with a quieter voice — perhaps proof that Pattinson's plan wasn't so crazy after all. Alas, we'll have to settle for the traditional gravelly Wayne tones. And on the bright side, we're just a few weeks away from hearing the Bat-voice for ourselves! "The Batman" will hit theaters on March 4, 2022. You can check out the official synopsis below.
Two years of stalking the streets as the Batman (Robert Pattinson), striking fear into the hearts of criminals, has led Bruce Wayne deep into the shadows of Gotham City. With only a few trusted allies — Alfred Pennyworth (Andy Serkis), Lt. James Gordon (Jeffrey Wright) — amongst the city's corrupt network of officials and high-profile figures, the lone vigilante has established himself as the sole embodiment of vengeance amongst his fellow citizens.

When a killer targets Gotham's elite with a series of sadistic machinations, a trail of cryptic clues sends the World's Greatest Detective on an investigation into the underworld, where he encounters such characters as Selina Kyle/aka Catwoman (Zoë Kravitz), Oswald Cobblepot/aka the Penguin (Colin Farrell), Carmine Falcone (John Turturro), and Edward Nashton/aka the Riddler (Paul Dano). As the evidence begins to lead closer to home and the scale of the perpetrator's plans becomes clear, Batman must forge new relationships, unmask the culprit, and bring justice to the abuse of power and corruption that has long plagued Gotham City.