Robert Pattinson And Matt Reeves Explain How You Find A Batman Voice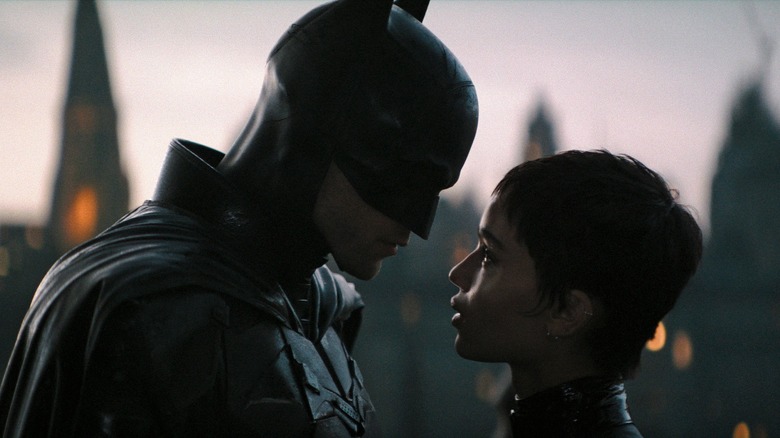 Warner Bros. Pictures
When you're cast in the role of Batman, there is a lot to think about. How do I balance the personalities of Bruce Wayne and Batman? Which one is really the disguise? How will I do the Batman voice and make it my own? How do I pee in the Batsuit? Wait, let's go back one. 
As someone who has been known to sneak up behind people I know and growl, "I'm Batman," into their ear, I'm always interested in how actors decide on the difference between their Bruce Wayne persona and the voice they put on when suited up as the Caped Crusader. 
"The Batman" star Robert Pattinson and director Matt Reeves addressed this challenge on a recent panel (via Collider). The duo talked about experimenting with sound, Pattinson's ability to manipulate his voice, and how the suit helped inform what felt right.
I'm Batman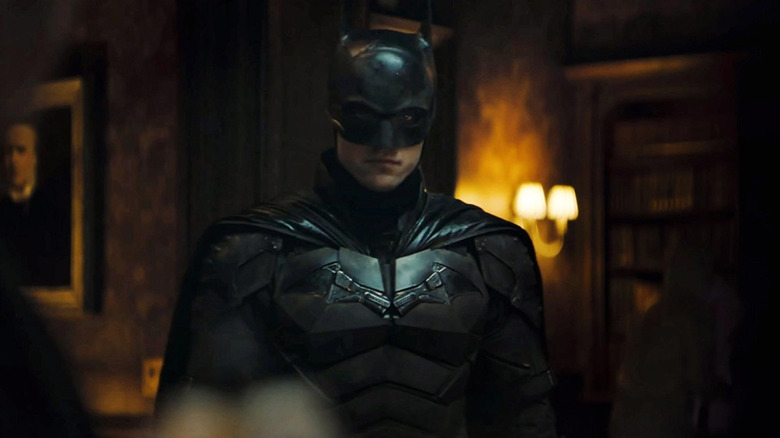 Warner Bros. Pictures
Pattinson explained that he had quite a lot of time to work on it and practice, and it just started to fall into place as he worked on the character. He said: 
"I had a lot of times to think about it. I think I was cast about seven or eight months before we started shooting, and so I was experimenting with a lot of different things. I think the first two or three weeks, we were kind of doing a variety of different voices, because there's only a couple of lines in the first few scenes we shot. Me and Matt just sort of settled on something. It started to sit in a very particular place, and it felt like progression from other Bat voices, and felt kind of somewhat comfortable to do as well. It's weird, it just suddenly starts to feel right. It seems to be, the more you embody the suit, the more you embody the character, it just started to come out quite organically. I think that's kind of what I was trying to do with the character as well, that I was trying to think he's not putting on a voice. He puts on the suit and then the voice just starts happening for him as a person as well."
Saying that this is a "progression from the other Bat voices" is interesting. From what the trailers have shown us, Pattinson's Batman voice is a bit breathier than the others. His Bruce, on the other hand, doesn't seem that much brighter than his Bat. 
Reeves also commented on Pattinson's Batman voice:
"I have to say that one of the amazing, of many amazing things about Rob, is he has such incredible technical control of himself, of his instrument. I mean, as they would say, in terms of the acting. He could do things with his voice, it was a crazy thing, I was like going, 'Oh, you can go lower.' And then he would. I was like, 'That's amazing.' He went through this process of searching for where it felt like that voice should sit. One of the things that I was asking Rob about, he has an incredible ear for mimicry and accents. He can pick up anyone's accent. There's no dialect coach, this doesn't happen, that's just who he is. He's an incredible person."
Whatever Pattinson ends up doing, it's going to work for me. I've always been excited about Pattinson as Batman, and it's not just because he once wished me luck on Googling my name and not getting a certain former President's daughter's results. He's just good. Have you seen "The Lighthouse?" It's weird and creepy, and I don't know how you could watch that film and not see Pattinson as emo Bats. He's made for it.
Let's talk about the other Batman voices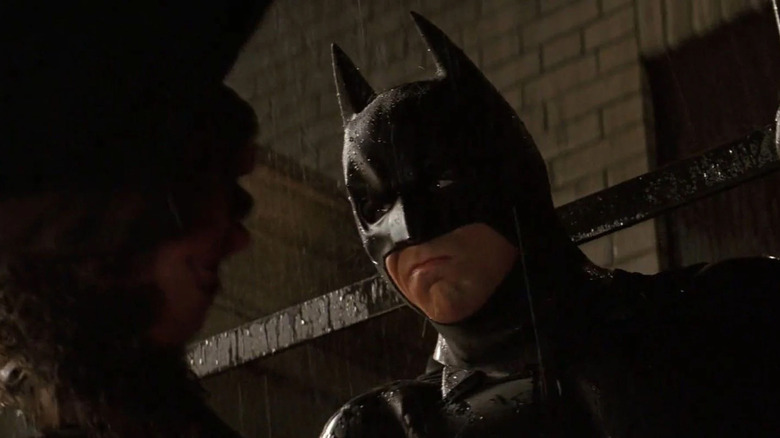 Warner Bros. Pictures
Adam West's voice is a very goofy put-on of concern and authority in the TV series when he's Batman, and it passed for "seductive" (in a creepy '60s way) when he's Bruce. To be fair, it's been a bit since I saw the series, but even as a little kid watching reruns, I knew it was silly. Fun and quite beloved, but silly. Michael Keaton sounds very Michael Keaton as Bruce Wayne, in contrast to Pattinson's more sort of emo voice (and I mean that in a good way, because if any superhero has a right to be emo, it's Batman), but his breathy Batman voice feels like a direct predecessor to Pattinson's.
Meanwhile, Christian Bale's was a bit more forceful, but we're sort of splitting hairs here. (Plus, Bale's voice was overshadowed for all time by Tom Hardy's Bane.) In the end, it really has to work for the actor. Honestly, I don't think there's been a Batman voice I didn't like. The thing about Batman is that even with variations in the voice, changes to the Batsuit, the Batmobile, and even his demeanor, he's always recognizable as the Batman. 
By the way, I don't know if you recall, but at one point in "Batman Returns," Michelle Pfeiffer as Selena Kyle (before the Catwoman transformation) says, "Wow, the Batman. Or is it just 'Batman?'" That makes me giggle, because, of course, this film is "The Batman." 
It's almost Bat-time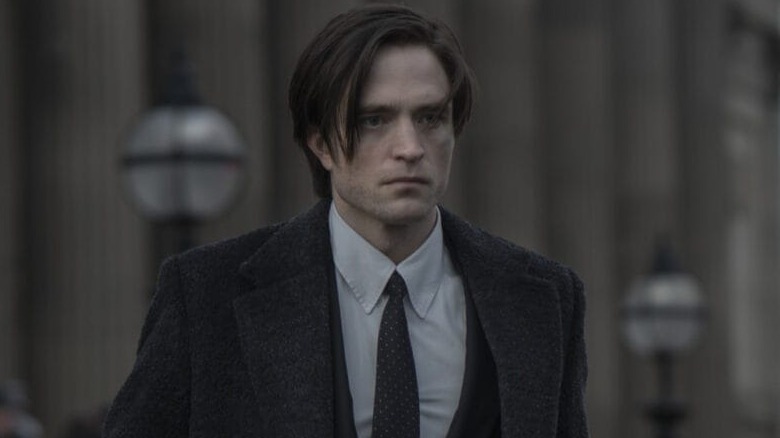 Warner Bros. Pictures
Personally, I'm glad Reeves, Pattinson and the rest of "The Batman" crew worked so hard on the film, especially since it's going to be nearly three hours long. I mean, if it's good, who cares? Just maybe don't buy the giant soda before you see the film. I'm so excited to see — and hear — what Pattinson does with the role. I'm maybe even a little more excited to see Jeffrey Wright as Lt. James Gordon, because I have never seen a single thing with Wright in it that I didn't adore. 
Here is the official synopsis:
Two years of stalking the streets as the Batman (Robert Pattinson), striking fear into the hearts of criminals, has led Bruce Wayne deep into the shadows of Gotham City. With only a few trusted allies — Alfred Pennyworth (Andy Serkis), Lt. James Gordon (Jeffrey Wright) — amongst the city's corrupt network of officials and high-profile figures, the lone vigilante has established himself as the sole embodiment of vengeance amongst his fellow citizens.

When a killer targets Gotham's elite with a series of sadistic machinations, a trail of cryptic clues sends the World's Greatest Detective on an investigation into the underworld, where he encounters such characters as Selina Kyle/aka Catwoman (Zoë Kravitz), Oswald Cobblepot/aka the Penguin (Colin Farrell), Carmine Falcone (John Turturro), and Edward Nashton/aka the Riddler (Paul Dano). As the evidence begins to lead closer to home and the scale of the perpetrator's plans becomes clear, Batman must forge new relationships, unmask the culprit, and bring justice to the abuse of power and corruption that has long plagued Gotham City.
We're getting close, Bat fans! "The Batman" will hit theaters on March 4, 2022.