The Batman Box Office Is Tracking For An $80 Million-Plus Opening Weekend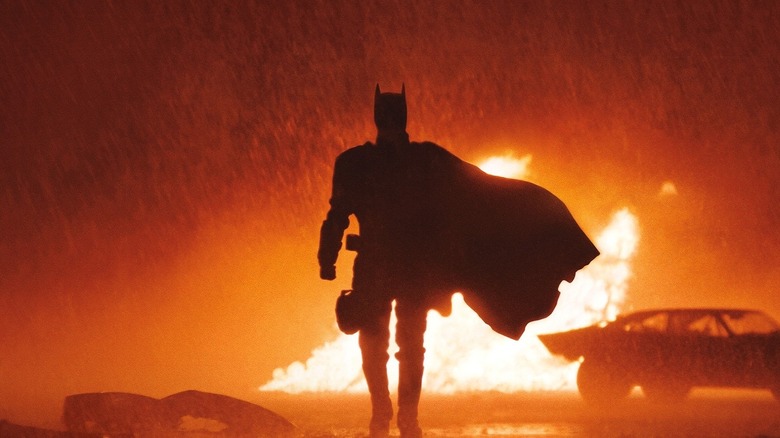 Warner Bros.
It may be a little hard to believe but we are mere weeks away from director Matt Reeves' "The Batman" hitting theaters. This movie has literally been years in the making and we've been waiting a long time to see Robert Pattinson take up the mantle as our new extra emo Bruce Wayne. With advance tickets officially on sale for the DC adaptation, some initial box office tracking has surfaced online, and it indicates a big (though not gigantic) opening weekend.
As reported by Forbes, "The Batman" is currently tracking for an $80 million opening when it hits theaters next month. As we are accustomed to seeing big-name superhero movies regularly eclipse $100 million on opening weekend, that number may seem small. Especially given that this is the first solo "Batman" movie to hit theaters since "The Dark Knight Rises" in 2012. That said, let us first remember that these are initial numbers and the tracking could easily rise. Tracking is also far from an exact science and it is often wrong. Look at what happened with "Spider-Man: Far From Home" absolutely obliterating expectations.
For what it's worth, the folks at Box Office Pro have it pegged between $135 and $185 million, so there is certainly reason to think we could see it do well over $80 million. It is also worth pointing out that the movie is said to carry a $100 million budget, which is actually not too high for a big superhero flick. It also clocks in at just under three hours, which will have an effect on the number of screenings a theater can fit in per day.
How Would That Stack Up?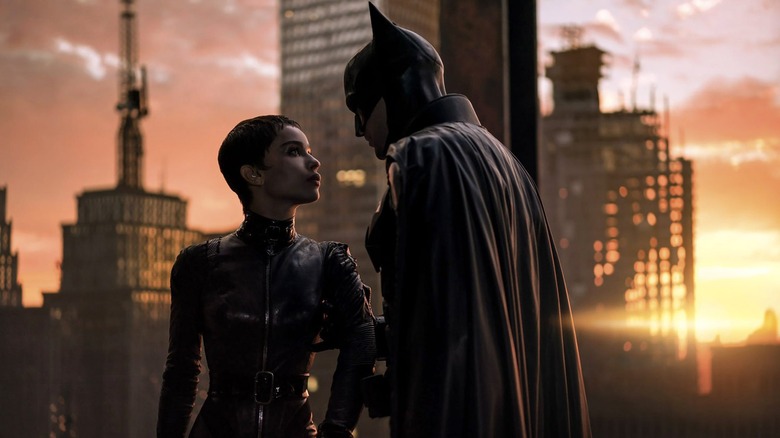 Warner Bros.
Now, let's look at some relatively recent releases within the genre to find some comparisons. "Ant-Man and the Wasp" debuted with $75 million in 2018 on its way to $623 million worldwide (per The Numbers). Then again, more recently, "Shang-Chi and the Legend of the Ten Rings" debuted with $75 million and topped out at $417 worldwide. The pandemic has hampered earnings, and one big thing to consider is that very few American movies are being released in China right now, the #1 moviegoing market in the world. That could hurt the bottom line for this one.
Looking at the "Batman" franchise specifically, "The LEGO Batman Movie" opened to exactly $80 million on its way to $310 million worldwide (per The Numbers). But "Joker" opened to $96 million on its way to more than $1 billion. The point is, there is a huge range in there and it's more about how the movie finishes. Can it have long legs? Can it make enough to justify a sequel, which is what Warner Bros. really wants? These are the big questions.
"The Batman" cast also includes Zoe Kravitz as Catwoman, Paul Dano as Riddler, Jeffrey Wright as James Gordon, John Turturro as Carmine Falcone, Peter Sarsgaard as Gil Colson, Jayme Lawson as Bella Real, Andy Serkis as Alfred, and Colin Farrell as Penguin.
"The Batman" hits theaters on March 4, 2022.