Sonic The Hedgehog 2: Idris Elba Says His Knuckles Voice Won't Be Sexy And We Don't Believe Him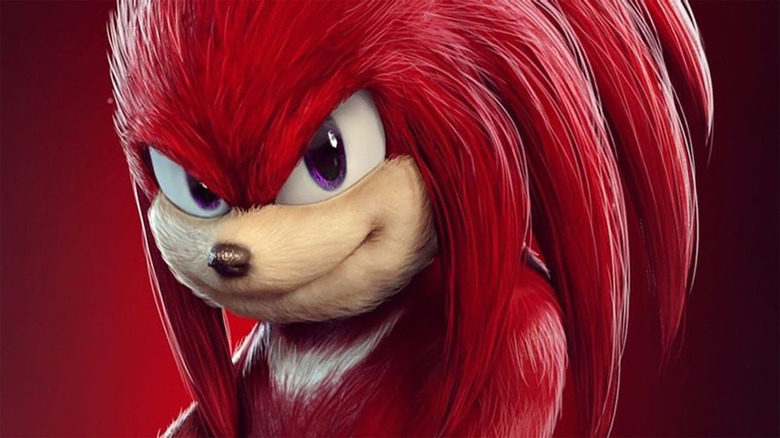 Paramount Pictures
When it was first announced that Idris Elba would be appearing in "Sonic the Hedgehog 2" as Knuckles the Echidna, it was the casting announcement Sonic fans didn't know we wanted. For the uninitiated, Knuckles is one of the staple characters in the Sonic video game series, first starting out as a minor antagonist after being easily manipulated by Dr. Robotnik and having his brute strength weaponized against Sonic. But the red quill-covered himbo finally saw the forest for the trees and realized that Robotnik was the real enemy and joined forces with Sonic to stop the madman. The official synopsis of the new movie states that Dr. Robotnik (now going by Dr. Eggman) returns from the mushroom planet with Knuckles as his new partner in crime, so it seems pretty safe to assume that the film will end with Knuckles banding together with Sonic and Tails to take him down.
Other than that, we haven't gotten a lot of information from anyone working on the film regarding plot details or style choices. That is, until Idris Elba announced in an exclusive interview with ScreenRant that the voice he's using for the film isn't sexy: 
"Honestly, I cannot say. Contractually, I cannot say anything. But I wouldn't say he was sexy. I don't think I'm going for that. That's for sure."
Idris Elba ... not ... sexy? I'm sorry. This does not compute ... and I've willingly seen "Cats" more than once.
The Many Voices of Knuckles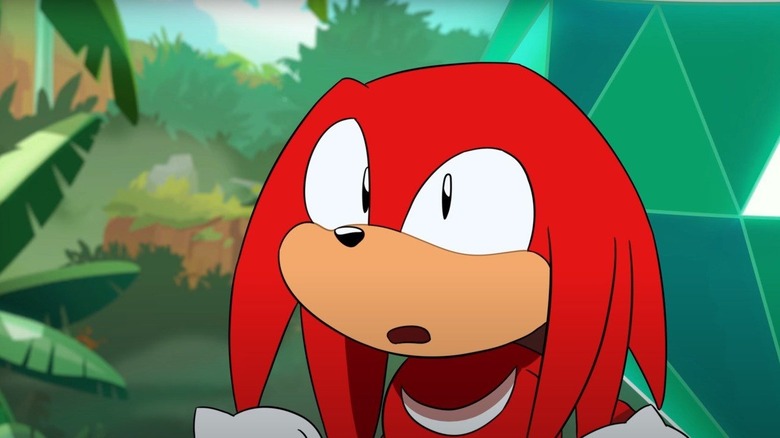 Sega
Idris Elba's natural speaking voice is sultry, velvety, and irresistible. It'll be curious to know what he's going to sound like as Knuckles, especially considering Knuckles' voice through the games and animated series isn't all that distinctive compared to someone like Mario. Michael McGaharn, who voiced Knuckles in "Sonic Adventure," made him sound like, well, a regular ol' dude. Brian Drummond in "Sonic Underground" sounds a bit more youthful, while Bill Wise of the animated "Sonic the Hedgehog: The Movie" built off of Drummond's performance and added a little bit more of an edge to him. Dan Green added a little more bass to Knuckles' voice in the "Sonic the Hedgehog" series, putting the character's voice in a register a little closer to Elba's. Travis Willingham's Knuckles has a similar grit to Green's, but brings it up a little higher in tone. Dave B. Mitchell took over for "Team Sonic Racing" and added a bit of a "radical" spin on the voice.
Absolutely none of them have the natural tone of Idris Elba, so Knuckles in "Sonic the Hedgehog 2" is going to sound completely different than any of his previous incarnations. Elba is also the first Black actor to voice Knuckles, who many fans have long been believed to be a Black character.
"Sonic the Hedgehog 2" is currently scheduled for theatrical release in the United States on April 8, 2022. At this time, there has been no announcement regarding a day and date streaming release, but we will keep you updated as the premiere inches closer.