The Best TV Shows And Movies Coming To HBO Max In March 2022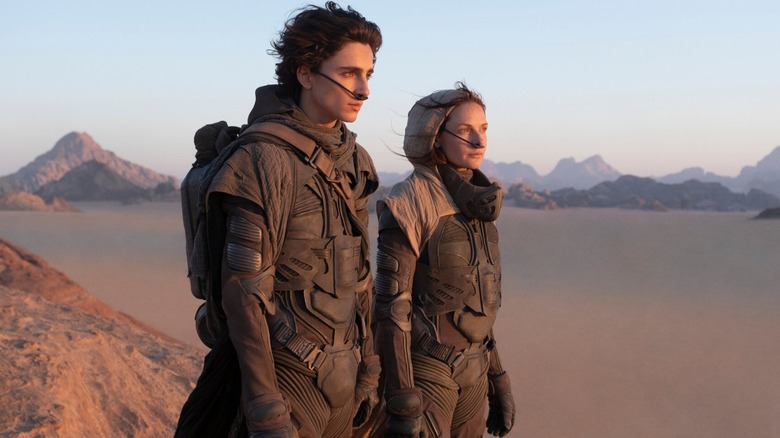 Warner Bros.
As we slowly climb out of the winter and face the winds of March, HBO Max is providing a whole new slate of content, from recent awards contenders to old classics to ongoing television shows. The Oscar campaign has a strong footing on the streaming service next month, with four major films in the running for Best Picture available to watch on HBO Max. The streamer is also adding big blockbuster hits like "F9: The Fast Saga" and an extended edition of "Halloween Kills."
There are also plenty of HBO Max originals that look promising, like the Taika Waititi-produced comedy series "Our Flag Means Death," the Ava Duverney-produced comic book adaptation miniseries "DMZ," and the two-part documentary "The Larry David Story." The sci-fi rom-com "Moonshot" seems like an ambitiously scaled service-exclusive feature production, and the biographical drama series "Winning Time: The Rise of the Lakers Dynasty" is sure to rake in basketball fans. In the meantime, here are all the best and most noteworthy additions to HBO Max in March.
Dune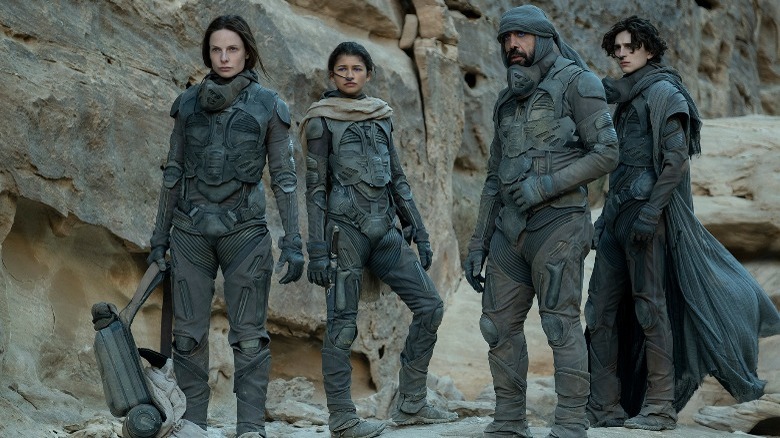 Warner Bros.
Director Denis Villeneuve's adaptation of Frank Herbert's groundbreaking epic science-fiction novel is a triumph. Villeneuve does the previously thought-to-be-impossible feat of condensing Herbert's vast, complex world into a coherent film (well, a planned two, to be precise). Careful and detailed filmmaking in such large-scale productions is always a treat, and Villeneuve's masterful approach feels like it actually transports you to the desert planet of Arrakis. It's cinematic world-building at its finest, and it'll be available in the highest visual and audio qualities that the streaming device will support.
West Side Story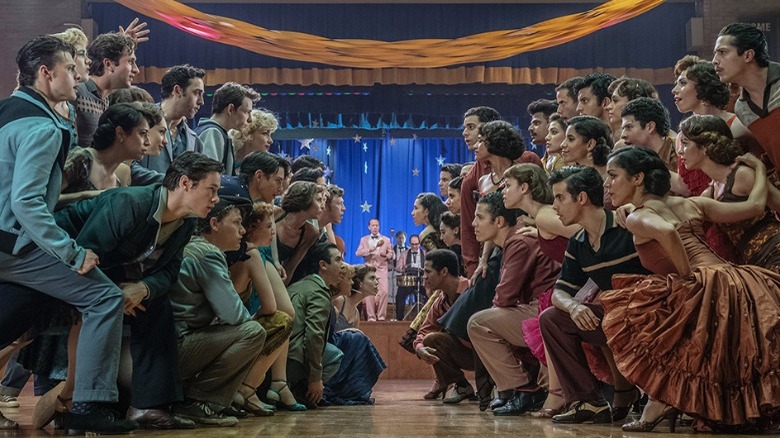 20th Century Studios
Remaking one of the most influential musicals of all time is usually a fool's errand, but that's because Steven Spielberg isn't usually the one behind the wheel. In a rare moment for Hollywood remakes, many have asserted that Spielberg's new version of the 1961 film (and 1957 stage production) not only lives up to the original's name but, in some cases, is even superior. These may be fighting words to longtime fans, but those curious can see for themselves this coming March.
Drive My Car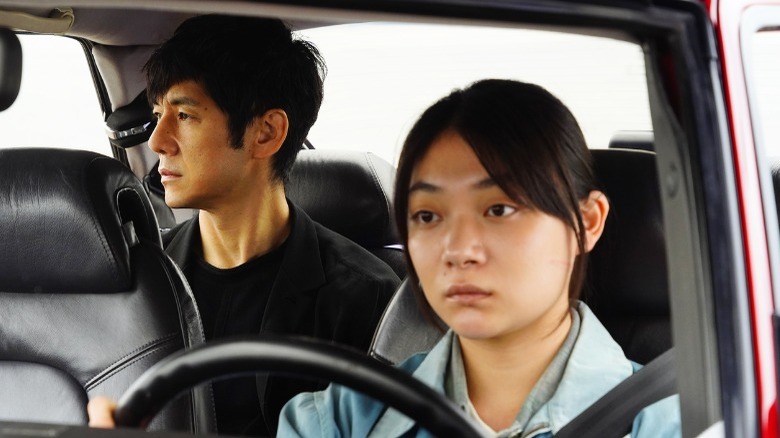 Bitters End
Ryusuke Hamaguchi's tale of processing grief while directing a Russian play has been a juggernaut in this season's awards circuit. The film made a splash at Cannes where it won Best Screenplay and is the first Japanese feature to be nominated for Best Picture at the Academy Awards. "Drive My Car" is based on a short story written by Haruki Murakami, known for the novels "The Wind-Up Bird Chronicle" and "1Q84," and revolves around the theme of loss and mourning for a loved one. Sad? Yes, but Hamaguchi shows how tragically relatable that experience is.
King Richard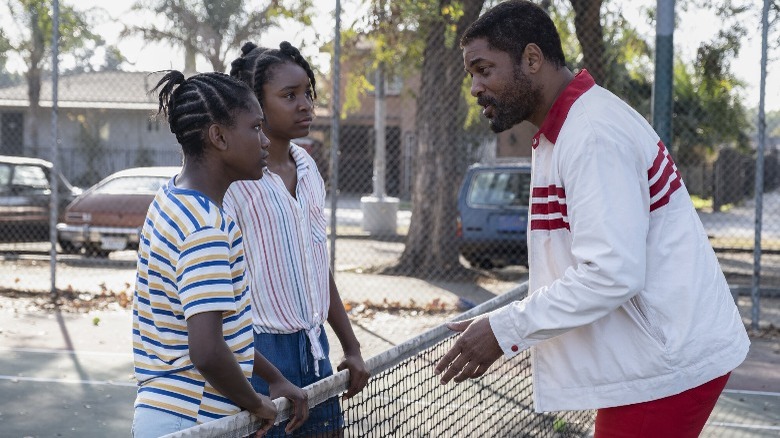 Warner Bros.
"King Richard" flips the typical biopic structure and chooses to focus on the person behind the icon instead of the icons themselves. Sure, tennis superstars Venus and Serena Williams are a central part of the story, but the main focus is on their father Richard Williams. Will Smith has received lots of critical acclaim and awards cred for his complicated but moving portrayal of the man, as has Aunjanue Ellis for playing mother and wife Orocene "Brandy" Price.
Adaptation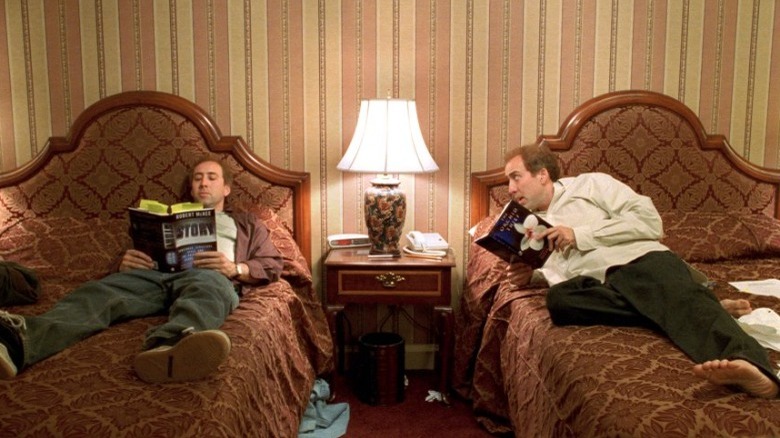 Columbia Pictures
Besides for all the recent, high-profile awards movies that HBO Max is offering next month, the streamer is also adding notable older content that's worth checking out. For instance, the Spike Jonze-directed "Adaptation" is a wonderfully odd meta-commentary on the writing process that stars Nicolas Cage in one of his most creative, impactful roles. Charlie Kaufman, master of metafiction, wrote the screenplay alongside his imaginary twin brother "Donald Kaufman," who both serve as the main characters in the film and are both played by Cage. Don't let the self-referentiality make you think "Adaptation" is obnoxious, though. The film flows with genuine emotion.
Starship Troopers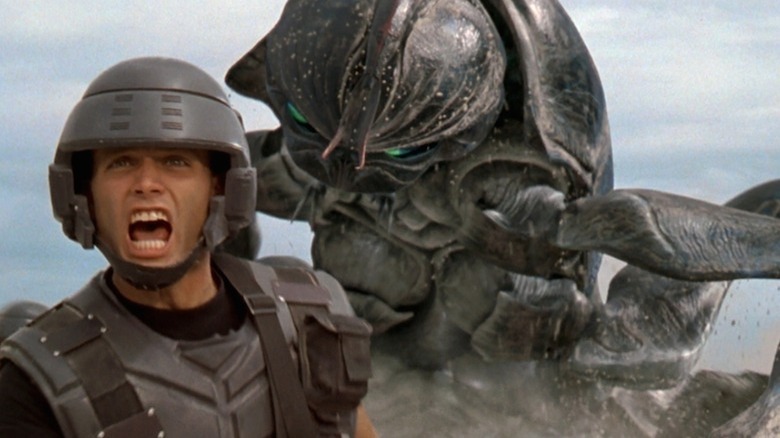 TriStar Pictures
Another personal favorite is Paul Verhoeven's wild, hilarious sci-fi action satire "Starship Troopers." The genius of the film is that Verhoeven and screenwriter Edward Neumeier turned Robert A. Heinlein's uncomfortably pro-military 1959 novel into an anti-fascist spoof. The story follows Johnny Rico, played by Casper Van Dien, as he makes his way from boot camp to battleground in the United Citizen's Federation's war against the extraterrestrial Arachnids. Televised nationalist propaganda makes the horrible war violence seem like a cheery nightmare, and space marines, giant alien bugs, and Heinlein's politics are blown to pieces. Like other Verhoeven joints, not all critics understood the satire upon its release, but luckily "Starship Troopers" has become the cult classic it deserves to be.
Movies and TV shows coming to HBO Max March 2022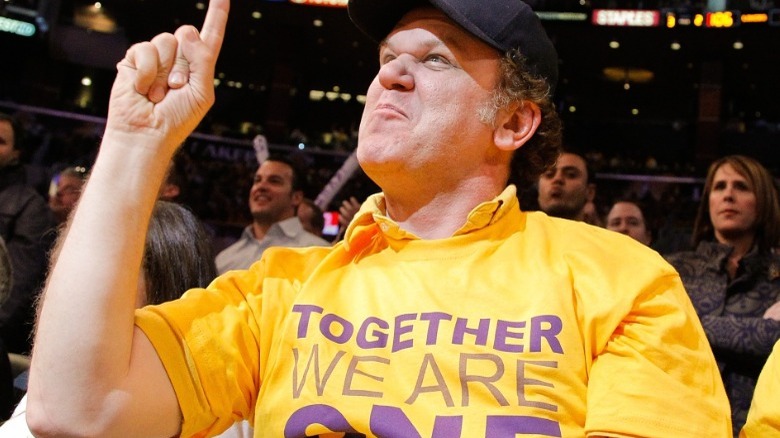 HBO
Exact Dates TBD:
Swimsuit, 1989
Young Justice, Max Original Season 4 Part B
Avail. March 1:
Adaptation, 2002
All the Pretty Horses, 2000
Are We Done Yet?, 2007
Around the World in 80 Days, 1956
Blow Up of Blow-Up, Documentary
Boyz n the Hood, 1991
Cameraperson, Documentary
Diner, 1982
Fireboys, Documentary
Fly Away Home, 1996
Gigi, 1958
Los Cronocrímenes (AKA Timecrimes), 2007 (HBO)
Mogul Mowgli, 2020
One Tree Hill, 2003
Resident Evil, 1996
Resident Evil: Afterlife, 2010
Resident Evil: Apocalypse, 2004
Resident Evil: Damnation, 2021
Resident Evil: Extinction, 2007
Resident Evil: Retribution, 2012
Starship Troopers 2: Hero of the Federation, 2004
Starship Troopers, 1997
Starsky & Hutch, 1975
The Larry David Story Part 1: American Jewboy, Documentary Premiere (HBO)
The Larry David Story Part 2: The Jewish Fountainhead Documentary Premiere (HBO)
The Two Mrs. Carrolls, 1947
The World of Jacques Demy, Documentary
The Young Girls Turn 25, Documentary
Urban Legend, 1998
Welcome Back (Aka Bienvenidos), 2019 (HBO)
Avail. March 2:
Blade I, 2002
Drive My Car, 2021
Food Wars! Shokugeki no Soma, Season 5
West Side Story, 2021 (HBO)
Avail. March 3:
Gaming Wall Street, Max Original Season 1 Premiere
Little Ellen, Max Original Season 2 Premiere
Our Flag Means Death, Max Original Season 1 Premiere
The Tourist, Max Original Season 1 Premiere
Avail. March 4:
El Planeta, 2021 (HBO)
F9: The Fast Saga, 2021 (HBO)
Goyo: En Letra De Otro, 2022 (HBO)
Avail. March 6:
Winning Time: The Rise of the Lakers Dynasty, Series Premiere (HBO)
Avail. March 7:
Teen Titans Go! Season 7A Premiere
Avail. March 8:
Ruxx, Max Original Season 1 Premiere
Whose Line Is It Anyway?, Seasons 1-8
Avail. March 10:
Dune, 2021
Juanpa + Chef, Max Original Season 1 Premiere
Sandy + Chef, Max Original Season 1 Premiere
Theodosia, Max Original Season 1 Premiere
Avail. March 12:
Victor and Valentino Season 3A Premiere
Avail. March 13:
Game Theory with Bomani Jones, Season 1 Premiere (HBO)
Avail. March 14:
Blade Runner: Black Lotus, Season 1
Avail. March 15:
Phoenix Rising Part 1 & 2 (HBO)
Avail. March 17:
DMZ, Max Original Season 1 Premiere
Jellystone!, Max Original Season 2 Premiere
Minx, Max Original Season 1 Premiere
Avail. March 18:
Halloween Kills, 2021 (Extended Version) (HBO)
Lust, Max Original Season 1 Premiere
On My Way with Irina Rimes, Max Original Premiere
Pseudo, Premiere (HBO)
Vlad & Niki, 2018
Avail. March 20:
Amsterdam, Max Original Season 1 Premiere (HBO)
Avail. March 22:
Real Sports with Bryant Gumbel Premiere
Avail. March 23:
Fists Of Freedom: The Story Of The '68 Summer Games, 1999
Avail. March 24:
King Richard, 2021
One Perfect Shot, Max Original Season 1 Premiere
Queen Stars, Max Original Season 1 Premiere
Starstruck, Max Original Season 2 Premiere
Traffickers: Inside The Golden Triangle, Max Original Season 1 Premiere
Avail. March 25:
Degrassi: The Next Generation, 2001
Lucas the Spider, Cartoonito Original Season 1 Premiere
Avail. March 31:
Brené Brown: Atlas of the Heart, Max Original Season 1 Premiere
Julia, Max Original Season 1 Premiere
Moonshot, 2022