King Richard Review: Will Smith Rules The Court In A Standard-Issue Sports Drama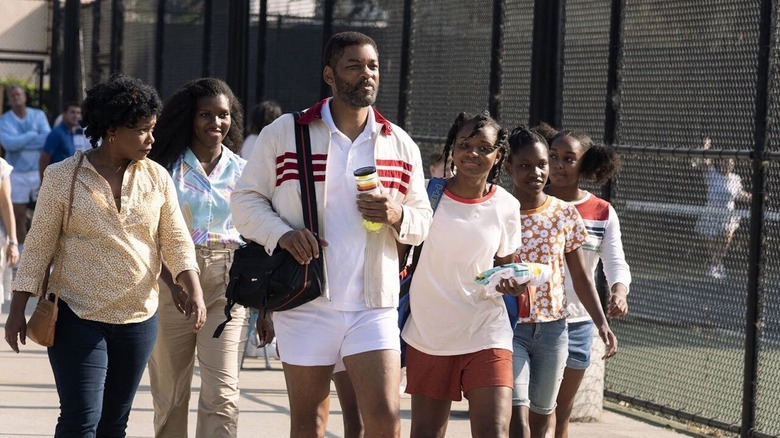 Warner Bros.
Sometimes I think Will Smith forgets that he's not just a movie star. The actor has coasted by on his mega-watt charisma since his days in Bel-Air, but every now and then, he'll slouch those broad shoulders and wrinkle that handsome brow and prove that he can, indeed, act. And when he does it well, he can damn near disappear into the role, as he does in Reinaldo Marcus Green's "King Richard."
The biopic about Richard Williams, the father and coach of world-famous tennis stars Venus and Serena Williams, had already attracted quite a bit of criticism for its premise before it even hit the screen — why make a film about the man who supported two of the most important women in the modern athletic world and not the women themselves? But thanks to a transformative and prickly performance from Smith, the crowd-pleasing sports drama "King Richard" more than justifies its existence.
Penned by Zach Baylin, "King Richard" is pretty by-the-numbers as far as biopics go. The film charts the beginning of Venus and Serena Williams' careers, from when they were practicing in broken tennis courts in their gang-controlled neighborhood in Compton, California, to Venus Williams' first-ever pro match in 1994, when Venus was just 14 years old. But before they were old enough to even hold a racket, Richard Williams had already drawn up an 85-page plan to turn them into the best athletes in the world. Or so he tells the dozens of wealthy patrons at the tennis club where Richard volunteers.
Genius or Huckster?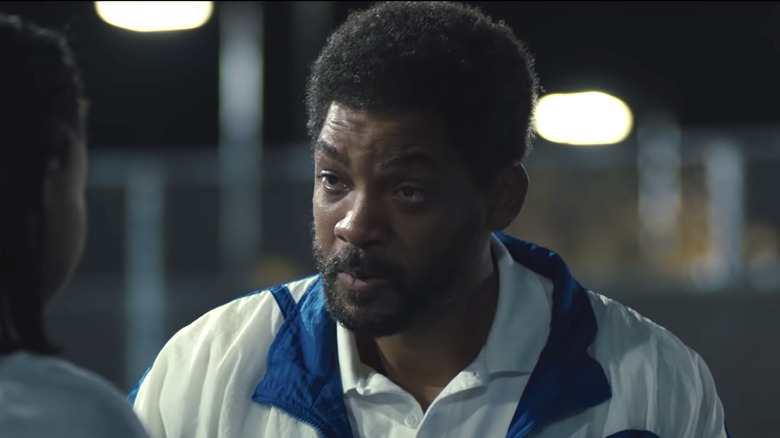 Warner Bros.
That's how we first meet Richard Williams, limping around on his bum leg while urgently catching up with the bored white country club clientele who wouldn't give him the time of day — but even they can't ignore the persistent entrepreneur. With a pronounced lisp and a mile-a-minute elevator pitch, Richard manages to miraculously get a few of these clients to take his hand-made brochure with his two gap-toothed daughters gracing the front. With one man, he even whips out a home video of Serena and Venus practicing at their rundown neighborhood tennis court. There are bar graphs, statistics, a whole plan for Serena and Venus Williams' path to stardom. And he knows they'll be stars, because he coached them since they could hold a tennis racket.
Is he a mad genius? A deluded dreamer? Or a con man? "King Richard" is vague about answering that question exactly, though we know the way that history goes, and are inclined to believe the latter. And while the film is too timid about truly interrogating Richard's character (this is Will Smith, after all, an actor who famously has an unspoken rule about never playing villains) but it doesn't shy away from showing Richard's ego in all its destructive flaws and its prophetic successes. That kind of ego is something that most Black men are never afforded, at least not before they become Kanye West-level successful. To see Richard Williams be unapologetically arrogant and confident from the family's days living in Compton is kind of a miracle, in that way.
Because the thing is, Richard's dogged harassment of these powerful, bored men does bear fruit: one day, he brings Serena (newcomer Demi Singleton) and Venus (Saniyya Sidney, "Fast Color") along to interrupt the coaching session between top coach Paul Cohen (an extremely likable Tony Goldwyn) and his star player, John McEnroe (yes, that McEnroe). Somehow Richard, in that persistent, braggadocious way of his, manages to get Paul to agree to hit some balls with Serena and Venus, and it's like lightning strikes: Paul glimpses that star potential in Venus and offers to coach her for free — just her.
Serena and Venus Williams, Shooting for the Stars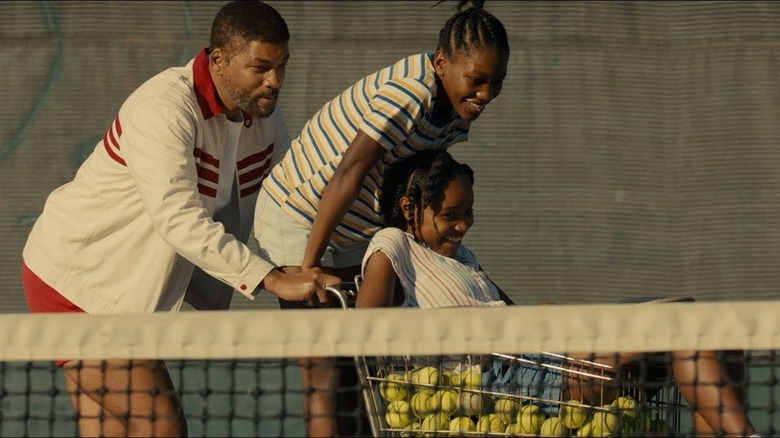 Warner Bros.
But for those who feared that Serena and Venus would be pushed to the background: fear not. They are front and center of "King Richard" even as Smith's Richard dominates from the background, interrupting practice and stopping Paul's coaching to encourage Venus to remember his teachings. Singleton and Sidney confidently hold their own against vets like Smith and Goldwyn — Sidney especially, as her frustrations with her dad's strategies start to boil over as she enters teenhood. But most importantly, there's no doubt within the film that Serena and Venus are talented beyond what Richard had planned for them. He might have seen it from the beginning, but it took a small army to get them to where they are.
Apart from Smith, one of the standouts of that small army is Aunjanue Ellis as Serena and Venus' mother, Oracene "Brandy" Price, who was as instrumental in the girls' early coaching and one of the few people to actively call out Richard. Ellis is saddled with one of the most thankless roles in a biopic, but she carries herself with a quiet dignity that makes her more than the suffering wife to the "genius." But the surprise MVP of the film, and perhaps the most transformative performance apart from Smith, is that of Jon Bernthal as Rick Macci, Venus' coach after Richard decides to pull her out of national junior tennis tournaments. Rocking a floppy '90s hairdo and crisp, all-white tennis outfits, Bernthal sheds the sensitive tough-guy persona he's been known for as of late, to embody the whitest man you know. And yet there's an earnestness in his performance that makes his Rick Macci immediately likable, even as his eyes basically turn into dollar signs the moment he sees Venus play.
"King Richard" isn't looking to break the sports biopic genre or break the Williams' sister's legacy; it's purely a crowd-pleasing performance vehicle for Smith. But you know what? It does its job. And while it doesn't dig as deeply or as sharply into Richard Williams, the man himself, as one would like, it does offer some sneaky social commentary (almost stumbling into social satire if you squint), while giving Black people permission to be proud. After all, that's what Serena and Venus Williams have done in real life.
/Film Rating: 7 out of 10