'Borg Vs. McEnroe' Trailer: Shia LaBeouf Serves Up An Ace Performance As A Volatile Tennis Star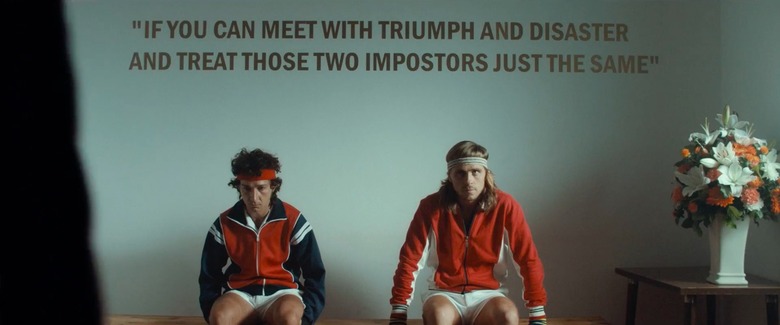 Shia LaBeouf slowly makes his Hollywood comeback with what promises to be another tour-de-force performance.
In the sports drama Borg vs. McEnroe, LaBeouf plays the real-life tennis player John McEnroe, known for his fiery temperament and court-side outbursts. He stars opposite Swedish star Sverrir Gudnason, who plays McEnroe's most famous rival, Björn Borg.
Borg vs McEnroe Trailer
It was the perfect real-life rivalry: the calm and collected Swedish player Björn Borg and the mercurial John McEnroe. In the late 1970s and early 1980s, both players were constantly jockeying to be the No. 1 tennis athlete in the world; they met 22 times on the court. The media even nicknamed the rivalry "Fire and Ice." There's a whole Wikipedia page dedicated to their feud!
Now the rivalry is receiving the feature film treatment in Borg vs. McEnroe. The movie documents the start of the famous tennis rivalry, culminating in their match at the 1980 Wimbledon — widely regarded as the greatest match ever played.
But I'll stop talking tennis to you. Because what you're really here for is Shia LaBeouf in wild '80s hair and rocking tight white shorts. Forget the tennis match of the century, it's a battle of the thickest thighs.
In all seriousness, Borg vs. McEnroe promises to deliver another powerful LaBeouf performance. After his rapid rise to fame in the Transformers and Indiana Jones franchises, LaBeouf disappeared from the limelight, only to make resurface by making strange stunt appearances as he battled alcoholism and depression. But the embattled actor is making a comeback with impressive performances in indie films like 2016's American Honey. He's already won rave reviews for his performance in Borg vs. McEnroe, which premiered at the 2017 Toronto International Film Festival.
Here is the official synopsis for Borg vs. McEnroe:
BORG VS. MCENROE tells the story of the epic rivalry between Swedish tennis legend Björn Borg (Gudnason) and his greatest adversary, the brash American John McEnroe (LaBeouf), which came to a head during the 1980 Wimbledon Championships.
Borg vs. McEnroe is directed by Janus Metz Pedersen from a screenplay written by Ronnie Sandahl. It also stars Stellan Skarsgård, Tuva Novotny, and Robert Emms.
The film is set to hit theaters on April 13, 2018.