The Oscar Nominations Are Your Reminder To Actually Watch West Side Story And Nightmare Alley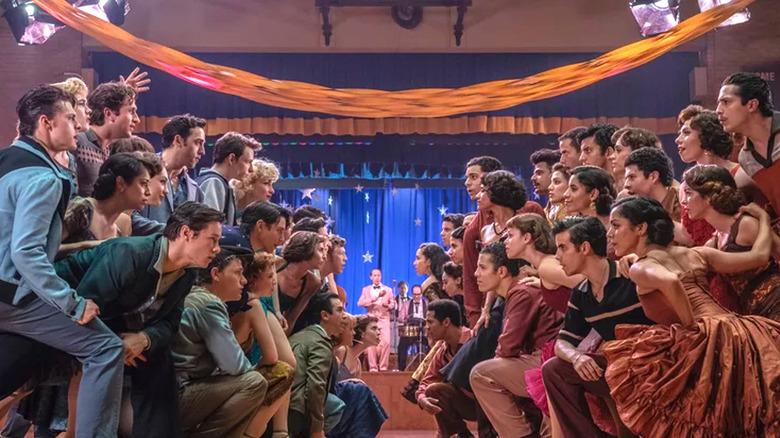 20th Century Studios
The nominations for the 2022 Oscars are finally here, and quite unsurprisingly, certain films ("Dune", "Power of the Dog") have emerged as favorites ahead of the 94th Academy Awards. As with every year, there were some surprise contenders (delightfully welcome noms) such as Andrew Garfield being nominated for "Best Actor in a Leading Role" for "Tick Tick...Boom!" and surprise snubs, such as the complete absence of stellar films such as "Passing" and "Pig" in any of the 23 categories.
However, in a surprising turn of events, two films that performed pretty poorly at the box office, Steven Spielberg's "West Side Story" and Guillermo del Toro's "Nightmare Alley," got prominent Oscar love in major ways. "West Side Story" earned 7 nods in major categories, including Best Picture, Best Director for Steven Spielberg, Best Supporting Actress for Ariana DeBose, Best Costume Design, Best Sound, Best Cinematography, and Best Production Design. Meanwhile, "Nightmare Alley" scored four nominations, including Best Costume Design, Best Cinematography, Best Production Design, and astonishingly, Best Picture.
A Story Worth Celebrating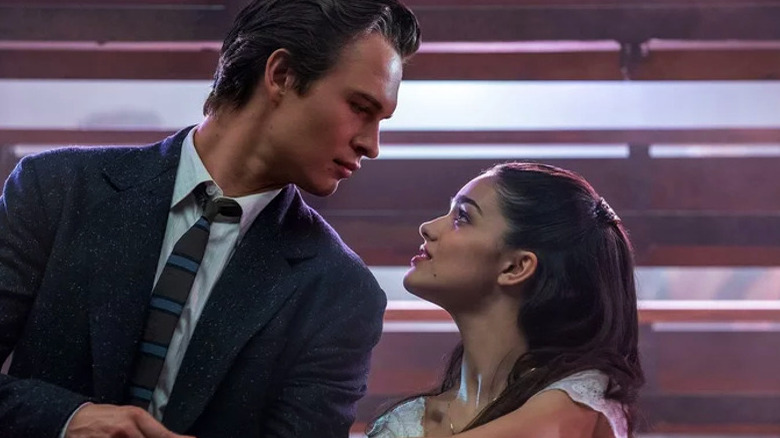 20th Century Studios
"West Side Story" is Spielberg's first foray into the musical genre, earning rave reviews for the sheer scale of the endeavor and the way in which it favorably held up against the original 1961 classic, which had won Best Picture, along with nine other Oscars. While the overwhelming love for "West Side Story" is not a surprise per se, it is definitely a sign for audiences to watch the film, as it warrants the appreciation it has garnered so far. Between the advent of the Omicron variant and the explosive, record-breaking success of "Spider-Man: No Way Home," the sheer brilliance of "West Side Story" failed to translate into domestic and international numbers.
While it is unfair to compare Spielberg's musical to that of the original, "West Side Story" does manage to bring its narrative to life via tremendous costume design, camerawork, and impressive screenplay. Ariana DeBose's nomination for Best Supporting Actress is also immensely well-deserved, as she put her own stamp on the beloved character of Anita. DeBose was nominated in the category alongside Jessie Buckley ("The Lost Daughter"), Kirsten Dunst ("The Power of the Dog"), Judi Dench ("Belfast"), and Aunjanue Ellis ("King Richard"). Overall, it is heart-rending to see "West Side Story" contend neck to neck with sci-fi spectacle "Dune," which also (deservedly) got loads of Oscar love this season.
"West Side Story" is currently playing in theaters.
A Whole Lotta Noir Love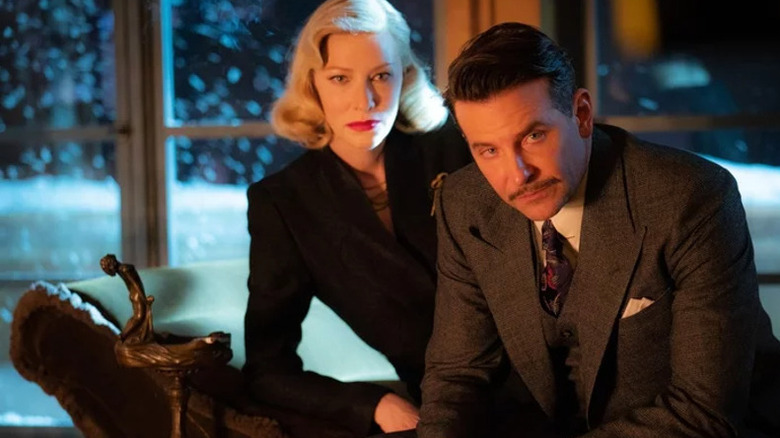 Fox Searchlight
While there was a lot of anticipation for "Nightmare Alley" to earn nominations in the Best Costume Design and Best Cinematography department, the film's inclusion in the Best Picture category sure is a welcome surprise. This can be attributed to a wide array of reasons, key being the film's poor box office performance, along with the mixed reviews it had garnered from audiences and critics alike. "Nightmare Alley's" nomination in the Best Picture category is nothing short of a triumph, as it is rare for a film so bleak, depressing, and nightmarish to receive love, given the Academy's fraught relationship with genres that lean towards horror, and its adjacent sub-genres.
"Nightmare Alley" is distinctly less romantic than del Toro's "The Shape of Water," which had picked up a whopping 13 nominations in 2018. While the ensemble cast of the film all give commendable performances which highlight seedy underbellies and the dark side of human ambition, Cate Blanchett should have garnered a Best Actress in a Supporting Role nomination for her electric portrayal of Lilith Ritter, a woman wronged. Being a period piece, the nomination for Best Costume Design is well in sync, and it is no surprise that the film got a nomination for Best Cinematography, given the beautiful, noir-drenched, lingering shots that haunt the framework of the narrative are worth consideration.
"Nightmare Alley" is now streaming on HBO Max and Hulu.
The 94th annual Academy Awards are set to be held on March 27, 2022, at Hollywood's Dolby Theatre.