How Drive My Car Navigates The Perils Of Adapting Haruki Murakami [NYFF]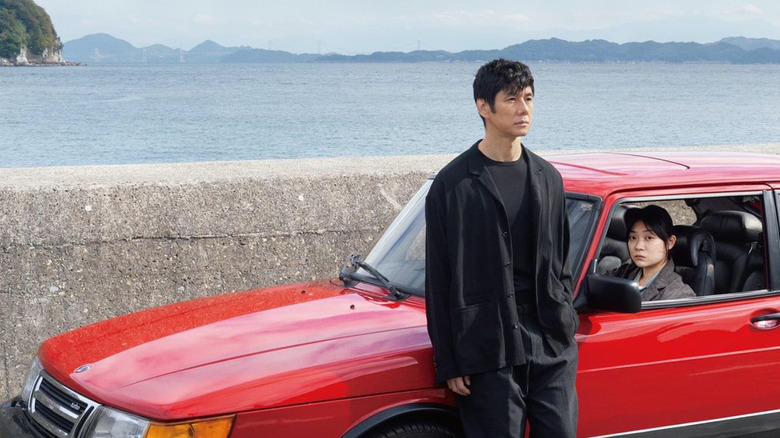 C&I Entertainment
How do you adapt a Haruki Murakami story? The Japanese author of many an enigmatic novel that usually includes a number of wells, cats, and jazz records, has been difficult to capture onscreen by virtue of most of his works being best described as a mood. Murakami doesn't operate by traditional narrative structures because his books — as navel-gazing as many of them are — are about creating an unsettling and disquieting atmosphere that transports the reader into a world that is not quite like the one they live in. It's the one that exists in dark alleyways and strange street corners, where boys run from Oedipal fates, or women run from unseen parallel-world assassins. It's often dark, often cynical, often cold.
But Ryusuke Hamaguchi's "Drive My Car," adapted from the story of the same name from Murakami's 2014 short story collection "Men Without Women," is none of those things. Instead, there's a surprising humanist streak through "Drive My Car" that feels in direct opposition to what the popular perception of a Murakami story is — there aren't even any wells or cats in this movie! (Though there is a very good dog.) After several feature film adaptations of Murakami's stories — some successful, most not — perhaps Hamaguchi has cracked the code on how to adapt Murakami: by finding the warmth in the cold, uncaring cosmos.
Why Murakami is Hard to Adapt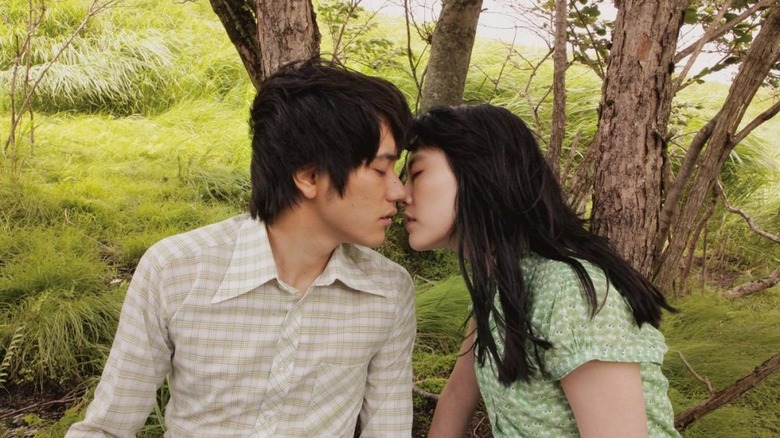 Toho
Murakami's works could best be described as atmospheric. His sparse, lyrical prose communicates a sense of otherworldliness in even the most mundane aspects of life. A lost cat becomes a symbol of the random violence of the world. An abandoned well becomes a surreal prison for a down-on-his-luck protagonist. A burned-down barn becomes the trigger for a man's slow descent into insanity.
Most things go unexplained, and even if they are explained, nothing is much clearer. The truth is relative in a Murakami story, which plays with such concepts as magical realism and the metaphysical. If the universe is as uncaring as it is, why should we care? is the defining feeling of many of his books.
It's the marriage of these big ideas with mundane objects that makes a Murakami story particularly hard to adapt into a feature film. That, and nothing much happens plot-wise. As a result, many a movie adaptation of a Murakami story has suffered from the sin of being intensely boring. In trying to capture that languid, moody atmosphere of a Murakami story, films like Tran Anh Hung's 2010 adaptation of "Norwegian Wood" attempt to hew too closely to the brooding plotlessness of Murakami's stories and end up feeling sluggish instead of slow-burning. Maybe Murakami is better left on the page, where readers can be caught up in his poetic explorations of the metaphysical and the mundane, and let their imaginations carry them through the scarce plots and cipher-like characters. That is, until Lee Chang-dong's "Burning" found the solution.
Burning for a Good Murakami Movie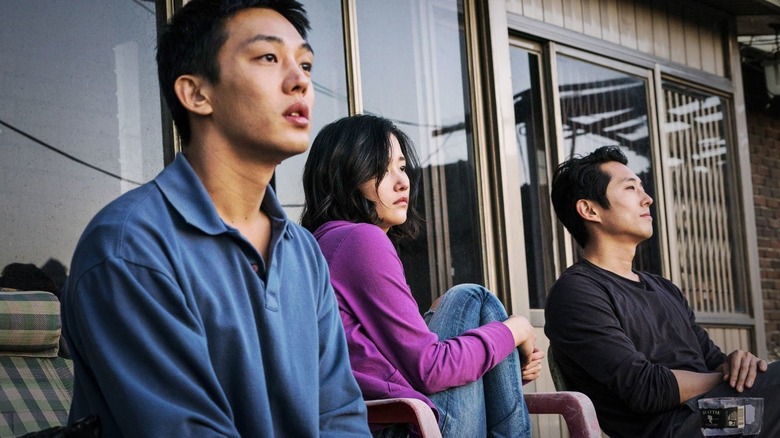 Well Go USA
To date, Lee Chang-dong's "Burning" remains the best adaptation of Haruki Murakami. Based on the author's short story "Barn Burning," the 2018 South Korean film follows a young working class man Lee Jong-su (Yoo Ah-In) who becomes obsessed with a former a childhood neighbor Shin Hae-mi (Jeon Jong-seo). When Hae-mi returns from Africa hanging on the arm of a suave stranger, Ben (a chilling Steven Yeun), who claims to burn down greenhouses in his spare time, Jong-su is sent in downward spiral of paranoia and repressed rage.
"Burning" is the closest evocation of a Murakami story, operating in the realm of uncertainty and untruths. It picks away at the threads of reality until it's unclear what's fiction and what isn't. Murakami's stories have always played with the borders of reality, and "Burning" is the cinematic realization of the author's particular brand of magical realism: mysterious, cold, brutal, uncaring. But what "Drive My Car" proves is that this isn't the only way to adapt Murakami to the big screen.
Drive Murakami in New Directions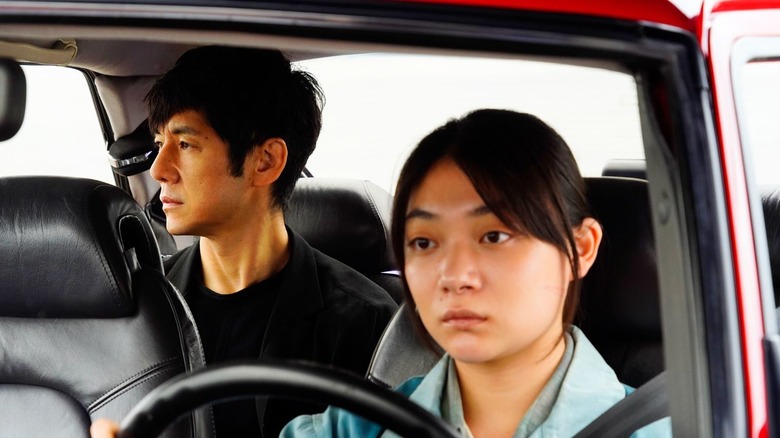 C&I Entertainment
"Men Without Women" was already surprisingly light for Murakami. The vignettes in this 2014 short story collection were less of the navel-gazing "a protagonist's magical penis cures a manic pixie dream girl's depression" plot that typified many of his famous works, and more of the weary maturity of a man who has given up trying to solve the great mysteries of the universe and is learning to be content with life as it is. The first story of "Men Without Women," "Drive My Car," was one such surprisingly mellow story. With his film adaptation, which stretches out the short story into an incredible three-hour runtime that never drags for one minute, Hamaguchi takes the relative lightness of "Drive My Car" and runs with it.
"Drive My Car" opens with a surreal scene that echoes the strange liminal quality of a Murakami story: theatre director and actor Yusuke Kafuku (Hidetoshi Nishijima) and his wife (Reika Kirishima) are lying in the twisted sheets of their bed in a post-coital embrace. As the early morning light of dawn streams through their gauzy curtains, Yusuke's wife sits up ramrod straight and starts to recite a story of a schoolgirl who regularly breaks into the house of her crush, to leave little mementos like a pencil, a tampon, her underwear. The story gets stranger from there, but Yusuke seems unruffled — it turns out this is a recurring ritual of sorts, through which his wife gets inspiration for the TV dramas she writes after they've had sex, but only when he recounts the stories to her the morning after. This scene and the steamy ones that follow seem to observe the Murakami template: surreal sexual encounters, seedy exploits that flirt with the darker parts of society, unfaithful wives. But "Drive My Car" takes a hard left turn away from the cool cynicism that would characterize most of the author's works, and heads towards something warmer and kinder.
This whole chapter — of Yusuke and his wife's post-coital ritual, their codependent relationship as both writers and lovers, of Yusuke discovering his wife's infidelity — is just a prologue to the real story, just as it was in the short story, which takes place many years after these events and mostly chronicles Yusuke recounting them to his female driver. And in Hamaguchi's "Drive My Car," the opening titles start rolling 45 minutes into the movie, several years after Yusuke's wife has passed from a sudden brain hemorrhage. Yusuke has taken on a job as director of a new staging of play that he made famous, a multilingual production of Anton Chekhov's "Uncle Vanya." He's picked up a new ritual — one decidedly more morbid — listening to the tapes that his wife made for him many years ago by reading the lines of all the characters to help him memorize his dialogue, and reciting the lines opposite his dead wife's voice. He has clearly not been able to move on past her death and all the unanswered questions she left for him with her sudden passing: why did she cheat? Did she love him? Did she love the other men?
Throughout the meandering, unhurried narrative of "Drive My Car," Yusuke comes to realize that the answers don't much matter. He forms a close platonic bond with the chauffeur assigned to him Misaki (Tōko Miura), a stoic young woman dealing with her own demons, as well as equally close or fraught ones with the actors and producers of his play. "Drive My Car" plays out in the steadily unfolding dynamics between each character — at first polite and studied, before the characters reveal their personalities through the things spoken and unspoken. The fact that the group is rehearsing for a tragedy that places emphasis on communication — each of them speaking in their native tongues, whether it be Tagalog, Mandarin, Korean, or sign language — makes these dialogues between characters more layered and complex. They inhabit the characters they play in the stage play, while imbuing some of their own selves into the roles. As we get the tiniest glimpses into the characters' inner lives, a rich tapestry forms of all the people and all their problems, so much that Yusuke's turmoil seems minuscule in comparison. Perhaps the answers, the catharsis, that Yusuke craves can be found in other people — perhaps not. Perhaps it doesn't much matter.
Hamaguchi's play-within-a-film approach to what had been a very simple short story — a man recounting his wife's infidelity to his female chauffeur — only enriches the Murakami source material, even if it seems at odds with the Murakami "style." On the contrary: it's his thoroughly humanist approach that breathes life into the ciphers and mysteries of Murakami. In "Norwegian Wood," Murakami writes, "if you're in pitch blackness, all you can do is sit tight until your eyes get used to the dark." But, Hamaguchi seems to argue, the dark doesn't need to swallow everything. While Yusuke and the people he comes into contact with in "Drive My Car" may all be dealing with their own personal darkness, it's in their search for that light at the end of the tunnel that makes their journeys so engaging. Maybe they find it. May they don't. But we can only see the stars for the deep and lovely dark.