The Adam Project: Release Date, Cast, And More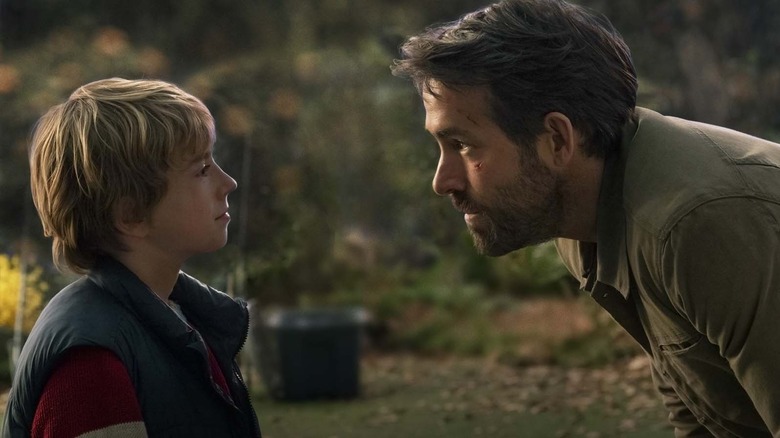 Netflix
(Welcome to ...And More, our no-frills, zero B.S. guide to when and where you can watch upcoming movies and shows, and everything else you could possibly stand to know.)
At some point in our lives, everyone wishes they could go back in time to change something in their past. Whether it's a missed opportunity, a dream job we never landed, or the one who got away, there's always something. "The Adam Project" sees Ryan Reynolds get just such an opportunity
"The Adam Project" is just one of Netflix's upcoming blockbuster movies, after the online streaming service announced a packed slate full of some of the biggest names in Hollywood. Starring Ryan Reynolds, the sci-fi adventure gives him the chance to break out that razor-sharp wit against a worthy verbal opponent – his younger self. With time travel antics and the sci-fi stylings of an '80s Amblin movie, it looks as though director Shawn Levy could be onto something. But until very recently, "The Adam Project" was a bit of a mystery. Much like its protagonist, the film seems to have appeared from nowhere. What's it about? Who else is starring in it? And when can we watch it?
Here's what we know about "The Adam Project" so far.
Here's when and where to watch The Adam Project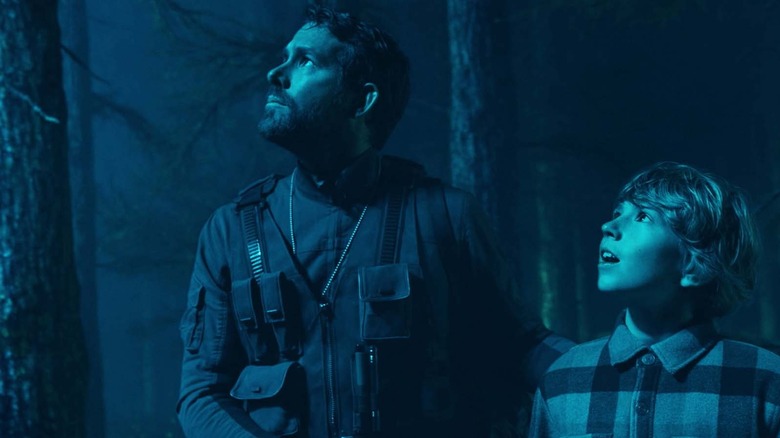 Netflix
"The Adam Project" was originally titled "Our Name Is Adam" when it was announced back in 2012 and was eyed by Paramount Pictures with Tom Cruise attached to the leading role.
Penned by T.S. Nolin, it was once one of the hottest unproduced scripts of 2012, making its way onto the Black List that year. But after sputtering out at Paramount, the film moved to Netflix and was revived in early 2020. The latest draft of "The Adam Project" was penned by Jonathon Tropper, based on earlier drafts by Nowlin, Jennifer Flackett, and Mark Levin. Filming began in November 2020 in Vancouver, Canada, and lasted until March 2021. Now, the long-awaited sci-fi project will finally debut on Netflix next month.
It's been quite a journey from script to screen, but "The Adam Project" finally hits Netflix on March 11, 2022.
What is The Adam Project about?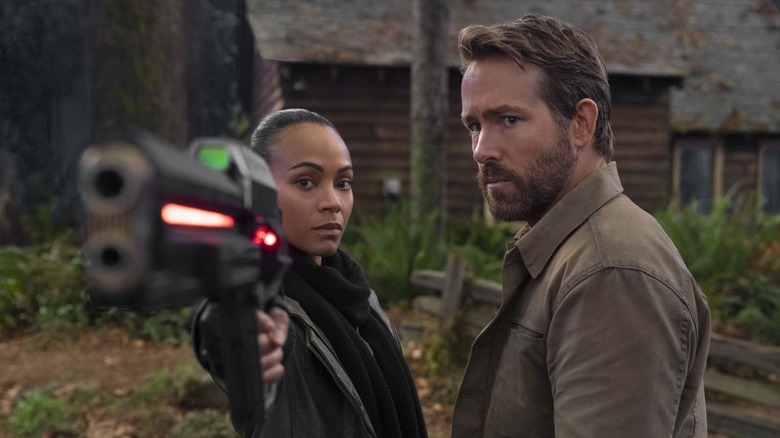 Netflix
It may have been in the works for a long time, but relatively little was known about "The Adam Project" until recently. Its original description was simply:
"An astronaut travels back in time to enlist the help of his younger self."
Thankfully, we know a little more at this stage. Ryan Reynolds stars as Adam Reed, a time-traveling pilot from the year 2050 who ventures into the past to save Laura (Zoe Saldana), the woman he loves. She's a time-traveler too but was lost in the space-time continuum under mysterious circumstances. Adam is determined to find her, but when his futuristic fighter jet is damaged, the wounded pilot is sent back to the year 2022. Stranded in the past, he heads to the only place he knows – his home. It's there that he encounters his younger self (Walker Scobell) who has a few home truths for the older Adam.
"There's the notion of confronting your younger self, who might just see things more authentically than you have come to narrate for yourself," director Shawn Levy told Vanity Fair. "The kid has real power because the kid's the only one who can call B.S. on this grown man who has wrapped himself up in his ideas about his own history. The kid's the one who's living that history in real-time and can say, 'No, no, you got it wrong. I know because I'm in it.'"
Older Adam resents his father (Mark Ruffalo) while the younger Adam is still raw from his passing a year and a half ago. But the two must venture even further into the past to get a little help. After all, it was their father who invented time travel.
Putting things right that once went wrong, it's "Quantum Leap" meets "Back to the Future" all wrapped up in the unmistakable style of an '80s Amblin movie.
Who is in The Adam Project cast and crew?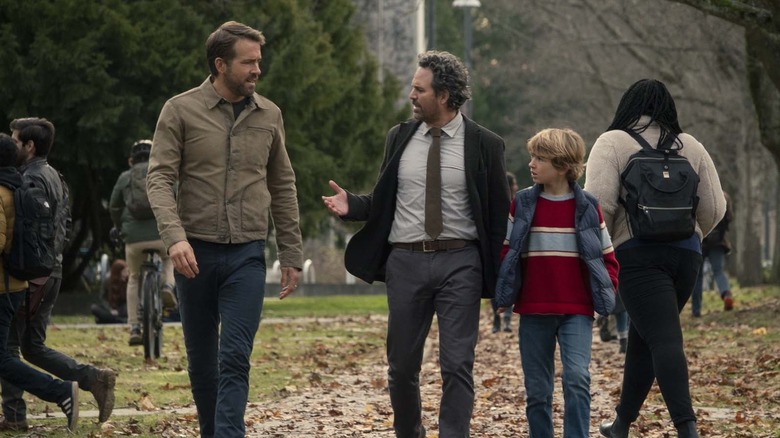 Netflix
"The Adam Project" stars Ryan Reynolds in its title role as Adam Reed – a wounded time-traveler who's forced to rely on his younger, 12-year-old self for help. Alongside Reynolds as the young Adam is newcomer Walker Scobell. Director Shawn Levy revealed that the younger Adam was a great mimic of Reynolds, largely because he was already a huge "Deadpool" fan:
"I never had to say, 'Oh, can you kind of channel the way Ryan would say it?' He knows how Ryan would say things because he had watched Ryan saying things with that very specific tone since he was, uh, probably way too young to be watching Deadpool."
Zoe Saldana joins them as older Adam's love interest, Laura – a fellow time-traveler who has become lost in the space-time continuum under mysterious circumstances... and it's this mystery that will likely form the main thread of the movie. Meanwhile, Mark Ruffalo plays Adam's father, a scientist whose work posthumously allows for the ability to 'leapfrog' through time. Jennifer Garner stars as Adam's mother, who is struggling to raise her son following his father's death. Additionally, the cast includes Catherine Keener as the film's villain – a woman who has stolen powerful time-travel technology, and Alex Mallari Jr. plays her right-hand man, Christos.
"Stranger Things" executive producer and "Real Steel" director Shawn Levy is at the helm of "The Adam Project" after working with Reynolds on "Free Guy" – the hit-and-miss  movie about a video game character who becomes self-aware. The script was penned by Jonathon Tropper while "Ghostbusters: Afterlife" composer Rob Simonson handles the film's original score.
Here's The Adam Project trailer and synopsis
Watch the first trailer for "The Adam Project" above, and then read the official synopsis below:
Adam Reed, age 13, and still grieving the sudden death of his father a year earlier, walks into his garage one night to find a wounded pilot hiding there. This mysterious pilot turns out to be the older version of himself from the future, where time travel is in its infancy. He has risked everything to come back in time on a secret mission. Together they must embark on an adventure into the past to find their father, set things right, and save the world. The three working together, both young and grown Adam come to terms with the loss of their father and have a chance to heal the wounds that have shaped them. Adding to the challenge of the mission, the two Adams discover they really don't like each other very much, and if they're going to save the world, they're first going to have to figure out how to get along.