The Adam Project First Look: A Very Wounded Time-Travelling Ryan Reynolds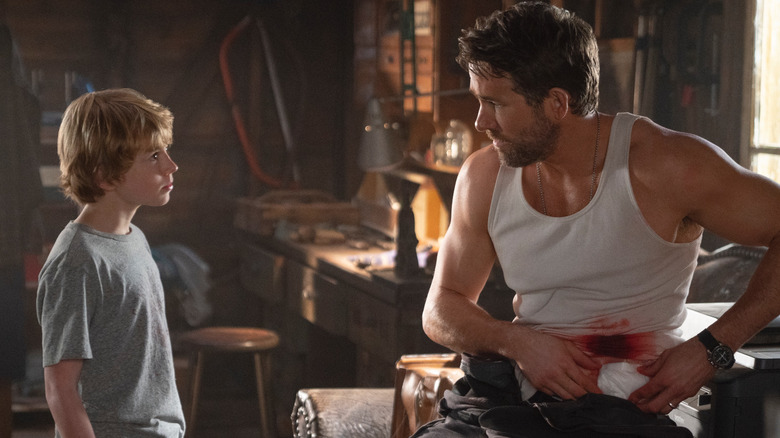 Netflix
Ryan Reynolds has made a career out of playing fast-talking, snarky characters, whether it's the Merc with a Mouth (AKA Deadpool), the art thief Nolan Booth from "Red Notice," or even the titular Pokémon from "Detective Pikachu." He shed that persona to portray the earnest, wide-eyed non-playable video game character (or NPC) Guy in last year's "Free Guy" but will return to his sassy, sardonic ways in the upcoming "The Adam Project."
An original sci-fi movie, "The Adam Project" reunites Reynolds with "Free Guy" director Shawn Levy and is scheduled to begin streaming on Netflix in March. The film stars Reynolds as Adam Reed, a time-traveler from 2050 who gets sent back to 2022, bringing him face to face with his 12-year-old self (as played by newcomer Walker Scobell). However, beyond the physical wound he can be seen sporting in the above image, the older Adam is "bruised by life and consequently deeply cynical," as Levy told Vanity Fair.
Ryan Reynolds of Future Past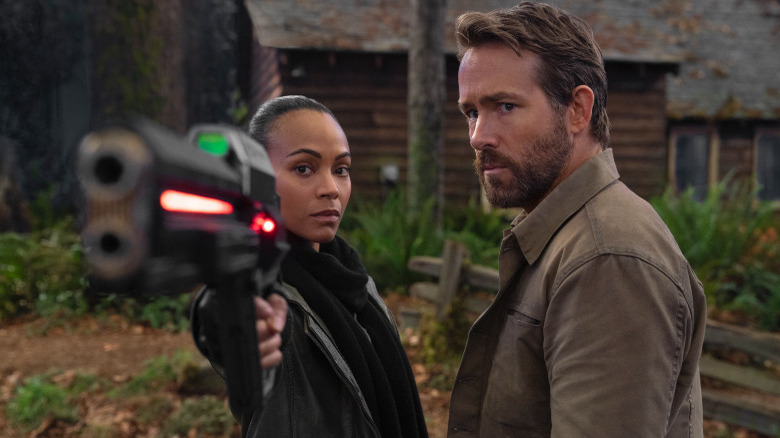 Netflix
The older Adam's adventure begins when Laura (Zoe Saldana), the woman he loves, gets lost in the time-space continuum "under mysterious circumstances," as Vanity Fair put it. When Adam's time-traveling ship is damaged, he ends up in 2022, with only his adolescent self to help him recover from his wounds, fix his ship, and continue his search for Laura. As Reynolds explained, the film is all about the older Adam learning to be emotionally open and vulnerable again:
"The humor that Adam uses in the movie echoes certain aspects of my own life, which is that it's a defense mechanism. It's a defense mechanism from allowing anything in and trying to deflect. And of course part of the journey that he's on is to lower that shield."
Helping to sell the connection between the 12-year-old and 40-something Adams is Scobell, a Reynolds super-fan who has seen both "Deadpool" and "Deadpool 2" so many times he can "recite them word for word, every single line of dialogue — my dialogue, the other person's dialogue, every exposition line, everything," according to Reynolds. Levy admitted he was all the more grateful for this during production on "The Adam Project":
"I never had to say, 'Oh, can you kind of channel the way Ryan would say it?' He [Scobell] knows how Ryan would say things because he had watched Ryan saying things with that very specific tone since he was, uh, probably way too young to be watching 'Deadpool.'"
The 13 Going on 30 Reunion You Didn't Expect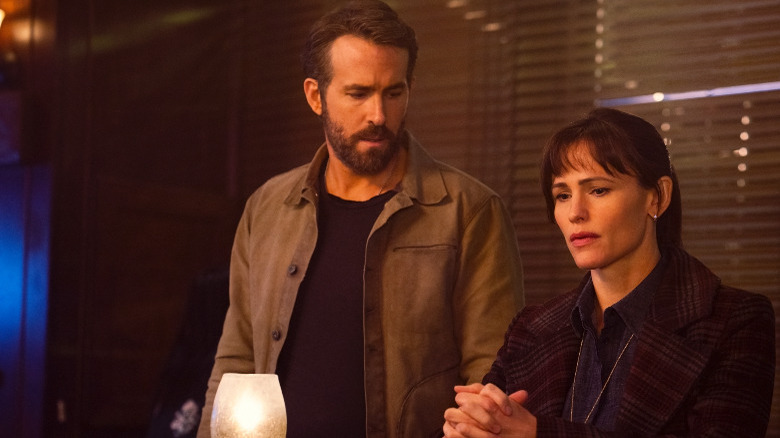 Netflix
"The Adam Project" also reunites "13 Going on 30" co-stars Jennifer Garner and Mark Ruffalo as Adam's mother and father, the latter of whom is a scientist who died before Adam grew up but not before completing research that would help make time travel possible in the future. (Needless to say, that will be a major plot point in the film.) Reynolds told Vanity Fair he drew from his strained relationship with his own real-life father, who died in 2020, for this story thread:
"I have this thought about life, which is that we tell ourselves stories. So you have this central character who has told himself a story about his own father that isn't necessarily true. I know that I've done that in my life. I've told myself stories to justify things about my father and my complicated relationship I had with him before he passed. Reconciling that is really difficult."
The final script for "The Adam Project" was penned by Levy's "This Is Where I Leave You" scribe Jonathan Tropper, based on earlier drafts by T.S. Nowlin (the writer of the "Maze Runner" movies) and married writing duo Jennifer Flackett and Mark Levin ("Journey to the Center of the Earth," "Nim's Island"). In terms of its story and themes, "The Adam Project" sounds like it has more in common with Levy's 2011 film "Real Steel" than "Free Guy," which is cool by me since I recall enjoying that silly-yet-sincere father-son drama by way of a robot boxing movie. We will see how "The Adam Project" measures up soon enough.
"The Adam Project" hits Netflix on March 11, 2022.