Netflix Doubles Down, Will Film Two Red Notice Sequels Back-To-Back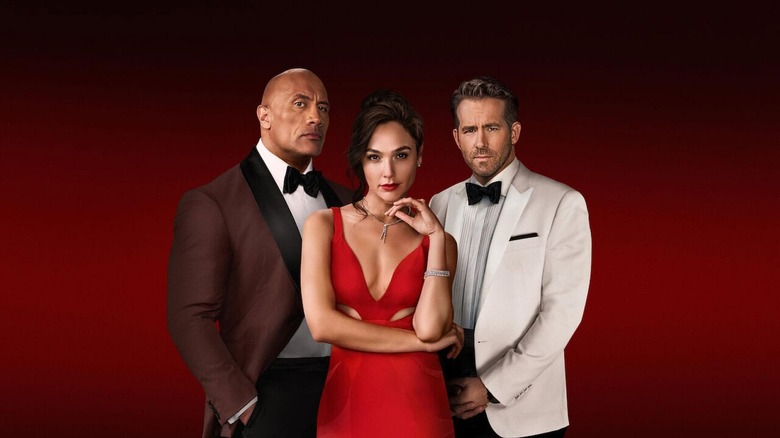 Netflix
Sometimes, risk leads to reward ... and other times, actions simply lead to consequences. I'll, uh, let you decide which category this following news falls into.
It'll probably come as less of a shock and more of a fait accompli for those who've been paying attention, but viewers can now take it on good authority that there will be much, much more of "Red Notice" in their future. Backed by the full might of the streaming service (in a show of force that makes it apparent that all of their original films could be marketed with as much exuberance, if they felt like doing so), the Netflix heist flick starring three of the most recognizable — and wildly expensive — movie stars in the business instantly made headlines as the studio's biggest movie of all time. We've written at length about the lack of transparency and misleading statistics that Netflix employs and their attempts to address that issue, to mixed results. While we can argue all day long about exactly how those numbers are quantified, however, it's undeniable that many viewers clearly tuned in to watch "Red Notice" upon release.
That brings us to today's inevitable news that "Red Notice" will be receiving not one, but two sequels to be filmed back-to-back. Buckle up, folks, because the age of the Netflix blockbuster seems to be here to stay.
Two Is Better Than One?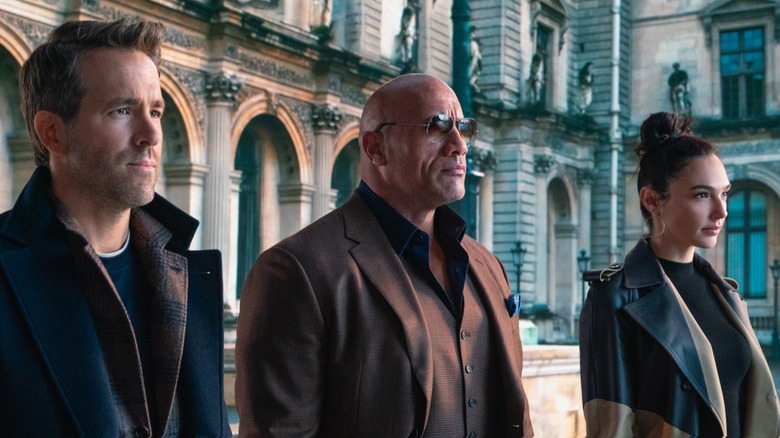 Netflix
Netflix's biggest, most expensive movie ever is about to result in even bigger and, presumably, even more expensive sequels to come. Deadline reports that Netflix is in the "early stages" of setting up back-to-back "Red Notice" sequels with stars Ryan Reynolds, Dwayne "The Rock" Johnson, and Gal Gadot all set to return alongside director Rawson Marshall Thurber. Yes, that means that "Red Notice" will join the ranks of "The Lord of the Rings," "Pirates of the Caribbean," "The Matrix," and James Cameron's upcoming (and long in-development) "Avatar" sequels as blockbusters released this century that have also filmed sequels either concurrently or back-to-back. Obviously, this move demonstrates Netflix's confidence in the newfound IP, for good reason. It's worth noting that this news would appear to confirm earlier comments made by Thurber to THR, where he first floated the idea of filming two sequels one right after the other. As he put it at the time:
"If we were to make a sequel, the only responsible thing would be to make two and three back-to-back. It's such a big production, and if you can mount it one time, it will be better for everyone. Including for my mental health."
The Deadline report also includes the tidbit that production on these sequels is expected to begin in early 2023, a conservative estimate based on the extremely busy schedules of all three in-demand stars. While audiences turned out in droves for "Red Notice" (if one can even use the phrase "turned out" regarding a movie everyone could just watch in their living room, of course), critics had ... slightly different things to say about the film. /Film's own Chris Evangelista panned the film in his review, noting that:
"...just because "Red Notice" isn't atrocious doesn't mean we should let it off the hook. Netflix loves to burn money, and they love to draw in exciting filmmakers and actors to create original projects. That's commendable. But it would be nice if they started being a bit more discerning. Rather than worry about the quantity of their content, why not spend more time on the quality?"
"Red Notice" is currently streaming on Netflix.