Netflix Launches Top 10 Website To Distract Us From Their Flimsy Viewership Metrics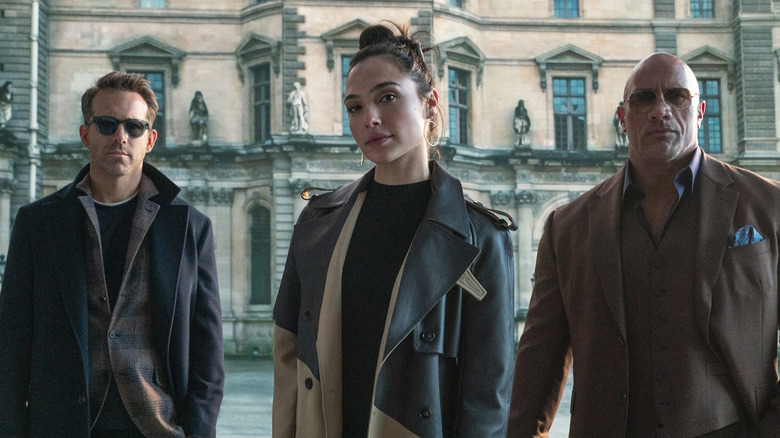 Netflix
Well, at least we know that Netflix is paying attention to criticism. Hot on the heels of the major streamer's most recent (and most expensive) release of "Red Notice" and following a wave of mass skepticism and scrutiny over Netflix's unsubstantiated claims that the original movie broke an opening day record, Netflix has finally made public overtures towards a better sense of transparency ... on the surface, at least. In a very typically corporate, "You spoke, we listened" style of tweet from the official Netflix Twitter account, the streaming studio announced the creation of a new website that will be updated on a weekly basis for the general population to compare the most popular Netflix titles against each other.
The Top 10 website allows viewers to track the top Netflix titles from the past week, sorted either by movies, shows, or even country, based on the metric of "hours viewed." This is somewhat of an improvement over the previous standard, of course, which counted "views" as having watched a grand total of two minutes of any given title. In a disclaimer on the main page of the newly-created site, Netflix explains that this new hourly metric is defined as "...the total number of hours that our members around the world watched each title from Monday to Sunday of the previous week." It also indicates that this will allow the possibility of, say, multiples seasons of the same show to appear on the list, provided that enough people are tuning in during a specific week, of course.
In effect, this fresh resource will allow all of us who don't have access to internal data to put Netflix's frequent claims of unprecedented achievements into some measure of context, at least. But does this solve all the issues that have previously been brought up?
The Right Direction, But is it Enough?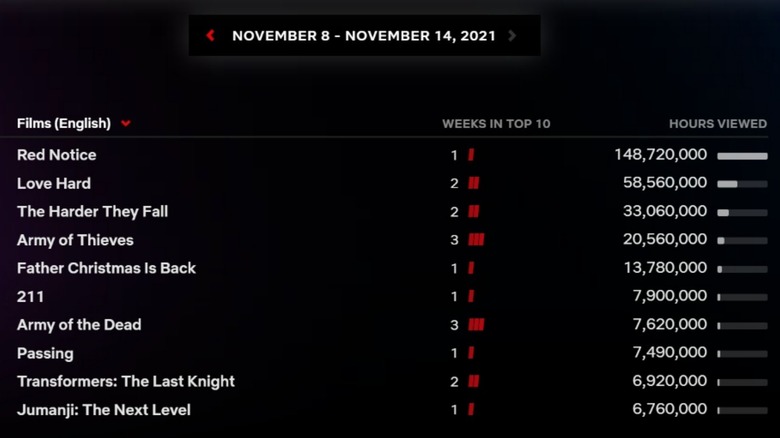 Netflix
By now, you're probably familiar with /Film's previous reporting on Netflix altering its viewing metrics. This website announcement is only the public extension of that earlier decision, which is basically meant to help aimlessly scrolling viewers to find something to watch. It's less useful, unfortunately, for drawing any meaningful conclusions from the numerical figures provided to us. "Red Notice," as you can see from the graphic above, has compiled almost 150 million hours viewed ... but because this system counts all viewing habits into one single hourly value, it's impossible to discern whether viewers all watched the first ten minutes of the film before losing interest, or if only half the audience actually bothered to finish the film, or if everyone truly watched the film from start to end. Any number of variables are simply lost to the ether, with only Netflix alone having access to all the most tell-tale information.
According to The Hollywood Reporter, this internal data includes "how many users complete a show or film, whether a title drives subscriptions or retention of existing users, and what Netflix terms 'efficiency,' a measure of cost versus the number of people who watch a given title." Obviously, even major studios would prefer to hide their theatrical box office totals if they could and instead cherry-pick whichever accomplishments to the public that make them look good. In fact, this is precisely what a number of studios did early on in the pandemic (per THR). As predominantly a streaming platform, however, Netflix continues to make the most of its blind spot by carefully curating what viewing figures are publicly made available, and how they're spun. If that doesn't raise any alarm bells, perhaps Netflix's own self-congratulatory announcement video (less than two minutes long, of course) will do that for you.