The Horror Movie You Never Knew Bob Saget Was In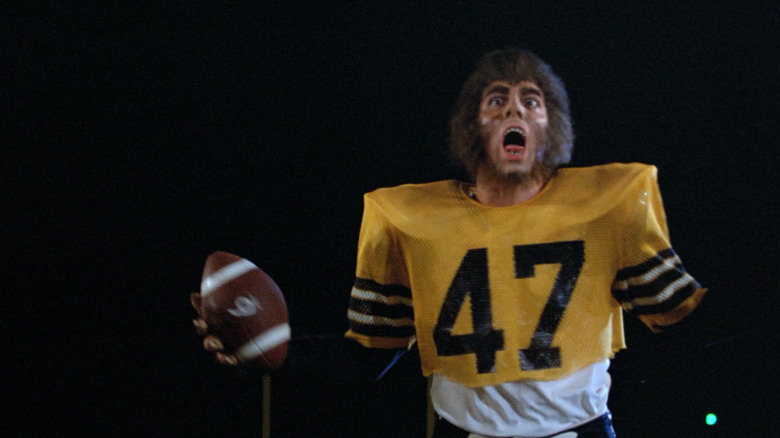 Filmways Pictures
The sudden passing of Bob Saget in January of 2022 caused sorrow for those raised on "Full House" and saw Saget as America's dad, as well as for those in the standup comedy world, who thought of Saget as a boldly foulmouthed provocateur. Seeing him interact with his fictional daughters on "Full House" revealed his warmth, and his tirade of creative obscenities in the 2005 documentary "The Aristocrats" revealed his propensity for comedic filth. The wonder of Bob Saget was that he was both of these things. He was capable of being a funny, nerdy dad, but was just as capable of creating hilarious scenes of scatological horror.
His directorial debut "Dirty Work" notwithstanding, Saget's film career isn't as widely celebrated as his TV and standup work. This didn't stop him from dabbling in cinema, as his small role in Michael Apted's 1987 comedy "Critical Condition" may attest. Saget also had cameos in other films, including the 2004 comedy "New York Minute" (starring his "Full House" co-stars, Mary-Kate and Ashley Olsen), the stoner comedy "Half Baked," and "Dumb and Dumberer: When Harry Met Lloyd." Saget also directed two additional films besides "Dirty Work": The 2018 addiction comedy "Benjamin" and the bizarro spoof movie "Farce of the Penguins." 
Early in his career, however, Saget was in a low-budget horror film that you probably never even heard of. The film, released in 1981, was called "Full Moon High," and was written and directed by the legendary Larry Cohen, of "It's Alive," "The Stuff," and "Q – the Winged Serpent" fame. Like many of Cohen's films, "Full Moon High" is an odd duck. And if you're looking for lots and lots of Bob Saget here, well, you might want to temper those expectations. Bob Saget does appear in this movie. In two roles, in fact! But you don't get to see much of him. 
Full Moon High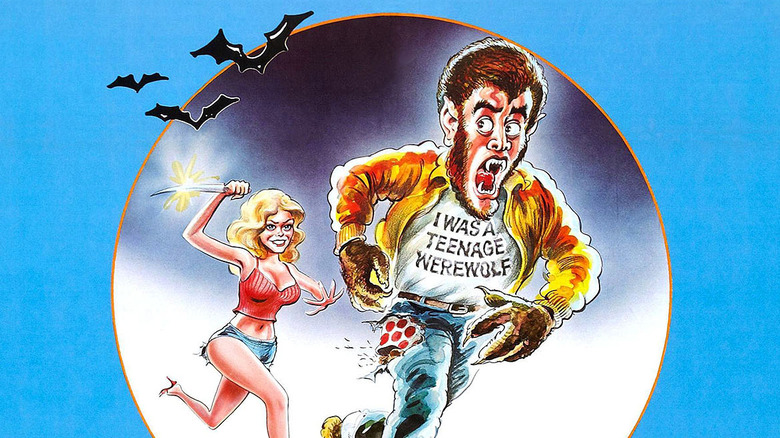 Filmways Pictures
Clearly a riff on the 1957 B-movie classic "I Was a Teenage Werewolf," "Full Moon High" (currently available on Paramount+) stars Adam Arkin as a none-too-bright 1950s teen who, while on a trip to Romania with his womanizing dad (Ed McMahon of "The Tonight Show" fame), is bitten by a werewolf, making him immortal. After living as a teenager for decades, Arkin's character decides to get his life in order — Edward Cullen style — by enrolling in high school in the early 1980s. 
What follows is a lighthearted, bizarre, dirty sex comedy/horror story about the teenage werewolf connecting with several potential love interests. "Full Moon High" is just as must a sex farce as it is a horror film, and the jokes run toward the crude. An example exchange: The father asks his son if he remembers his long-departed mom. "The lady who took me to the beach?" the teen asks. No, father says, that was the maid. "The lady you were with in bed when I walked in on you and you both screamed?" the teen asks. No, the father shakes his head in shame. That was also the maid.
Much of the humor also comes from how clueless the lead character is. When he sees the Romanian werewolf for the first time, he asks, "Hey, is anyone here with this dog?" "Full Moon High" also stars a large cast of actors known for their comedic chops including Kenneth Mars, Louis Nye, Roz Kelly from "Happy Days," and a young Jm J. Bullock from "Too Close for Comfort." The film also features a small role for Adam's father, Alan Arkin, and the reliably funny Pat Morita.
"Full Moon High" is rated PG, but was made before the inception of the PG-13 rating, which it would certainly accrue today, more for its raunchy jokes than its horror. Coincidentally, it was released the same year as other popular werewolf movies "The Howling" and "An American Werewolf in London." The very similar "Teen Wolf" was still four years out.
33 seconds of Bob Saget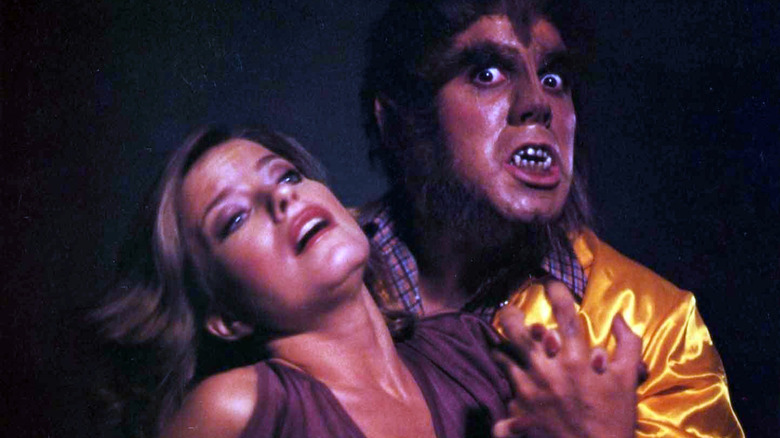 Filmways Pictures
Also in the film, in at least two roles, is a young Bob Saget, who was only 24 at the time of shooting. Compiled, Saget appears in "Full Moon High" for a whopping 33 seconds. Yes, that's right: you only get 33 seconds of Bob Saget here. Sorry. 
Saget is only credited as "Sports Announcer" in the film's final scroll, but he plays two different characters in those 33 seconds. Early in the film, you can see him in his football uniform carousing with the team, laughing and having a good time. Later on, he'll have a shower scene with the football team where he'll actually have a few audible lines. Then, at the film's end, appearing in a truly terrible sports jacket, he can be seen standing on a football field, giving an introduction. 
Saget's brief appearances in "Full Moon High" do stand out. The film is supremely silly, but Saget is one of the few actors bringing a much-needed flippant attitude to his performance. Meanwhile, Alan Arkin looks like he'd rather be anywhere else. 
The final prank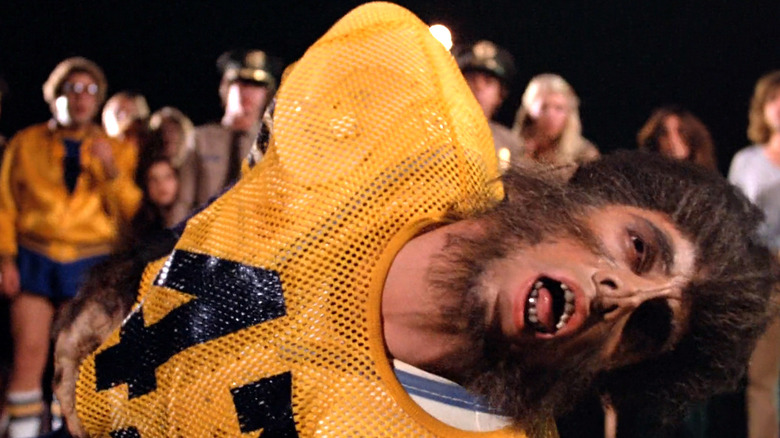 Filmways Pictures
While young Bob Saget was struggling upward through an early film career in 1981, one might postulate that Saget in his 60s would have loved to stage his appearances in a film as bad as "Full Moon High" as an oblique, long-form prank. As if he knew he was going to be famous someday; as if he knew that fans would start trekking backward through his early career and that scores of people would be forced to sit through a crass werewolf sex flick just to see him. I would be curious to know if Saget owned his own personal 35mm print of "Full Moon High" which he would screen at his home for dates or party guests as some sort of cruel endurance test or initiation ritual. 
Sadly, we can only hypothesize. Rest in peace, Bob Saget. Your cinematic legacy is something to celebrate.