'Disneynature's Penguins' Trailer: Meet Steve The Penguin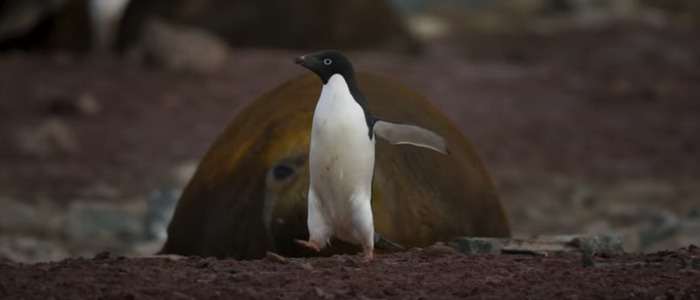 Having a rough day? Here, take a few minutes, and watch this trailer for Disneynature's Penguins. It's a nature documentary about a penguin named Steve. And it looks delightful. The Disneynature's Penguins trailer is below.
Hey everyone, come meet Steve, the penguin! He's the star of Disneynature's Penguins, a new nature documentary from Disney that focuses on the trials and tribulations of an Adélie penguin. Who are you to resist such a charming story?
Disneynature's Penguins Trailer
Listen, I'm a bit jaded, but I got a kick of this trailer. Maybe it's because I have a soft spot for animals. Maybe it's because I find the idea of a penguin named Steve to be particularly hilarious. I don't know. What I do know is that I'll be happy to watching Penguins when it hits theaters next year. (Side-note: I can't believe Disney is going to leave us hanging like this. A full year? This is worse than waiting for a new Star Wars).
This is an enjoyable trailer overall. It also has some amazing shots. I'm having a hard time getting over this one shot in particular.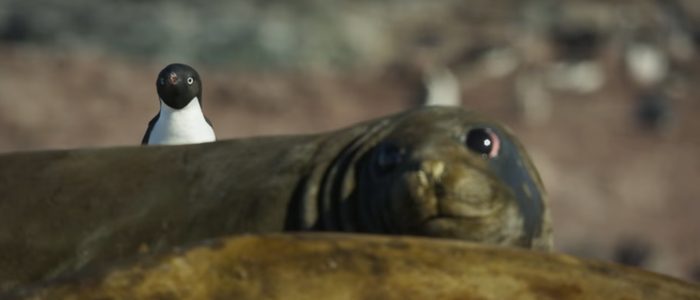 God damn you, Steve. You charming penguin, you.
Here's some facts about Steve from this trailer:
He's a gentleman who stands out from the crowd.
He's looking for love.
He likes long walks on the beach.
He likes fishing.
He also likes collecting rocks (hey, who doesn't?).
Steve eventually finds love and has a family (spoiler alert). But then the shit hits the fan when his mate leaves him alone with the kids. What's a penguin to do? I don't know, but I'm sure we'll all find out when Penguins waddles into theaters on Earth Day 2019.
Penguins is just the latest charming entry from Disneynature, who have also released Bears, Chimpanzee, and the panda film Born in China. (Not to be confused with recent panda IMAX film Pandas).Penguins opens on April 22, 2018.
Disneynature's all-new feature film "Penguins" is a coming-of-age story about an Adélie penguin named Steve who joins millions of fellow males in the icy Antarctic spring on a quest to build a suitable nest, find a life partner and start a family. None of it comes easily for him, especially considering he's targeted by everything from killer whales to leopard seals, who unapologetically threaten his happily ever after. From the filmmaking team behind "Bears" and "Chimpanzee," Disneynature's "Penguins" opens in theaters nationwide in time for Earth Day 2019.