The Olsen Twins Will Not Be Part Of 'Fuller House'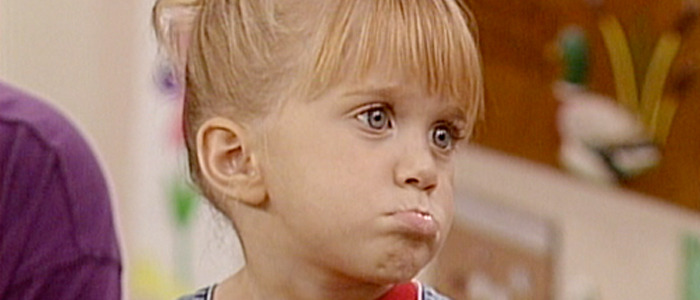 Back in April, a big chunk of 90s nostalgia was announced to be revived when we learned Netflix had ordered Fuller House, a television series sequel to the hit sitcom Full House. Pretty much everyone from the original series was confirmed to come back in some capacity for this new series, with the exception of Mary-Kate and Ashley Olsen. While producers had hoped that the duo responsible for playing Michelle Tanner, the youngest daughter in the family, would make an appearance, it doesn't sound like it's going to happen.
Get the details on the Olsen twins in Fuller House below.
Variety has confirmed that Mary-Kate and Ashley Olsen will not be part of Fuller House, opting to focus on their current careers. The twins won't even make a cameo. Executive producer Robert L. Boyett released this official statement:
"Although Ashley and Mary-Kate will not be a part of 'Fuller House,' I know how much 'Full House' has meant to them, and they are still very much considered family. It has been exciting to see how they have built their professional careers, and I support their choice to focus on their fashion brands and various business endeavors. I appreciate their support and good wishes toward 'Fuller House.'"
You might be wondering what these child stars are so busy doing since they don't appear in films or television shows anymore. They've become quite the fashion entrepreneurs. The two have their own fashion label called The Row in London, as well as another called Elizabeth & James. In addition, they have a clothing line at J.C. Penney called Olsenboye and a t-shirt line called StyleMint. So they've got quite a lot on their plate.
However, it seems like it wouldn't be too difficult to just make a cameo in the pilot of the series, even if it was just a quick appearance to say Michelle was leaving on a long trip so she would never have to be back. Or since they will surely be nods to the original series, maybe Michelle could have another head injury after riding a horse (this was a real storyline from the original series), and she never remembers who her family is this time. The Olsens could probably get a decent paycheck out of it too.
But at the same time, if the Olsen twins already have a successful business and they don't feel the need to get back into acting for nostalgia's sake, you can't really blame them. Anyway, fans will already have plenty to be happy about with John Stamos, Dave Coulier, Bob Saget, Candace Cameron Bure, Jodie Sweetin and Andrea Barber all reprising their roles from the 90s show.
If you haven't kept up on this developing series, Fuller House basically flips the gender of the original series and follows D.J. (Candace Cameron Bure), all grown up and working as a veterinarian in San Francisco. But when her husband dies while she's pregnant, she finds support from her sister Stephanie (Jodie Sweetin), an aspiring musician, as well as her best friend Kimmy (Andrea Barber), who is also a single mother. Oh, and D.J. also has two other kids, a rebellious 12-year-old named J.D. and a neurotic 7-year-old named Max. That's definitely a fuller house! (I'm sorry).
John Stamos is producing the show in addition to guest starring occasionally as Uncle Jesse, and Bob Saget and Dave Coulier will also appear from time to time as Danny Tanner and Uncle Joey. There have been rumblings of Lori Laughlin, who played Uncle Jesse's wife Becky, also returning, but we have heard if a deal has been struck yet.
This seems like purely a nostalgic cash grab, and one that will absolutely work for children of the 90s. While the original series has a special place in my heart because of my childhood spent watching it, the show was never really a good comedy series. It was cheesy, melodramatic and it really doesn't need an update. But maybe the series will grow up a bit and have more of a contemporary comedic approach to the premise. We'll find out eventually.
Is anyone out there interested in seeing Fuller House? Are you bummed the Olsen twins won't be back?